Could Oprah Beat Trump in 2020? Winfrey Has 'Answer' To Their 'Prayers,' Democratic Strategists Say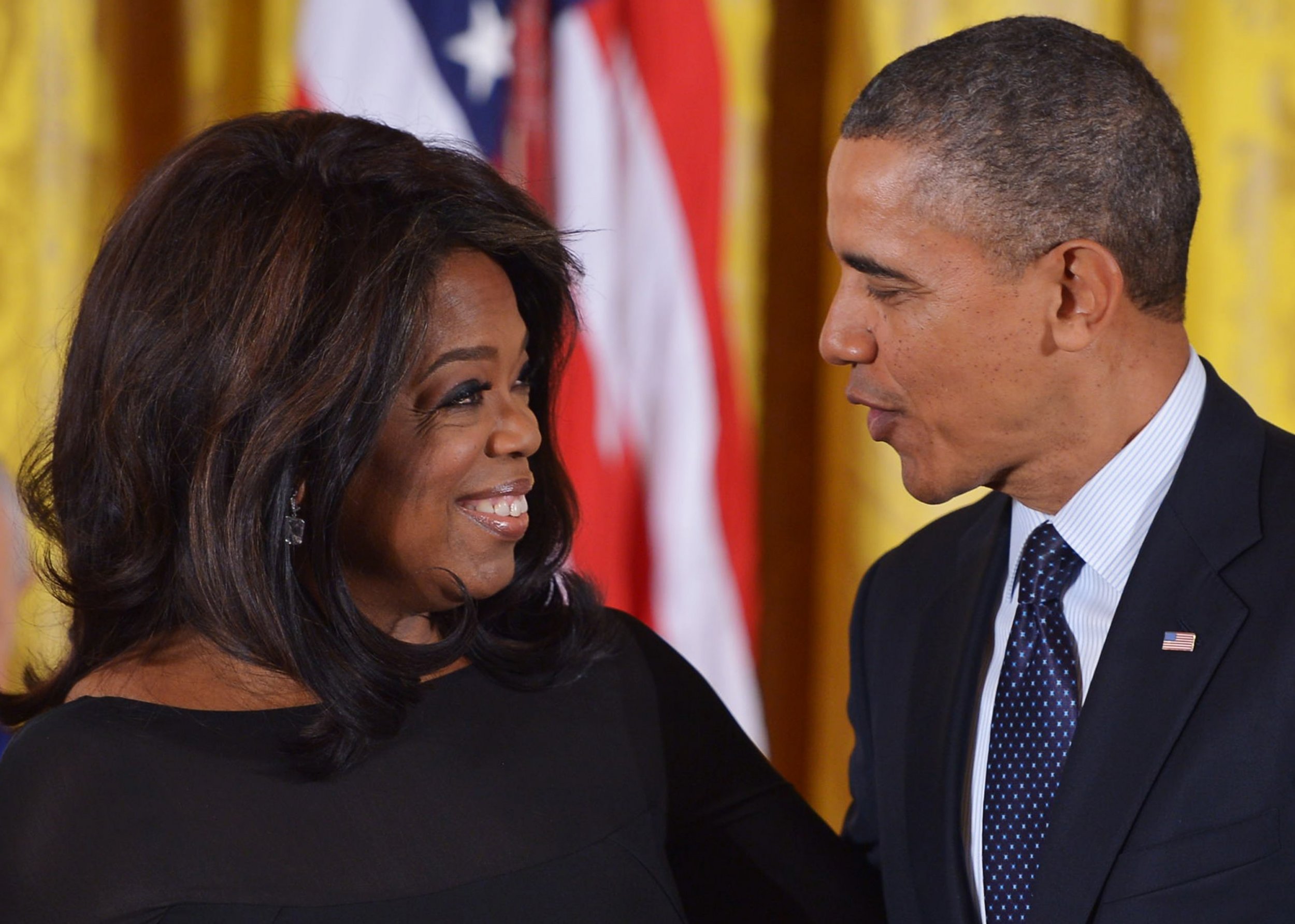 Forget Trump. The next President of the United States could be another successful business person and self-made billionaire who revolutionized television: We're talking about Oprah Winfrey.
After a rousing speech at Sunday night's Golden Globe awards, where she proclaimed "a new day is on the horizon," chatter about Winfrey's potential 2020 presidential run was rampant—and a number of Democratic strategists were on board.
"I am sure of one thing," Tyler Jones, a South Carolina Democratic strategist and founder of SPEAK Strategic, told Newsweek in an email on Monday. "If she runs, she's our nominee."
"She is the answer to a lot of Democratic prayers," strategist Brad Bannon added to Newsweek. "She has instant name recognition and no Washington baggage. What more could you ask for?"
Joe Trippi, who most recently worked on Doug Jones' successful Alabama Senate campaign, took a more cynical view. "Both parties have lost control of their nominating process. Trump proves that," he said. "Oprah shows the powerlessness of the party in the face of someone like her. Parties are obsolete in the social media age."
Winfrey did not announce a presidential bid, but said Trump changed her mind about potentially running. "I never considered the question even a possibility. I thought, 'Oh gee, I don't have the experience, I don't know enough. Now I'm thinking . . . 'oh!'" she told Bloomberg's David Rubenstein in March 2017.
Her longtime partner, Stedman Graham, told the Los Angeles Times on Sunday a presidential campaign is "up to the people," but that "she would absolutely do it."
Winfrey was "actively thinking" about running for president in 2020, CNN reported on Monday, citing "two close friends."
"Given the current state of the U.S. and the rhetoric in Washington, the American people may be looking for a healer to bring the country together, and Oprah would fit that bill," said Brad Anderson, a strategist who ran Barack Obama's 2012 Iowa State campaign.
Still, it's early, and very little is known of her political background or positions. "She may even run as an independent," Anderson said. But either way "history shows it is foolish not to take someone like Oprah seriously."
But it's difficult to support a potential candidate who does not have a cohesive political message, said Monica Klein, a Democratic Strategist who worked on the campaigns of Hillary Clinton and New York mayor Bill de Blasio.
"Star power only gets you so far without a real plan to tackle the wage gap and lift up working Americans," she told Newsweek. "Trump didn't win because he's a celebrity— he won because his populist message resonated with Americans facing dwindling salaries and rising costs. The Democratic Party needs a candidate who can deliver a powerful message about income inequality, health care, and the struggles Americans are facing."
Early polling from March showed Winfrey with a 49 percent favorability rating. Respondents were more likely to vote for Winfrey as president than Trump, with an advantage of 47 percent to 40 percent.
"I don't know if Oprah would be a good President, but she would definitely be a better President than Trump," tweeted Dan Pfeiffer, Former Senior Advisor to President Obama.
Winfrey largely kept an apolitical profile until 2008 when she supported and campaigned for former President Barack Obama. At the time, two economists estimated that Winfrey's endorsement was worth over a million votes in the Democratic primary race.
"If Barack Obama is elected president, a good chunk of credit should go to Oprah Winfrey," wrote the New York Times Editorial Board in August 2008. When Obama won the election, Illinois governor Rod Blagojevich considered offering Winfrey Obama's vacant Senate seat. She declined, but it wasn't because of not being qualified.
But other than her endorsement of Obama and of Hillary Clinton in 2016, not much is known about Winfrey's political views.
"She doesn't have the political infrastructure, and we've seen this before in our history where people have tried to pop in that are not in politics and have had a difficult time adjusting," said Sean Spicer, former White House press secretary, on Good Morning Britain Monday. "That withstanding, President Donald Trump proves that there is an appetite for outsiders and you don't necessarily have to have that."
Republican commentator Bill Kristol took to Twitter to endorse the media mogul on Monday, insisting she leaned to the right on some major issues. "Oprah: Pro-regime change in Iraq (see her Oct. 9, 2002 show)," he wrote. While Kristol told The Hill his tweets were "tongue in cheek," he said that "if she runs, couldn't she win the Democratic nomination and the general election? And wouldn't she be a better president than Trump?"
In April 2012, Trump himself endorsed Winfrey, saying she was a possible running-mate on multiple occasions. "She knows how to win," he said.
Josh Holmes, a Republican strategist and former top adviser to Senate majority leader Mitch McConnell, didn't see it that way. "This Oprah boomlet is a pretty good window into how bereft of leadership the Democratic party is at this point," he wrote. "They're just dying for someone who doesn't sound like a leftist schmuck."
Establishment Democrats are seemingly behind Winfrey. The official Twitter account of the Democratic Party sent out an image of Winfrey with a quote from her speech on Monday afternoon.
Could Oprah Beat Trump in 2020? Winfrey Has 'Answer' To Their 'Prayers,' Democratic Strategists Say | U.S.