Oprah Hits Back at Neo-Nazi Robocalls: 'Jesus Don't Like Ugly'
Oprah Winfrey hit back at robocalls by a white supremacist group that target her and Georgia Democratic gubernatorial candidate Stacey Abrams.
"Jesus don't like ugly," Winfrey warned in an Instagram post.
"I heard people were making racist robocalls in my name against Stacey Abrams, who I am 100 percent for," Winfrey said in a video. "Jesus don't like ugly... And we know what to do about that: vote. Tomorrow show up and show out, and vote."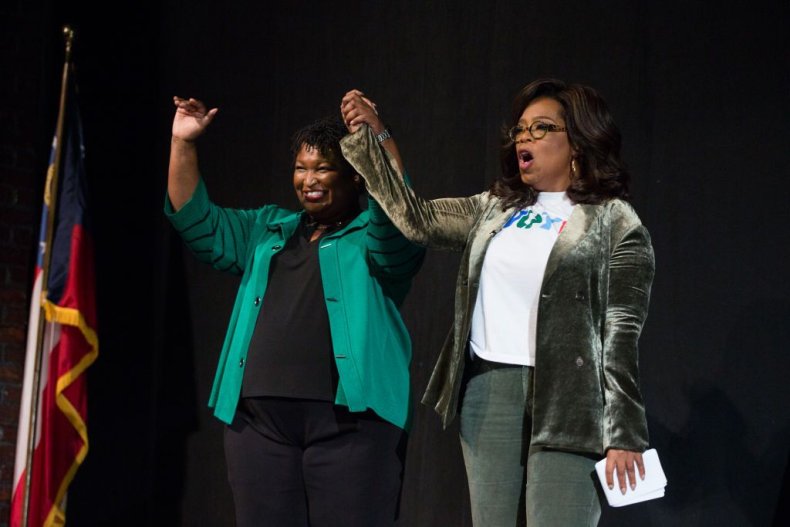 The robocall was made by TheRoadToPower.com, a white supremacist broadcasting outfit based in Sandpoint, Idaho, which, according to the Anti-Defamation League, has targeted political campaigns in the U.S. with "racist, anti-Semitic and bigoted language."
The voice on the robocall claims to be "magical negro" Oprah Winfrey.
"I see…potential in Stacey Abrams," the voice said. "Where others see a poor man's Aunt Jemima, I see someone white women can be tricked into voting for, especially the fat ones."
If she wins Georgia's closely fought electoral contest Tuesday, Abrams will become the first female African-American governor in U.S. history.
Other robocalls by the group have targeted Andrew Gillum, who is campaigning to be the first black governor of Florida.
Winfrey joined Abrams on the campaign trail last week, urging Georgia's voters to back the candidate at the polls.
"Make your voice heard on November 6. We have this incredible opportunity to make history. We have our inalienable right, because the one place that all people are equal is at the polls," Winfrey told voters on Friday.
In a statement, the Abrams campaign called the robocalls a desperate and "vile" attempt to sway voters using "poisonous thinking."
Abrams's opponent, Georgia Secretary of State Brian Kemp, condemned the robocalls in an emailed statement to The Hill, calling them "vile," "racist" and "absolutely disgusting.
"I stand against any person or organization that peddles this type of unbridled hate and unapologetic bigotry," he said.
But Abrams has accused Kemp of fostering divisive rhetoric.
"I think it's a little late for him to repudiate racist remarks given that he's stood with someone wearing an anti-Islam T-shirt," she said on CNN. "He refused to denounce the same man earlier who accused black veterans of not being people who support our country."