Oprah Erects 26 Breonna Taylor Billboards in Louisville Demanding Justice
Oprah Winfrey has launched a billboard campaign to demand justice for Breonna Taylor by erecting 26 billboards.
Per WLKY, each billboard, one for every year of Taylor's life, is displayed with a call to action that reads: "Demand that the police involved in killing Breonna Taylor be arrested and charged. Visit UntilFreedom.com."
Until Freedom is the national social justice organization that recently announced it would be moving its entire team to Louisville.
The activist group also recently led the recent protest on Kentucky Attorney General Daniel Cameron's lawn. Cameron is leading the investigation into Taylor's death.
The campaign comes as the media mogul's eponymous publication, O Magazine, featured a portrait of the late 26-year-old on its cover to honor her memory and continue to apply pressure on having the officers involved in her death held accountable.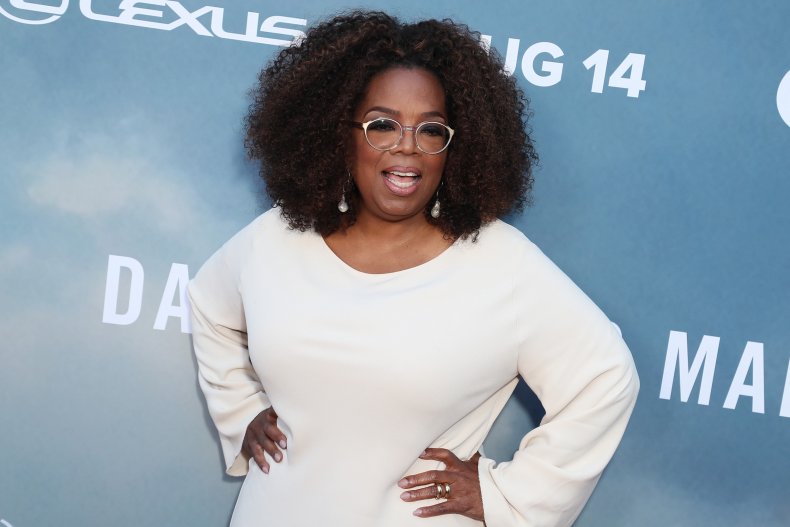 Taylor was shot dead in her home in Louisville on March 13 this year during a police raid on a no-knock warrant. One of the officers, Brett Hankison, was fired. The other officers involved in the case, Jon Mattingly and Myles Cosgrove, have been placed on administrative reassignment. None of the officers have been arrested or face criminal charges.
Winfrey penned a piece about Taylor for O Magazine on July 30, stressing, "we can't be silent."
"Imagine if three unidentified men burst into your home while you were sleeping. And your partner fired a gun to protect you. And then mayhem," the 66-year-old wrote. "What I know for sure: We can't be silent. We have to use whatever megaphone we have to cry for justice. And that is why Breonna Taylor is on the cover of O magazine. I cry for justice in her name."
Winfrey's campaign has inevitably garnered some attention on social media, with many praising the talk show host's efforts.
Shannon Watts, founder of Mom's Demand Action for Gun Sense in America supports the billboards. She tweeted: "Oprah Winfrey is amplifying Breonna Taylor's story and demanding accountability for her shooting death at the hands of police by erecting 26 billboards across Louisville - one billboard for every year of Breonna's life. #BreonnaTalyor."
Film producer Ty Stiklorius added: "This! Plaster the town until justice is served for Breonna Taylor. Thank you, Oprah."
Winfrey made headlines this week when she faced criticism on Twitter for her remarks about white privilege—as many conservative social media users pointed out her net worth.
In an episode of The Oprah Conversation, Winfrey said: "There are white people who are not as powerful as the system of white people—the caste system that's been put in place. But they still, no matter where they are on the rung or ladder of success, they still have their whiteness."
A number of people on Twitter, including Republican primary candidate Irene Armendariz-Jackson and conservative columnist Todd Starnes, pointed out that the veteran TV host is worth $2.6 billion.