Meryl Streep Pitches Hollywood Dream Ticket: Oprah for President, Dwayne Johnson as Chief of Staff
If Oprah Winfrey was to win the presidency in 2020, Meryl Streep has the perfect person to run the media mogul's White House: Dwayne Johnson, aka The Rock.
Streep appeared on Jimmy Kimmel Live! on Monday to promote her latest film, The Post, and took a moment to pitch her 2020 ballot picks. The actress, 68, advocated for Hollywood's elite to take over and reshape the political landscape—something Streep, along with a number of others on social media, believed Winfrey could accomplish following the former talk show host's empowering speech at the 2018 Golden Globe awards on Sunday. "Oprah launched her presidential campaign, I think," Streep said.
Streep has no idea if Winfrey is seriously considering a White House bid, but the multiple Oscar winner noted that "some television people" (our current president, in other words) have successfully run presidential campaigns. She didn't mention actors who have won office, but there are at least two—former president Ronald Reagan and former governor Arnold Schwarzenegger—and she has suggestions for a few others who might want to step up, including her Post co-star Tom Hanks. "Somebody from the stage [mentioned] Tom Hanks, and he seemed ready to go," Streep teased.
"That would be a pretty good ticket," she continued. "You could just keep it Hollywood, you know. You could have The Rock as the joint chief of staff. Harrison Ford running defense."
Streep was clearly joking, but her sentiments are based in reality. Johnson has hinted at running for president in 2020, and in July, a committee promoting the professional wrestler-turned-actor for president filed with the Federal Election Commission.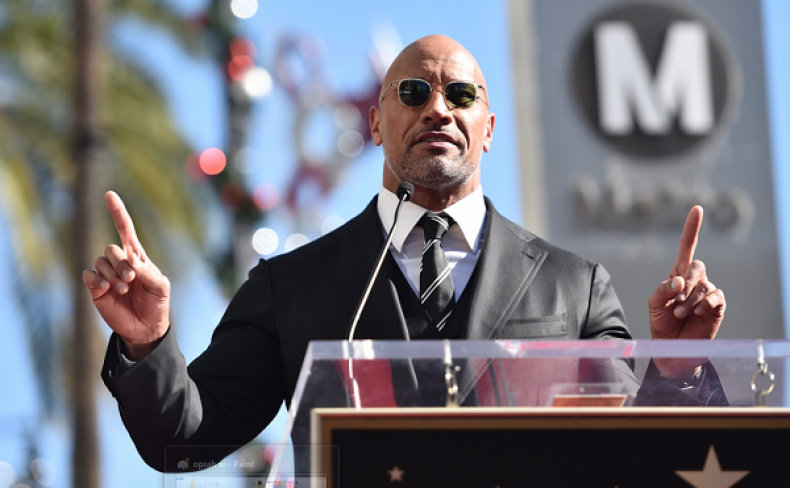 During a May interview with GQ magazine, Johnson said it was "a real possibility" he would run. "A year ago, it started coming up more and more," the 45-year-old former wrestler said. "There was a real sense of earnestness, which made me go home and think, 'Let me really rethink my answer and make sure I am giving an answer that is truthful and also respectful.'"
The presidential speculations regarding Winfrey, 63, were sparked by her inspiring and widley-praised speech as she accepted the Cecil B. DeMille award on Sunday. While speaking out against sexual harassment and the current attack on the news media, the former Oprah Winfrey Show host suggested that "a new day is on the horizon."
"We know the press is under siege these days," Winfrey said. "We also know it's the insatiable dedication to uncovering the absolute truth that keeps us from turning a blind eye to corruption and to injustice. To tyrants and victims, and secrets and lies. I want to say that I value the press more than ever before as we try to navigate these complicated times."
When asked if Winfrey would consider running for president,The Color Purple star's longtime-partner Stedman Grahman told the Los Angeles Times on Sunday that the billionaire entertainment mogual "would absolutely do it." But, he added, "it's up to the people" to convince Winfrey to actually cast her name on the ballot.
Following Winfrey's speech, Golden Globe viewers flooded social media with their support for her, using the trending hashtag #Oprah2020 on Twitter. One of those people was tennis legend Billie Jean King: