Oprah Says She Backs Stacey Abrams for the Men and Women 'Who Were Lynched, Who Were Humiliated' for the Right to Vote
Oprah Winfrey gave a passionate speech Thursday on behalf of Stacey Abrams, the Democratic candidate for Georgia governor, while reassuring reporters and attendees that she has no intention of running for president in the future.
The talk show host and philanthropist told Abrams supporters gathered in the Atlanta area that she does not align herself with any political party but is backing Abrams in her campaign to become the country's first black female governor.
"I'm here today because of the men and because of the women who were lynched, who were humiliated, who were discriminated against, who were suppressed, who were repressed and oppressed, for the right and equality at the polls," Winfrey said. "And I want you to know that their blood has seeped into my DNA, and I refuse to let their sacrifices be in vain."
Allegations of voter suppression have roiled the election in Georgia. Abrams and state Democrats have accused Republican Secretary of State Brian Kemp of trying to prevent tends of thousands of people from voting. Kemp, as the current secretary of state, oversees the integrity of the state's elections.
Kemp's office has placed 53,000 voter registrations on hold because of an "exact match" law that requires personal information on registrations to precisely match Social Security or drivers' license records. Nearly 70 percent of those 53,000 would-be voters are black, according an Associated Press report. Abrams and state Democrats have long called for Kemp to recuse himself, or even resign, from his official position because of the conflict of interest.
Kemp temporarily halted the registration of 34,000 registration applications in 2017 for typographical errors. Since 2012, the Republican has removed more than 1.5 million voters from the state's voter rolls, according to the Brennan Center for Justice. The American Civil Liberties Union has filed suit with the state over the rejection of absentee ballots or applications because of non-matching signatures, and the NAACP has filed a complaint with the Georgia State Board of Elections over alleged defective voting machines.
Winfrey's appearance on Thursday spoke volumes to her feelings toward Abrams, considering the entertainment celebrity largely steers clear of politics and political endorsements.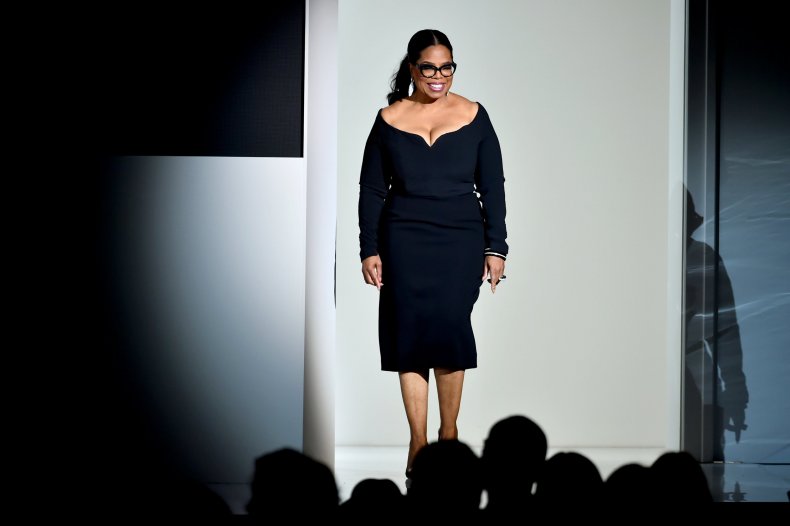 "I paid to come here myself, and I approved this message," Winfrey told the crowd, adding that she came on her own accord and not at the request of the Abrams campaign. Winfrey said she found Abrams's cellphone number and called her, offering to help in the final days before the midterm elections on November 6. "I am here today because Stacey Abrams cares about the things that matter," Winfrey said.
On top of Winfrey's support, Abrams has received campaign help from celebrities such as John Legend, who's hosted fundraisers, and Will Ferrell, who's walked door-to-door campaigning. On Friday, former President Barack Obama will add Abrams to his list of Democrats who he's campaigned for across the country.
Abrams and Kemp have been at a near-statistical tie in polls throughout the past three months. Real Clear Politics lists Kemp slightly ahead by 1.4 points, based on an average of the past six polls ranging from September 30 to October 29. Since September 30, polls have ranged from Kemp leading by 2 points to Abrams leading by 1 point.
Winfrey, the subject of rumors among Democrats and some media reports that she could be a 2020 presidential hopeful, quelled those theories on Thursday.
"I want to make it very clear to all the press, everybody: I'm not here because I'm making some grand stand because I'm thinking about running myself," she said. "I don't want to run. I'm not trying to test any waters. Don't want to go into those waters."