Is Oprah's Network Too White?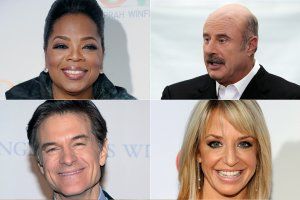 Farah J. Griffin's 82-year-old mother, Wilhelmenia, hasn't missed an episode of The Oprah Winfrey Show since it debuted nearly 20 years ago. So when Winfrey's 24-hour Oprah Winfrey Network (OWN) debuted on Jan. 1, Griffin upgraded her mother's cable package so she could watch from her Philadelphia home. Only now, Griffin wants more for her money. "I know it's still early in the process," says Griffin, a professor of English and African-American studies at Columbia University. "That said, I really want to see more variation. I'm not saying she should just focus on black shows or black programming. But I'd like it to have shows that are interesting to women of all ages, backgrounds, and races, not just white women."
Does Oprah's network need more diversity? Many African-American women seem to think so, including Black Entertainment cofounder Sheila Johnson, who says that Winfrey should "open her circle a bit more," and blogs such as Hello Beautiful and Clutch, which have complained bitterly about the absence of black faces and voices on the fledging network. Winfrey's friend Gayle King, who is African-American, hosts a talk show, as does Lisa Ling, an Asian-American, and Dr. Mehmet Oz, a Turkish-American. Oprah's own show, Master Class, has also featured Jay-Z and Condoleezza Rice. But most of the high-profile programs are led by white people: Dr. Phil McGraw, Suze Orman, Peter Walsh, Cristina Ferrare, Dr. Laura Berman, Randall Sullivan, Dr. Indre Viskontas, along with shows starring Shania Twain, Rosie O'Donnell, and Sarah Ferguson, scheduled to debut later this year. What gives? "Oprah is the network's diversity," says Todd Boyd, a professor at USC's School of Cinematic Arts. "And that's been the way she's operated from the beginning of her career, so I'm not sure why there is even a question about more diversity. That's really not who she is or who she ever was."
That may be true, but it no longer appears to be enough. While OWN averaged 1.1 million viewers in primetime in its first week, that number was down to 287,000 last week. Viewership among women over 25, the network's core demographic, has fallen 20 percent each week since the debut. With the African-American drama The Game having pulled in a record 7.3 million viewers on BET, it's hard not to wonder if OWN's troubles stem from the network's failure to give black audiences what's sorely lacking elsewhere. "It's so upsetting to see what's on TV today and to see the way most shows still depict blacks, and particularly black women, in a negative light," says Mora Johns, a Chicago high-school teacher. "So I do look to OWN for more of a balance to show who we really are. I hope that's coming." Not everyone thinks it's fair to saddle Oprah with singlehandedly diversifying TV. "When does she just get to be Oprah?" asks Salim Akil, executive producer of The Game. "If Oprah was purposely denying anyone the opportunity to present themselves to her for employment, then that's a problem. But if she's doing her thing the best way she knows how, then we should just applaud her and keep moving." The folks at OWN don't see a problem, either. "Our job is to reflect the entire audience that is a part of the world vision Oprah has, and that includes blacks, whites, men, women, and everyone," says Christina Norman, CEO or OWN. "One show and one network cannot do it all." Fair enough. But the question is: can one woman—Oprah—do more?
With Joshua Alston