Optimism and Anger Follow Obama's Cuba Announcement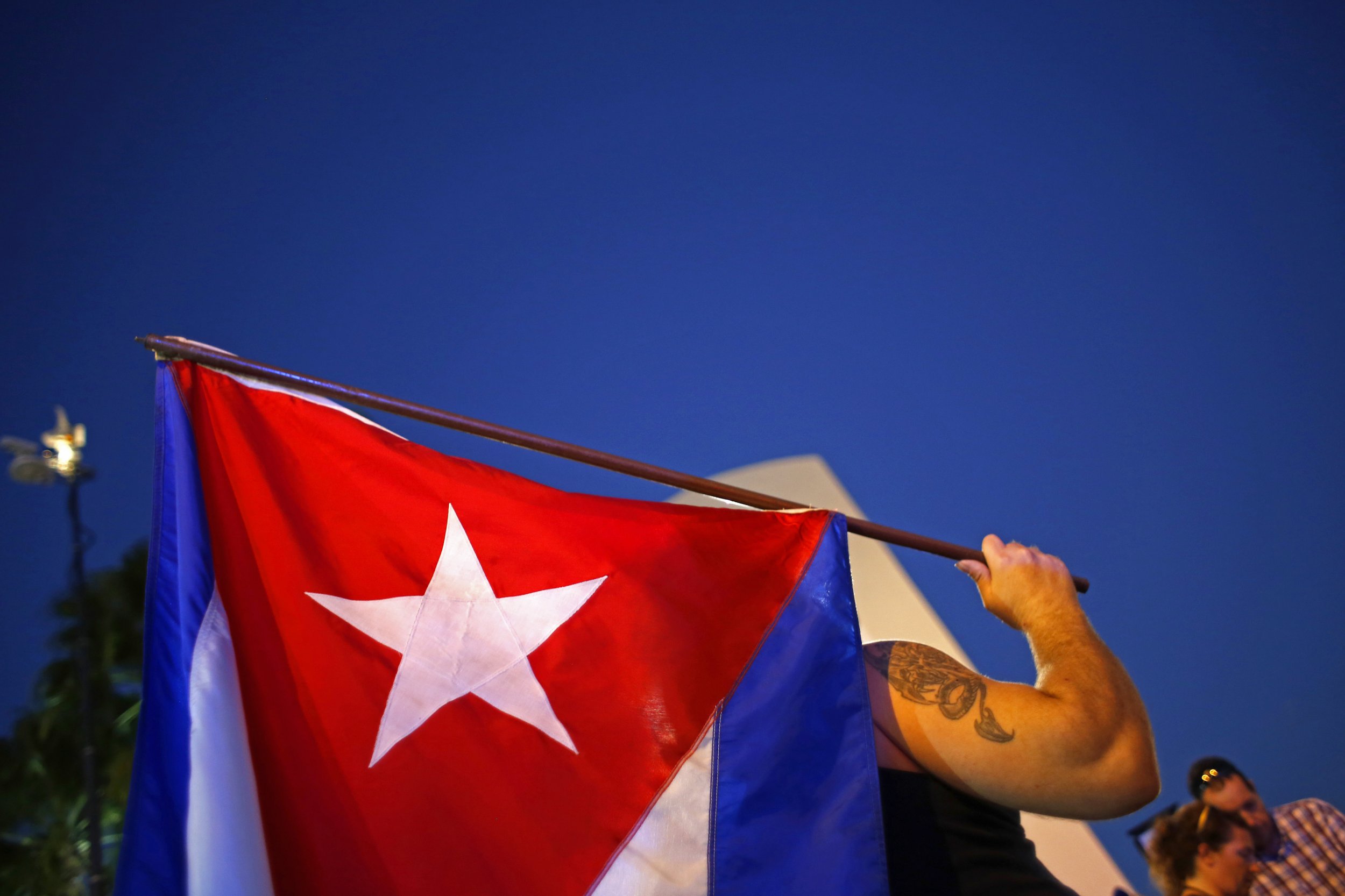 At Sophie's Cuban Cuisine in New York's Financial District, a long line of hungry business people lined up for lunch. One by one, they picked up bebidas, and sandwiches and oxtail stew with a heaping side of the eatery's famous green sauce. "This day is crazy, the line is out the door," the cashier, who did not give her name, told Newsweek. "Tomorrow will be even busier, everyone is coming in here and congratulating us."
Sophie's is just one Cuban-American establishment celebrating today, following a decision between President Barack Obama and Cuban President Raul Castro to revamp policy relations between the two nations. The U.S. is pursuing a new embassy in Havana, the State Department's classification of Cuba as state sponsor of terrorism will be reconsidered and Cuba's Internet and phone lines will be improved.
For Ricardo Martinez-Cid, the head of the Cuban American Bar Association, the changes bring about "cautious optimism." Martinez-Cid has long been an advocate for better relations between the U.S. and Cuba, the country where both of his parents were born, in the hopes it would help end some of the repression on the island.
"We have done a lot to get SIM cards, cell phones, other means of communication into the island, as we believe that flow of information, Internet in particular, will have a positive influence," he told Newsweek in a phone interview. Martinez is also cautious, however. "The Cuban government has been talking change and reform for a long time that has not led to any real change."
The exchange of information between the U.S. and Cuba began with a press conference, held by President Castro in country and televised on Cubavision International TV and streamed on the Internet. Luis Rumbaut, a spokesman for the Cuban American Alliance, was able to watch Castro's speech. "His statement was short, to the point," Rumbaut said, in contrast to the White House's lengthy fact sheet.
Rumbaut also told Newsweek he is "cautiously optimistic" about the changes. A cousin of his in southern Cuba sent an email after the announcement, a feat on its own as only about 5 percent of the country has access to the Internet.
"Everyone down there is celebrating this change," Rumbaut said. "It is an open window, a breath of fresh air. For the average Cuban, just the fact that there will be more interchange among people, even though it does not raise their salary immediately, they will see possibilities grow."
A Return to Tourism?
Americans, including politicians, were already planning trips 90 miles south of the border, although there will still be limitations for pure tourism. After the changes were announced, Republican Rep. Jason Chaffetz told KSL Radio, "As an American, I should be able to travel anywhere I want to in the world." Chaffetz had previously visited Havana with a religious visa.
Robert Curley, a Caribbean travel expert at About.com, told Newsweek that while there was no immediate signs of scheduled airline service to Cuba, the number of Americans making the trip would likely increase. "The big banana here is opening it up to tourism, there is a huge source of foreign currency. That seems to be what they are holding back" Curley also referenced Cuba's past as a prime tourism location before its revolution. "Based on geography and history, Americans are dying to go back to Cuba," Curley said.
The travel ban hasn't exactly stopped Americans from reaching the island nation. Suzanne Altobello, a professor at the University of North Carolina, told Newsweek she spent months planning her trip to Cuba, which she visited this past March on an academic visa, one of the previously accepted ways of getting to the island legally. She called it a wonderful experience.
Other Americans have historically also traveled to Cuba by taking a less direct route. Nicolas M., a professional in New York who didn't want to be named, has also spent months planning his trip as well, though he won't be declaring his journey to the U.S. government, heading to Cuba through Toronto instead. This method of travel, however, limits what he can bring back. His biggest worry about the trip? "I'll lose my Trusted Traveler status, which I really like."
Opening for Business
Only 90 miles separates Florida from Havana and huge possibilities might exist in a more open Cuba for American businesses. Tourism giant Airbnb told Newsweek, "This is an interesting development and we're reviewing the details and exploring our next steps."
Cuba Cruises, a Canadian cruise line, said they do not expect business practices to change at this time, only if further policy changes are made by the United States. "We absolutely foresee an increase in bookings from international travelers who are drawn to Cuba's incredibly preserved culture," their CEO Dugald Wells said in a statement.
Some in Exile Community Furious
Not all Cuban Americans, however, are enthused by the policy changes. Frank Calzon, executive director of the Center for a Free Cuba, a think tank and advocacy group, explained that many are frustrated with they way negotiations were conducted between U.S. and Cuban authorities. "For a year and a half, the president negotiated in secret, when there are three Cuban-American senators. He could have asked families, asked groups."
Calzon also noted that some Cuban-Americans believe Cuba is being rewarded for bad behavior. "The president said he will negotiate with Cuba, but what is he going to negotiate? Everything Cuba wanted has been given to them without getting anything in return. Accepting blackmail and hostages is not a healthy way of beginning a relationship with any country," Calzon said, referring to political prisoners who were let go as part of the diplomatic policy revival.
Miami Mayor Tomas Regalado also felt strongly that America had allowed Cuba to enter back into its good graces without making change. "There's no request for free speech. There's no request for freedom of political prisoners. There's no request for a democratic election and that is what the embargo was supposed to do," he told CBS.
Both sides, however, seem to agree that Cuba needs more telecommunication. Calzon's organization helped secure the delivery of 50,000 shortwave radios into Cuba to foster greater communication. Though he noted the White House's promise to build up telecommunication infrastructure in Cuba, Calzon is unsure, noting that Castro promised years ago that each Cuban would be able to drink a glass of milk a day, and had yet to fulfill that much smaller deed.