Optimism for Stimulus Deal Swells in Congress as GOP Pushes McConnell to Back Bipartisan Offer
Growing enthusiasm within the halls of Congress for a bipartisan stimulus proposal had lawmakers on Thursday the most hopeful they'd been in months about soon ending the boundless partisan logjam that's prevented more relief from reaching struggling Americans.
Rank-and-file Republicans warmed to the idea of a $908 billion coronavirus measure, a key Democratic duo—House Speaker Nancy Pelosi and Senate Minority Leader Chuck Schumer—have jumped on board with the compromise as a starting place and President Donald Trump pressed for Congress to strike a deal.
But elusive from the fray was Senate Majority Leader Mitch McConnell, who continues to try and coral support for a stimulus worth less than $500 billion—a narrow relief bill that top Senate Republicans have unsuccessfully tried to pass for months.
"I will support what Senator McConnell wants to propose, but it doesn't have any Democratic support," Sen. Lindsey Graham (R-S.C.), a Trump confidant, said. "I'm tired of doing showboats here."
Privately and publicly, Republicans involved in the nearly $1 trillion bipartisan plan are urging the Kentucky Republican to join them at the negotiating table and use their offer as a foundation.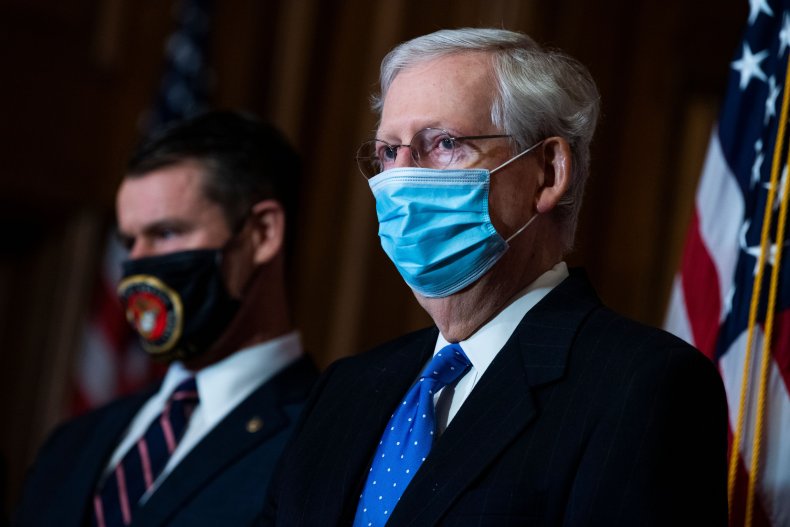 "When you see people and the momentum going in the right direction," said Rep. Tom Reed (R-N.Y.), co-chair of the bipartisan Problem Solvers Caucus that is behind the $908 billion proposal, "I think time, in short order, will show that we're in the area where we're going to land this plan."
Senators Mitt Romney (R-Utah) and Lisa Murkowski (R-Alaska), part of a bipartisan group of Senate members who also helped devise the plan, met with McConnell Thursday afternoon in his office just steps from the Senate floor to lay out the legislation's details.
"No commitments back and forth," Murkowski described the conversation to reporters, "but just kind of an explanation and walkthrough as to where we are."
Although McConnell offered positive remarks earlier in the day about a deal—saying "it's been heartening to see a few hopeful signs in the past few days" and that "compromise is within reach"—the majority leader showed no willingness to back the bipartisan solution being offered.
"[Democrats] have tried to create a dynamic where they move from one made-up number to a second, slightly smaller arbitrary number and call it a meaningful concession," McConnell said.
Another promising sign: Pelosi and McConnell spoke by phone about pandemic relief Thursday afternoon, according to the speaker's deputy chief of staff. In addition, Senate Republicans further down the leadership rung appeared to be increasingly open to the bipartisan proposal.
Graham said he's "never been more hopeful that we'll get a bill."
"I like the effort," Senator Kevin Cramer (R-N.D.) added. "It strikes the right balance of compromise, and it's a number that's doable."
Of the $908 billion, just $348 billion is new money—a welcoming sign to Republicans—while the rest is repurposed money from the Cares Act. Among the provisions is temporary liability protections; $180 billion in unemployment insurance; $288 billion for the Paycheck Protection Program; $160 billion for state and local governments; $25 billion for renters; $4 billion for student loan deferments; $82 billion for schools; and $16 billion for vaccine development, testing and tracing.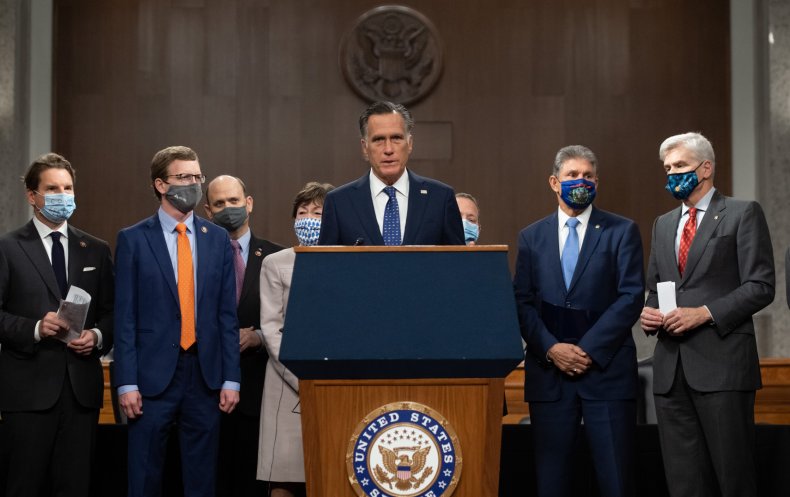 Among the major sticking points for Democrats is the labiality protections while Republicans aren't supportive of the state and local aid. Overall, the bill sits somewhere—both on total price and policy language—in the middle of House Democrats' $2.2 trillion package and Senate Republicans' less than $500 billion plan.
"They've got a lot of really good provisions in there, particularly the [unemployment] plus-up and the reallocation of resources is good," Senator Thom Tillis (R-N.C.) said, but offered hesitations about the idea of offering temporary federal liability protections from coronavirus-related lawsuits while states craft their own safeguards. "I think we need a bridge... This may be the bridge that we need to get back to a healthy population, a healthy economy."
For the first time on Wednesday, Pelosi and Schumer threw their weight behind the bipartisan proposal. In a joint statement, the Democrats suggested the legislation be used as a starting point for talks.
"In the spirit of compromise, we believe the bipartisan framework introduced...should be used as the basis for immediate bipartisan, bicameral negotiations," they said.
Their language did little to convince some GOP senators, who contended that Pelosi and Schumer may use the $908 billion as a floor and continue increasing their offer.
Still, the president urged Congress to get something done. He stated his support for McConnell's targeted plan, but he also appeared to offer broader backing for landing any bipartisan legislation on his desk.
"I want it to happen," Trump told reporters in the Oval Office. "And I believe we are getting very close to a deal."
This story was updated to include comment from Sen. Graham.