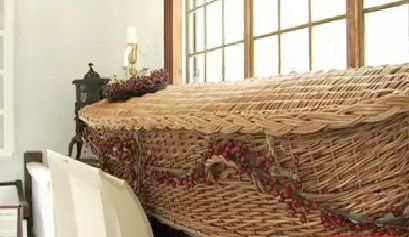 When Clark Wang is feeling well enough—he has the incurable cancer non-Hodgkins lymphoma—he plays the piano, chats with his former Bulgarian folk-dance partners, and test-drives his biodegradable casket in anticipation of his natural or "green" burial at Pine Forest Memorial Gardens in Wake Forest, N.C.
Wang, 48, represents a small but growing number of individuals across the country who are opting to decompose directly into the earth. In a 2007 survey by the AARP, 21 percent of Americans older than 50 said they would prefer an ecofriendly end-of-life ritual. Nationwide, there are currently 22 cemeteries with natural burial grounds certified by the Green Burial Council, up from only one in 2006, and 40 states with funeral providers offering green services. Many, like Wang, cite environmental concerns or significant cost savings as a reason to go green.
Today's funeral industry, which uses embalming (to prevent decay of the body), and concrete vaults, largely materialized from the desire of a generation of Civil War mothers to have their sons shipped back home. Steelmantown Cemetery's owner, Edward Bixby, who opened his green burial ground—the only one in New Jersey—to the public in 2007, says we are now returning to green practices because of baby boomers. Bixby says he handles only about six burials a year and that most of his business involves pre-arranging funeral services. But he predicts there will be a major uptick in green burials in the next decade as the baby boomers, who are more concerned about the environment than previous generations, begin to plan their funerals.
Cremation, one of the burial options listed on the Green Burial Council's Web site, grew in popularity over the past few decades as an option for Americans because it was seen as more environmentally friendly for eschewing conventional practices like embalming and placement in a casket and vault. The release of hundreds of pounds of carbon dioxide into the atmosphere that often accompanies cremation, however, has turned off people like Wang.
Another burial option piquing consumers' interest is resomation (also known as "bio-cremation"), which emits no carbon. In the United States, only a handful of states have approved resomation, and California is the latest to consider legalizing it. Resomation involves placing human remains, water, and potassium hydroxide into a stainless steel tank and heating it for several hours until the remains melt. While some of the residue can be placed in an urn, the rest is recycled through the sewage system, giving the practice the nickname "toilet burial." Joe Sehee, executive director of the Green Burial Council, questions whether it is environmentally friendly to flush what may be more than 100 pounds of human residue through the sewage system.
When Wang's mother committed suicide when he was 2, she was buried in a conventional cemetery in Ann Arbor, Mich. Growing up, he had envisioned that he would be buried right next to her. But when he began to research the monetary and environmental costs of embalming his body and shipping it to Ann Arbor from North Carolina, he said, he felt it would be selfish and unethical.
The growing popularity of green burials has led, inevitably, to abuse. Much of it involves cemeteries or companies claiming to be "green" when they're not. In 2005, for example, The New Yorker and others wrote about South San Francisco's Fernwood Cemetery opening what it called a green burial ground, and questioned some of the cemetery's environmental practices. Sehee, who was once the cemetery owner's media representative, sold his home and founded the Green Burial Council to provide "stop-gap governance" and protect consumers.
In the past two years, Sehee says, close to a dozen cemeteries and providers have been taken off the council's list. Council members or consumers discovered that those businesses did not yet have a green burial option in place or were not in compliance with the council's standards.
There is no regulatory agency overseeing green cemeteries, but the funeral industry is subject to Federal Trade Commission rules about deceptive advertising practices, says Jessica Koth, public-relations manager of the National Funeral Directors Association. She added, however, that "every consumer defines green in a very different way."
In Michigan, legislation is being drafted to protect consumers who opt for green burials. The measure would provide for "legally enforceable means" to ensure that the properties are maintained as consumers were promised. Phil Douma, executive director of the Michigan Funeral Directors Association, says funeral directors and the Green Burial Council are working together to ensure properties would be kept in an environmentally responsible manner for perpetuity, in cases where such commitments are made.
Semantics is also an issue in the industry, and consumers can be confused about labels. Jack Kleis, an embalmer at Dodge, a company that manufactures embalming chemicals, says labeling something nontoxic—which some companies do—could "lead you to believe that you could almost drink it." Craig Caldwell, another Dodge embalmer, says he believes many consumers might consider their product "green"—though it does contain a toxic chemical—because it does not contain formaldehyde. Formaldehyde is present in almost all embalming fluids and has been linked to the higher incidence of leukemia among funeral directors, according to a National Cancer Institute study from November 2009.
Despite the "greenwashing" that occurs—falsely identifying a product or service as environmentally beneficial—the number of people seeking ecofriendly end-of-life procedures continues to grow. Linda Holzbaur, a member of the Greensprings Natural Cemetery board of trustees, has given two of her loved ones a green burial. When her baby granddaughter died in 2007, she was one of the first to be buried at Greensprings, in upstate New York. Before Holzbaur's husband died last year, he had planned on being cremated. But he learned of the carbon emissions involved and opted for a green burial in a plain wooden box.
"For an adult-size body [compared with a baby's], it's difficult to dig it [the grave] but everybody pitches in, it's a very personal experience," she says. "Quite a few of my friends ended up buying a plot."