John Stephenson cups his mouth and lets out a long, sorrowful howl. "Ow ow owwww!" his cries echo into the Rogue River–Siskiyou National Forest. "Owwww!"
The U.S. Fish and Wildlife Service official is performing a "howling survey" in search of the world's most famous wolf, who goes by the diminutive name OR-7. It's May, and Stephenson is standing beside a logging road, deep in the woods outside Prospect, Oregon, hoping for a response, which never comes. The lanky wildlife biologist has also positioned trail cameras in the bush, strapped to grand fir trees and triggered by animals as they pass. But as he scrolls through 1,400 images, he finds only bears, bobcats and deer. OR-7 and his pack must be somewhere on the other side of these mountains, in search of a meal.
Such tracking methods are antiquated, but the more effective approach died three years ago, in the GPS-equipped collar that still hangs from OR-7's neck. The gray Canis lupus became famous in 2011, after he left his pack in the northeastern corner of Oregon and traveled 1,200 miles from home—over mountain ranges, beneath interstate overpasses, through the volcanic terrain of Lassen National Forest in Northern California—in search of a mate. He was the first confirmed wolf to enter the Golden State since 1924.
OR-7's border crossing changed policy in California and inspired thousands of followers worldwide. His 17 pups have moved across Southern Oregon and Northern California, helping wolves populate every region of Oregon except the coast. Unwittingly, he has done more for his species than any other wolf, and for that he is as reviled by cattle ranchers as he is celebrated by conservationists.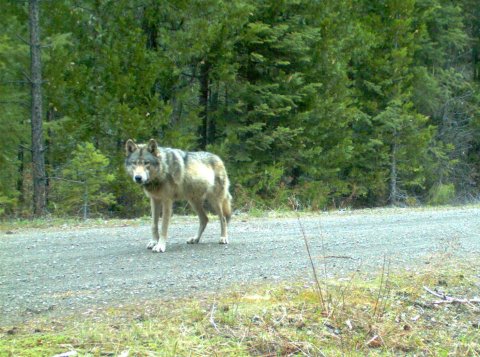 Wolves were added to the federal endangered species list in 1974. But the more their numbers grow, the louder the complaints from the ranchers and politicians who consider them marauders. Some 5,000 wolves across America have been killed via state-sanctioned "harvests" since 2011, when Congress stripped them of federal protection in several states. Now, U.S. Interior Secretary Ryan Zinke is considering a proposal urged by conservative lawmakers to pull them off the federal endangered species list. But the fierce advocates inspired by OR-7's epic journey are prepared for a fight.
By the 1950s, wolves had been decimated by centuries of hunting; gray wolf numbers in the U.S. dropped to 500, down from the historic height of an estimated 2 million in the 16th century. Inspired in part by renowned conservationist Aldo Leopold—whose posthumously published book, A Sand County Almanac, and Sketches Here and There, captivated activists in the '60s and '70s—environmentalists called for the reintroduction of wolves into the American landscape. In 1995, 21 years after they were added to the endangered list, the U.S. Fish and Wildlife Service began helicoptering the first of 35 gray wolves into Yellowstone National Park and central Idaho from Canada, and the animals slowly began to spread out.
In 1999, Carter Niemeyer, a wolf biologist in Idaho, captured and collared OR-7's mother. Not long afterward, he got a phone call from Russ Morgan, then the lead of Oregon's wolf team. "Hey, Carter," Morgan said. "One of your wolves just came into my state." She was the first to cross over from Idaho in 52 years.
Once in Oregon, and renamed OR-2, she moved to the Eagle Cap Wilderness in search of a mate. She found one in 2008—another collared wolf, OR-4, a big beast of an alpha male. The pair formed the Imnaha Pack, settling in the Wallowa Mountains near Joseph, Oregon. In 2009, OR-2 gave birth to a litter of pups. One of them was OR-7.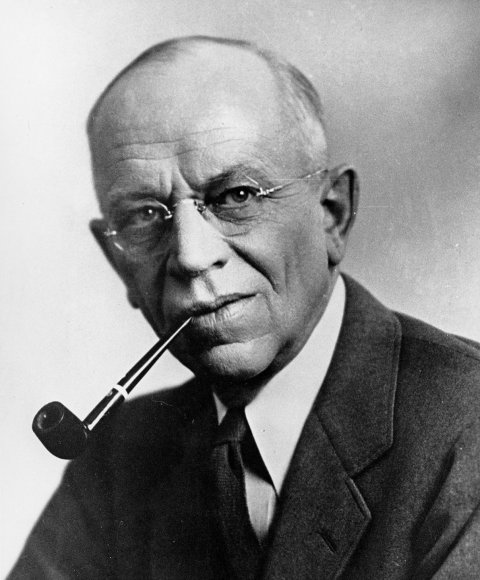 He is now 9 years old, which means OR-7 has lived twice as long as most wolves in the wild. One of his male offspring (unnamed because he isn't collared) moved back into California and formed the Lassen Pack. A female pup, OR-54, traveled 600 miles through at least four California counties, nearly reaching Lake Tahoe.
But OR-7 is a legend because of his journey. He is famous because he didn't starve or get shot or hit by a car. And "he kept going," says Niemeyer. "There was no doubt that over time, wolves would disperse and take back what's theirs. But here's this gray wolf, clear down in California, advancing wolf recovery potential by leaps and bounds."
Hundreds of newspaper articles and at least three books have been written about that trek. Thanks to OR-7, California officials were forced to develop management plans that would outline their treatment of wolves for decades to come.
After Stephenson checks the trail cams, we head to Mill Mar Ranch, not far from where OR-7's pack dens. Mill Mar's owner is Ted Birdseye, and he thinks he heard wolves a couple of nights ago near his cattle, howling on a ridge at the north edge of his property. As we drive, Stephenson monitors a scanner that beeps within a mile of the nearest collared wolf, but he hears nothing. He keeps track of wolves for a few reasons: to know where they are, of course, but also to warn ranchers, so they can protect their livestock.
"It's not a question of if" wolves will attack his cows, Birdseye says when we arrive, "it's when. There's going to be predation. They're beautiful animals, but what wolves do is kill. There's a place for them. I don't think it's in my backyard."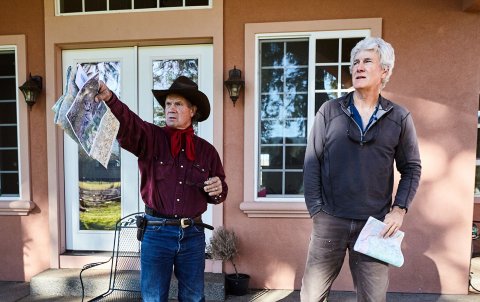 There are wolf haters, but Birdseye is not one of them. He considered a career in animal ethology but ended up ranching after teaching history in Ashland for a decade. A man he knew raised wolves for television shows, and Birdseye would donate dead sheep and cows to feed his pack. One day, the guy offered him a pup from a litter. "I raised her until she was 17," an age she lived to only because she was in captivity, before dying of natural causes, Birdseye says. "It was one of the most interesting experiences I've ever had."
Birdseye spotted OR-7 a year ago, walking nonchalantly outside the fence of his ranch. "I stopped my tractor and saw his head go up, then he turned and walked away, like 'fuck you,' almost in slow motion."
Some wolves will stay with their packs and defer to their alphas for a lifetime; others long to breed and run their own clans. They'll either challenge the current alpha for the top spot or disperse into the wild, in search of their own mate and territory. OR-7 made this choice in 2011. But where most males disperse about 100 miles, he had gone 730 by the time he was 2 years old.
Wildlife biologists believe he subsisted on "bone yards," the piles of livestock carcasses that ranchers stack up after animals die. He could have stayed put in any number of places, but he kept moving. Wolves, like most creatures, are born with a biological imperative, and with no mate he couldn't reproduce.
As OR-7 traveled, he marked his path with urine, then doubled back every so often to see if a female had covered his scent with her own—the wilderness version of Tinder. Or, as Amaroq Weiss of the Center for Biological Diversity puts it, "For a good time, call 1-800-OR-7."
With each day that he lived and each new territory he traveled, his fan base grew via international headlines and email updates from the agencies charged with tracking him. Even the National Enquirer picked up the story, remembers Niemeyer. He also got his own bumper sticker: "OR-7 for president."
Weiss watched his "thrilling" journey from California, where she works as West Coast Wolf Advocate. She remembers arguing with the Siskiyou County Board of Supervisors in California in 2001, as the board held a public hearing to pass a resolution that would somehow "forbid" wolves from entering the county. "You can pass any resolution you want," Weiss told the board. "But the wolves aren't listening. Ten or 20 years from now, you're going to have wolves in California."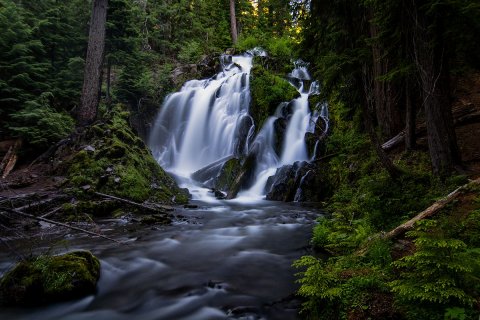 Ten years, one month and three weeks later, OR-7 trotted into the Sky Lakes Wilderness south of Crater Lake and onward to Siskiyou County in California. "It was huge," says Weiss. "There are very few cases in this country where we lost a species because we killed them off and they return. We tried to eradicate wolves from the face of the earth, and we very nearly succeeded."
Making it to California was a monumental step, but OR-7's chances of finding a mate seemed slim. "I told many of my colleagues it's more likely he'll end up run over on a highway," says Niemeyer.
In May 2014, he was proved wrong. A trail camera snapped a photograph of OR-7 in the Rogue River–Siskiyou National Forest. A few seconds later, another animal triggered the shutter. On the image was a slender black female, unnamed and unknown. OR-7 had found a girlfriend, nearly a thousand miles from where his search had begun. Weiss was at another hearing in Fortuna, California. There were people in wolf costumes, singing a cappella, all following OR-7 news reports on their phones. When his mate was revealed, "the room erupted in cheers," says Weiss. "It was amazing—he had done it."
Later that year, the pair had a litter of three pups. The next year, they produced two more. Because they now numbered more than four wolves and traveled together during winter, they were assigned pack status by officials with the Oregon Department of Fish and Wildlife. Their name—Rogue Pack—was apt, given its leader, but it was derived from OR-7's home, the Rogue River–Siskiyou National Forest.
The battery in OR-7's collar died in 2015, but by then he had logged more than 1,200 miles. (He is now estimated to have traveled 5,000.) The implications of that journey are the subject of an ongoing and intensifying debate. In 2011, in response to complaints from Republicans and ranchers, U.S. Congress stripped wolves of federal protections in Idaho, Montana, Eastern Washington and Oregon, and a small section of Utah. This gave those states the ability to kill wolves. In 2012, The U.S. Fish and Wildlife Service (which also has the ability to rescind protection) pulled Western Great Lakes and Wyoming wolves from the list and a year later proposed to strip protections for wolves across the lower 48, with the exception of some Mexican grays in Arizona and New Mexico. (Secretary Zinke's proposal would take this a dramatic step further.)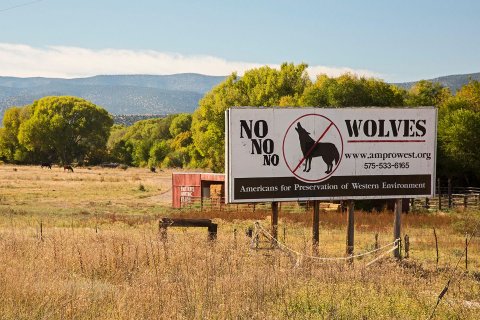 "There are still 42 to 45 states where wolves have federal protections," says Weiss, "but there are known wolf populations in only six of them, with a tiny number in three. California has just one known pack." By removing protections, she adds, it ensures that wolves "will never be able to gain a toehold or establish populations where they no longer exist. Most states would then allow shooting them on sight without penalty."
In 2009, there were 13 wolves in Oregon. By 2015, the population had grown to 110 in a dozen packs across the state, up 36 percent from 2014, with a foothold in every region except the coast. That November, Oregon officials removed gray wolves from the state's endangered species list, just as they were beginning to thrive again.
There are now an estimated 124 wolves roaming Oregon, a number that conservationists agree is nowhere near historic levels and hardly robust enough to consider the species safe from extinction. "They're just taking back some of the old territory they used to occupy," Niemeyer says. And enriching those territories once again.
Apex predators may be terrifying to livestock ranchers, but they're indisputably a good thing for the environment. To give a sense of the boon wolves provide, consider that the carcass of an elk brought down by wolves provides food for grizzly bears, black bears, coyotes, eagles, ravens, magpies and hundreds of species of beetles.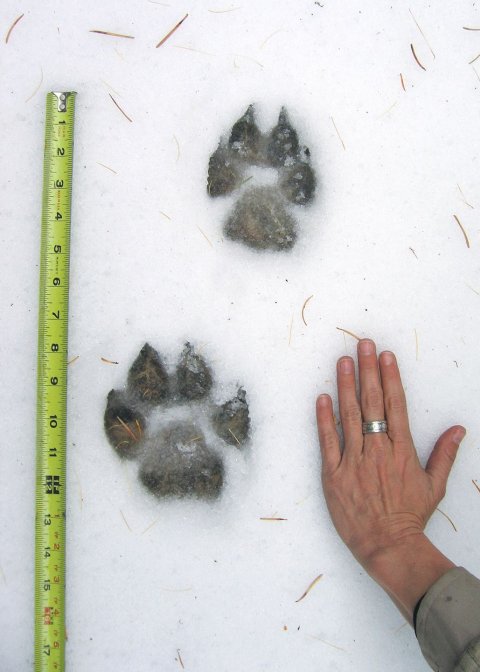 Wolves commonly go after elk and deer, whose populations have exploded across many parts of America, decimating the trees and plants they like to eat. But in areas where wolves have once again begun to thin herds, some of those trees—including cottonwood and willow—have bounced back, providing nesting and roosting sites for songbirds, stronger roots that prevent soil erosion and building supplies for beavers, who create dams that cool rivers and provide habitat for fish.
Contrast that with places where wolves and cougars were eradicated long ago. In the eastern states of the U.S., large deer populations have meant more collisions with the animals: About 150 Americans die annually from such crashes. Conservationists believe that reintroducing wolves would cull deer heards and bring accident numbers down.
Many of Birdseye's fellow ranchers dismiss those benefits. They are also convinced that the state is lying about the number of wolves that actually live in Oregon. For several years, wolf haters in the state have promoted a conspiracy: that government officials were dropping wolves farther and farther west via stealth helicopter missions to expand their protected territory.
But if OR-7 did nothing else, he proved that gray wolves could and would travel long distances on their own. And California took note. Two years after he slipped over the border, the California Fish and Game Commission voted 3-1 to protect wolves under the state's version of the Endangered Species Act. The California Farm Bureau and the Cattlemen's Association filed a lawsuit against the action, but the government had no choice: OR-7 had forced its hand.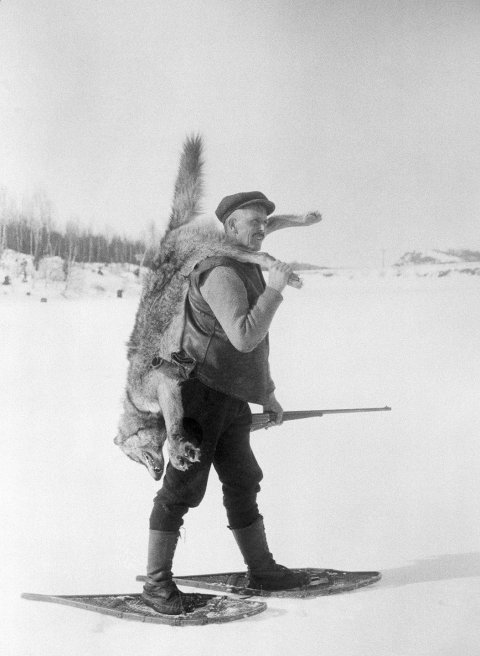 Biologists now estimate the Golden State could one day be home to 500 wolves—five times the number now. "OR-7 woke up California—OK, we're going to have wolves," says Stephenson, who is careful not to lionize the animal or any of his offspring, because whatever feelings he may personally have about OR-7, the government must maintain neutrality.
In other states, the presence of wolves didn't lead to protection. In eastern South Dakota, they are classified as "varmints" and can be legally shot on sight. In Idaho, a particularly important state for wolves because it's the gateway to the West, Governor Butch Otter bragged in 2011 that he wanted to be the first to shoot a wolf after Congress stripped the animals' federal protection. The state now allows wolf hunting year-round, and Otter has promised to reduce the population from its current estimated 770 to 150.
Idaho also provides hundreds of thousands of dollars annually in government money to track and kill wolves, signing off on the formation of private clubs where citizen bounty hunters hold "predator derbies." Idaho's Fish and Game officers have employed helicopter sharpshooters to kill the animals, even sending trappers into a designated wilderness area to wipe out two packs.
The stated aim? Boosting elk numbers. But in Idaho, those numbers are either at or above the government's targets, and where they are struggling, scientists agree that habitat is the enemy, not wolves. (Otter, via a spokesman, declined to be interviewed for this story. The same spokesman offered an interview with Idaho's Fish and Game director, then stopped responding.)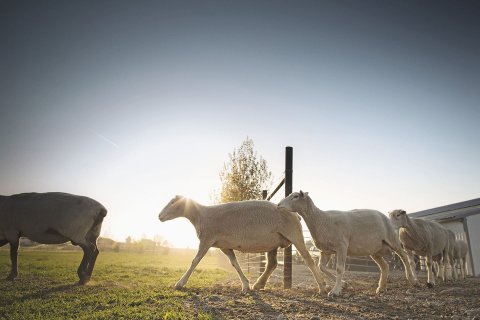 Wolves do kill cattle, though not to the extent that ranchers would have you believe. U.S. Department of Agriculture reports show that 95 percent of cattle and 72 percent of sheep losses annually do not involve predation. The livestock die from respiratory illness, disease, dehydration, starvation, birthing complications or ingestion of poisonous weeds. Those killed by predators are mostly taken out by coyotes, domestic dogs, cougars or bobcats. When wolves do occasionally kill livestock, they pay with their lives.
In March 2016, Oregon wildlife officials killed four wolves in Wallowa County after members of the Imnaha Pack attacked livestock five times in less than a month. They did so, Weiss says, because OR-7's father, OR-4, had become too old to hunt wild prey, his mate was crippled in one leg, and their two pups were too young to hunt.
In October of that year, two calves were killed and a third injured in western Klamath County; ranchers spotted three wolves, likely from the Rogue Pack, feeding on the carcasses the next day.
Conservationists point to data showing that livestock attacks tend to increase when the top predators of a pack are killed, destabilizing the group and leading to members dispersing into wider territory in search of food. In all, the number of wolf attacks on livestock dropped to 17 in 2017, down from 24 the year before.
The fewer cattle that get killed, the better off wolves are. Oregon's wolf plan divides the state in half, with different recovery goals for each. As the wolf population increases, protections become more lax, and wolves are more likely to be killed. But wolf haters across the country have developed a motto for defying government restrictions on killing them: "Shoot, shovel and shut up."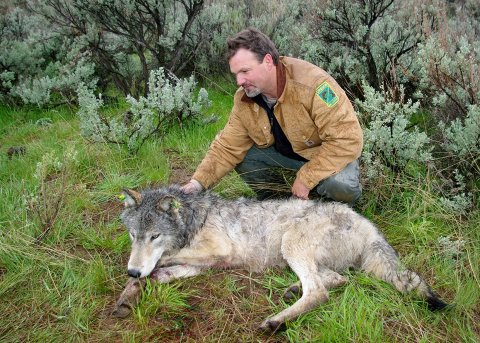 OR-7, meanwhile, just does what wolves do, to the ire of ranchers and the delight of conservationists: eating, sleeping, raising a family.
"I still go out backpacking and camping in the same general area he's in, hoping to see him or signs of him," says Beckie Elgin, who wrote the 2016 children's book Journey: The Amazing Story of OR-7, the Oregon Wolf That Made History. "He made people realize how important these animals are to the landscape, and what a gift it is to live in an area that's wild enough to be a place where Canis lupus can live. When you have an apex predator, you live in a pretty healthy environment."
In June, Oregon wildlife biologist Steve Niemela spotted an animal running down a road after he and a colleague set a few traps aimed at collaring a wolf in Jackson County. He was hoping for an OR-7 sighting but figured it was a large dog. "It just can't be," he remembers telling his colleague. "But of course, it was him."