Oral Roberts, Oregon State and Syracuse Bust More Brackets While Getting Sweet 16 Dates
Half of the Sweet 16 teams in this year's March Madness are set, and two of them came out of nowhere. Oral Roberts, Oregon State and Syracuse extended their dance cards and will keep trying to play the role of Cinderella next weekend in Indianapolis. Then there was Loyola-Chicago, which knocked off a top seed. The madness continues.
Oral Roberts, which is the No. 15 seed in the South region who upset No. 2-seed Ohio State on Friday, pulled another upset Sunday by knocking off No. 7 Florida, 81-78. Oral Roberts became the ninth 15th seed to ever win the first round, and now they're the second to ever make the Sweet 16, matching Florida Gulf Coast in their magical 2013 season.
Oral Roberts will face No. 3 Arkansas, which held on for a close win over Texas Tech on Sunday evening.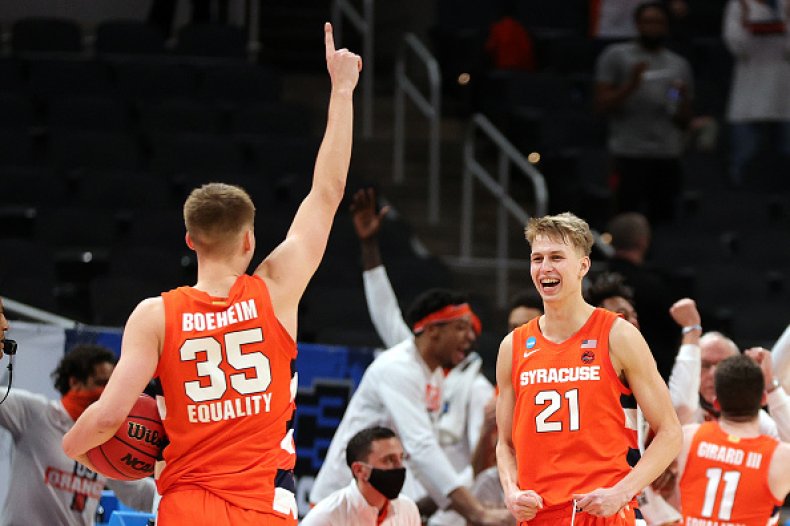 Then there's Syracuse, the No. 11 seed in the Midwest region. The Orange throttled No. 6 San Diego State on Friday and then followed it up with a 75-72 win over No. 3-seed West Virginia on Sunday.
Coach Jim Boeheim has now taken Syracuse to 20 Sweet 16s in 35 tournament appearances. The Orange will face No. 2 Houston in the upcoming weekend. Houston needed a dramatic comeback from a 10-point deficit to beat No. 10 Rutgers on Sunday night.
Baylor, which is the No. 1 seed in the South and second overall team behind Gonzaga (West region), handled No. 9 Wisconsin on Sunday and advances to the Sweet 16, where the Bears will face No. 5-seed Villanova, which easily won over No. 13 North Texas in the round of 32.
In the Midwest region, No. 12 Oregon State knocked off No. 4 Oklahoma State, 80-70, to become the third double-digit seed to make the Sweet 16 so far. Oregon State knocked off No. 5 Tennessee in the first round. There will be at least one more as No. 11 UCLA plays No. 14 Abilene Christian in the second round on Monday in the East region. No. 10 Maryland takes on No. 2 Alabama in the East while No. 13 Ohio takes on No. 5 Creighton in the West region.
Loyola University from Chicago, which is a No. 8 seed in the Midwest, beat top seed and in-state rival Illinois, 71-58, in a game that never really got close after the Ramblers took a double-digit lead in the first half.
Here are the results from Sunday and the upcoming matchups.
Round of 32 (Sunday results)
South Region
(1) Baylor 76, (9) Wisconsin 63
(5) Villanova 79, (13) North Texas 59
(3) Arkansas 68, (6) Texas Tech 66
(15) Oral Roberts 81, (7) Florida 78
Sweet 16 matchups
(1) Baylor vs (5) Villanova (TBD)
(3 Arkansas vs (15) Oral Roberts (TBD)
---
Midwest Region
(8) Loyola Chicago 71, (1) Illinois 58
(12) Oregon State 80, (4) Oklahoma State 70
(11) Syracuse 75, (3) West Virginia 72
(2) Houston 63, (10) Rutgers 60
Sweet 16 matchups
(8) Loyola Chicago vs (12) Oregon State
(2) Houston vs (11) Syracuse
---
Monday's Second Round (All times ET and are tentative)
West Region
(1) Gonzaga vs (8) Oklahoma (2:40 p.m., CBS)
(5) Creighton vs (13) Ohio (6:10 p.m., TNT)
(3) Kansas vs (6) USC (9:40 p.m., CBS)
(2) Iowa vs (7) Oregon (12:10 p.m., CBS)
East Region
(1) Michigan vs (8) LSU (7:10 p.m., CBS)
(4) Florida State vs (5) Colorado (7:45 p.m., TBS)
(11) UCLA vs (14) Abilene Christian (5:15 p.m., TBS)
(2) Alabama vs (10) Maryland (8:45 p.m., TNT)