The Orange-Bearded Jihadi General Spreading ISIS Brand in Somalia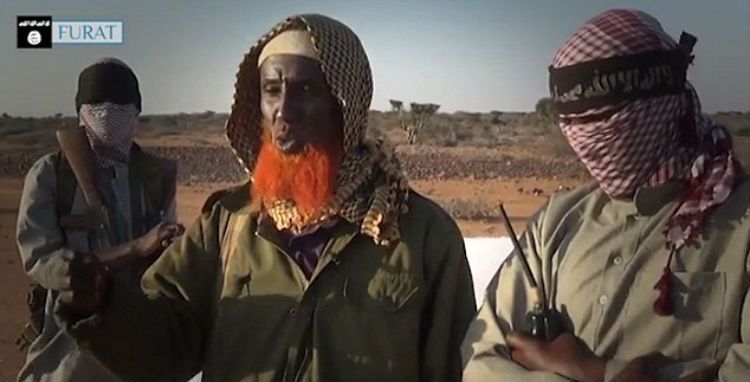 An orange-bearded jihadi general is leading the Islamic State militant group's growth in the failed East African state of Somalia after defecting from the rival Al-Shabab group.
Abdul Nadir Mumin, a Somali native who obtained British citizenship, resided in London before traveling to join radical Islamists in Somalia, but has now left Al-Shabab, the Al-Qaeda-linked militant group that has carried out a series of deadly attacks in Kenya and Somalia in a bid to create an Islamic state in East Africa.
He is seeking to boost the ISIS brand in East Africa, a region that is ripe for the group's expansion but has yet to be exploited. In footage obtained by Sky News, Somali troops stormed his ISIS base in the Puntland village of Galgala. Pre-empting the raid, Mumin fled to the nearby Galgala mountains where his cell of ISIS fighters is reportedly operating. His supporters also defected from the Al-Shabab group but only number in the dozens.
The extremist Somali cleric preached at the same south London mosque, the Greenwich Islamic Center, as British soldier Lee Rigby's killer Michael Adebolajo and ISIS executioner Mohamed Emwazi, notorious for the 'Jihadi John' nickname given to him by the British press.
Adebolajo is believed to have attended sermons delivered by Mumin, potentially inspiring his actions on May 22, 2013 when he ran over Rigby with a car and then killed him with a meat cleaver. Adebolajo is now serving a life sentence in a British prison.
Salafists removed Mumin from the mosque for unknown reasons and Britain's domestic MI5 intelligence service was monitoring him, The Times reported in 2013. It added that Mumin was a member of an influential "recruiting network" that sought to attract young Britons to travel to Somalia.
Before preaching in south London, Mumin had delivered religious sermons in Leicester at the Quba Mosque after arriving from the semi-autonomous Somali region of Puntland. He had also previously lived in Sweden.
He also appeared at an event with Islamic advocacy group CAGE in 2010 to release a report alongside former Guantanamo inmate Moazzam Begg. He eventually departed for Somalia in mid-2010 to join Al-Shabab, delivering a sermon in Mogadishu where he burnt his British passport and pledged to never set foot in the U.K. again.
Many Britons have been able to travel to Somalia via Kenya in order to fight jihad because of the lawless nature of Somalia and its porous borders.
Mumin's henna-dyed beard, a bright orange, is a practise used by many radical Muslims who believe that the Prophet Muhammad dyed his beard red and advocated the dying of the beard to cover up grey hairs.
Mumin, leading the charge for ISIS's growth in the Horn of Africa after his departure from Al-Shabab, is also suspected of crimes against children and women. Female survivors of the ISIS cell said that they had been beaten for not covering themselves as much as required by the group and they captured children in an attack in Puntland before taking them to the capital, Garowe, to indoctrinate them and use them as child soldiers.