Authorities have released new information about the victims of the country's latest mass shooting, which occurred Wednesday evening in Orange, California.
Four people, including a child, were killed when a gunman opened fire at a business complex around 5:30 p.m. One adult male, two adult females and a 9-year-old boy died.
Lieutenant Jennifer Amat, an Orange Police Department spokesperson, said at a news conference Thursday that both the fifth victim, who is an adult female, and the shooter remain at the hospital in critical but stable condition. The hospitalized victim was found in the courtyard of the business complex along with the 9-year-old boy.
"At this time, I cannot release the identity of any of the victims due to the fact that next of kin have not yet all been notified," Amat said.
Authorities said Thursday the gunman knew all of the victims either personally or through business. The child victim, police said, is believed to be the son of one of the victims who worked at the business.
"This appears to be an isolated incident, and we believe everyone knew each other," Amat told reporters. "This was not a random act of violence."
The suspect was identified Thursday as Aminadab Gaxiola Gonzalez, a 44-year-old Fullerton man. At the scene, police recovered a semi-automatic handgun and a backpack with pepper spray, handcuffs and ammunition, all of which authorities believe belonged to the suspect.
Officials said that when police officers arrived at the scene on Wednesday, they found the gates to the business complex locked and had to force their way into the premises using bolt cutters.
Two police officers discharged their weapons at the scene, said Kimberly Edds, a spokeswoman for the Orange County district attorney's office. Both officers were wearing body cameras.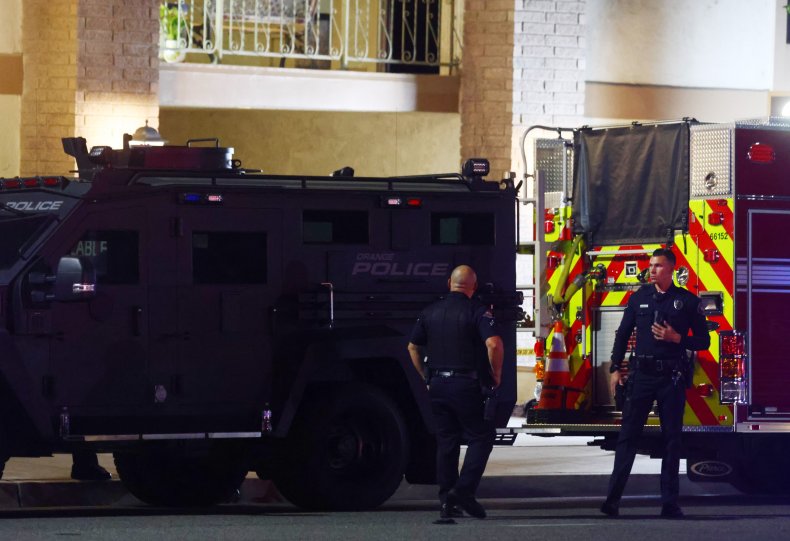 Orange County District Attorney Todd Spitzer said during the press conference that the suspect could be eligible for the death penalty.
Spitzer opened his remarks Thursday by saying, "This is child abuse prevention month, and it appears that a little boy died in his mother's arms as she was trying to save him during this horrific massacre."
California Governor Gavin Newsom addressed the shooting in a post on Twitter, calling the event "horrifying and heartbreaking."
"Our hearts are with the families impacted by this terrible tragedy tonight," the governor wrote.
The killings in Southern California follow two mass shootings last month. On March 22, a gunman killed 10 people at a King Soopers grocery store in Boulder, Colorado. A week earlier, eight people—including six Asian women—were killed when a shooter targeted three spas in the Atlanta area.