Orange Cat Melts Hearts Settling in With New Family in Clip: 'So Sweet'
A 3-year-old orange cat named Toby is melting hearts with how comfortable he was on his first night with his adoptive family, sitting contently and kneading in the arms of his new owner.
In a series of Reddit posts, u/JephriB shared the details about his new family member in the subreddit "Aww." The viral post is titled, "It's Toby's first night as a new member of our family. It makes me so happy that he's so content and comfortable already."
Toby was adopted from Cuddles Cat Lounge in American Fork, Utah according to the Redditor.
The video has 13,200 upvotes so far since it was shared on March 11, and the 13-second clip showed the Redditor lying back and holding Toby while petting him. The cat, who had his eyes closed, gently moved his paws by pushing them back and forth, which is called kneading. He did this on his new owner's arm with each paw one at a time.
According to PetMD, kneading is common, although not all cats do it. Cats begin kneading when nursing, and the action stimulates the milk production in the mother as they feed. Adult felines then associate the gesture with nursing, which is comforting.
The website reported that if a cat is kneading on a person while being pet, the cat is in turn "returning the affection and telling you he loves you right back."
Toby seemed pretty at home in his surroundings as the Redditor asked the cat if he was happy. The Reddit's wife behind the camera then asked Toby if he was "kneading," and the cat ever so slightly opened his eyes as the woman got closer.
The man revealed the cat was purring, all the while Toby kept on kneading. "Are you a happy boy?" the Redditor asked his new cat.
In a comment, the original poster (OP) revealed he named the cat Toby Felinederson, which is a play on words for NBC The Office's character Toby Flenderson. The Redditor also shared the same video an hour previously, adding some information about the adoption of Toby.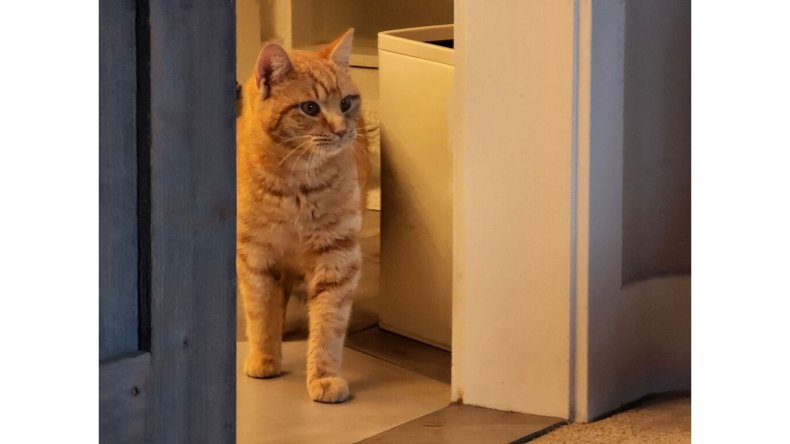 "Toby adopted my wife and I today while we were visiting a local cat shelter," the OP said. "He's all purrs and cuddles, and we couldn't be any happier to have him as a new member of our family."
There's even another bonus image of Toby lying on top of his new owner on the couch, looking pretty content.
In another video, Toby is introduced to the rest of the family, which includes four children. The Redditor's wife brought out Toby into the living room, and many of the kids seemed excited over the new family member. The OP's wife sat down, and some of the children got the chance to pet Toby for the first time.
The Redditor also shared a video of his children's very first morning with the new member of their family. The cat laid in bed as the kids pet him, and he didn't seem to mind all the attention in the slightest.
Comments came pouring in over the viral video of Toby kneading the Redditor, and people couldn't seem to get enough. Some viewers commented on the cat's kneading specifically. "It's bread makin' time," a Redditor joked.
People could see the connection the OP and the cat share. "Look at that love," a viewer pointed out. "That's so beautiful."
A few Redditors brought up orange cats in particular. "I was just talking the other day about how typically amazing male orange tabby cats are," a Redditor expressed. "Just so loving."
One viewer mentioned that the cat is a "sweet, handsome boy," adding, "You know he's happy to be with y'all when he's already busy making biscuits on his first night!"
Words of appreciation were everywhere with comments like, "So sweet, thank you," and "He's gorgeous! So happy you found each other."
Some congratulated the Redditor on his new family member. "Oh he is a very happy boy!" a viewer mentioned. "He most definitely knows he's in his forever home. Congratulations to you all!"
While another Reddit user thought the cat "can tell you're a good person because you're not getting angry with his kneading."
A viewer thought Toby knew just how lucky he is. "Toby knows he hit the jackpot," they said. "Smart kitty."
When reached for comment, u/JephriB told Newsweek, "It's been less than a day now since he joined our family, but already he fits right in. We set him up with a litter box and food and water in our master bedroom before bed. However, it wasn't long before I heard kneading the side of the bed right next to my pillow. I picked him up, and he spent the rest of the night snuggled between my wife and I in bed."
"You could say that we did Toby a favor by bringing him into our home," the Redditor continued. "However, I think we are really the ones who are receiving more. We need a Toby in our lives right now." In conclusion, the OP said: "Our life and family are happier with Toby in our home."
Updated 03/11/2022, at 1:52 p.m. ET: This story has been updated with additional information and background.