Orange Crushed: Seattle Seahawks Pulp Denver Broncos in Super Bowl XLVIII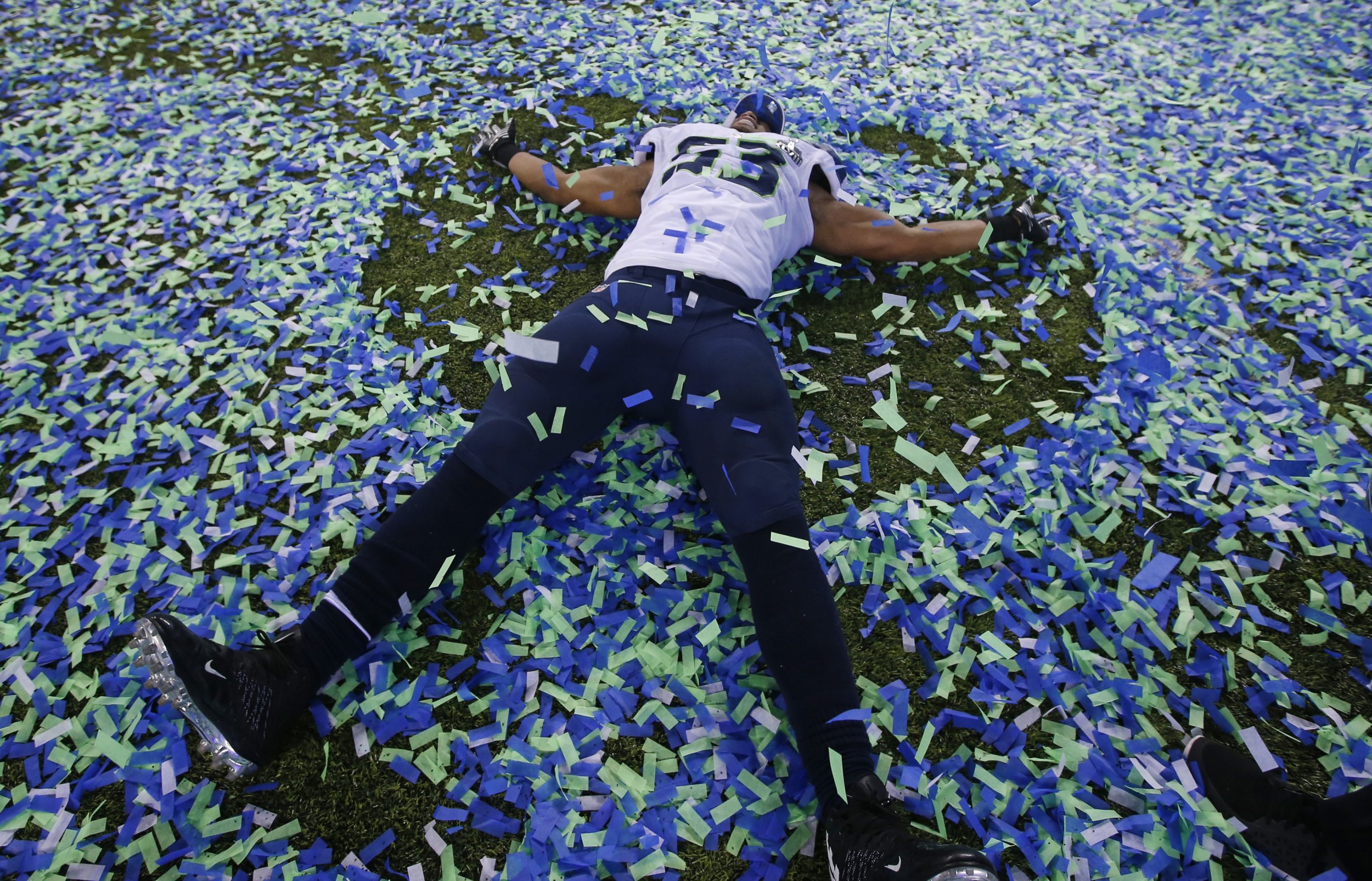 Give the Denver Broncos credit: In the first 12 seconds of Super Bowl XLVIII, they reminded every viewer what the term "harbinger" means.
On the game's first play from scrimmage, the Broncos offense, a unit that had put up historic numbers during the 2013 season, scored two points—for the Seattle Seahawks. As quarterback Peyton Manning took a few steps from his shotgun position toward the line of scrimmage at the 14-yard line to call an audible, center Manny Ramirez snapped the ball past his right ear lobe—"Oma-god!"—and into the end zone. A sign of the beat-down to come.
There remained 59:48 to play in the contest, but this one was already over. The Broncos allowed a safety, threw an interception that would be returned 69 yards for a touchdown, and allowed a kickoff to be returned 87 yards for a touchdown before ever scoring any points for their side. The team that had scored more points (606) in one season than any in NFL history, with the quarterback who had thrown more touchdown passes (55) and for more yardage (5,447) than any player ever had in an NFL season, trailed 36-0 after nearly three quarters and one odd and forgettable Bruno Mars/Red Hot Chili Peppers halftime collaboration.
Give it away, give it away now, indeed.
The Broncos were feckless, committing four turnovers, while the Seahawks were friskier than a puppy in a Budweiser ad. Mirroring the boundless enthusiasm of their boyishly dynamic 62-year-old coach, Pete Carroll, the Seahawks consistently outran, out-hit and, consequently, outscored the Broncos. For Broncos fans, this was the least productive three-plus hours anyone in the state of New Jersey has spent since that government-induced traffic jam on the George Washington Bridge.
It was an intriguingly unique game, in so many ways. The final score for example. In some nine-plus decades of games in the history of the National Football League, no contest had ever ended with a final score of 43-8. Manning threw a Super Bowl-record 34 completions, and Bronco wideout Demaryius Thomas caught a Super Bowl-record 13 of them, but so what? The enduring image of Denver's passing game from XLVIII will be all those underneath routes netting an average of 5.7 yards per play. The Broncos offense threw a flurry of jabs, but very rarely landed a punch.
There's also the Groundhog Day aspect. Manning once again lost a Super Bowl game in which he threw a pick-six, in which the opposing quarterback stood less than six-feet tall, and in which his team was embarrassed on the post-halftime kickoff. You almost expected Ned Reyerson—"Needlenose Ned"—to shake his hand immediately after the game.
Everyone worried that the weather would be a factor, but NFL commissioner Roger Goodell may have friends in very high, even ethereal places. Sandwiched between a week in which temps on some days never exceeded 20 degrees and a post-game Monday that could include seven inches of snow in the New York metropolitan area, it was 49 degrees at kickoff. Balmy? Not exactly, but former Jet quarterback Joe Namath, who executed the pre-game coin toss in a mink fur, was comically overdressed.
Broadway Joe flipped the coin into the air before the Seahawks even called "heads" or "tails." Can a quarterback 44 years removed from his most recent Super Bowl experience be flagged for a false start?
As for long-term harbingers, well, Super Bowl XLVIII could serve as one for the next half-decade or so of the NFL. The franchise from the Pacific Northwest had no player on its roster with previous Super Bowl experience, and yet it played a consummately composed, nearly error-free game (the Seahawks became the first Super Bowl champion in 48 iterations to not commit a turnover). The average age of its players is 26, which made it the second-youngest Super Bowl roster in NFL history. Other youth-oriented Super Bowl-winning teams include the 1974 Pittsburgh Steelers and the 1981 San Francisco 49ers. Both of those teams went on to win four Super Bowls with largely the same cast.
Carroll's mantra has long been "Win Forever," and this Seattle team, with preternaturally poised second-year quarterback Russell Wilson (just 25) is poised to do just that. These players are uncommonly bonded with their holistic, good vibes coach, and the fruition of that bond was readily apparent at MetLife Stadium. As Wilson noted afterward, remembering conversations he and his father, now deceased, used to have when he was a boy, "My dad used to always say, 'Russell, why not you?'"
Why not, indeed?