Lea DeLaria of 'Orange Is the New Black' on the Thin White Duke and Bangable Presidents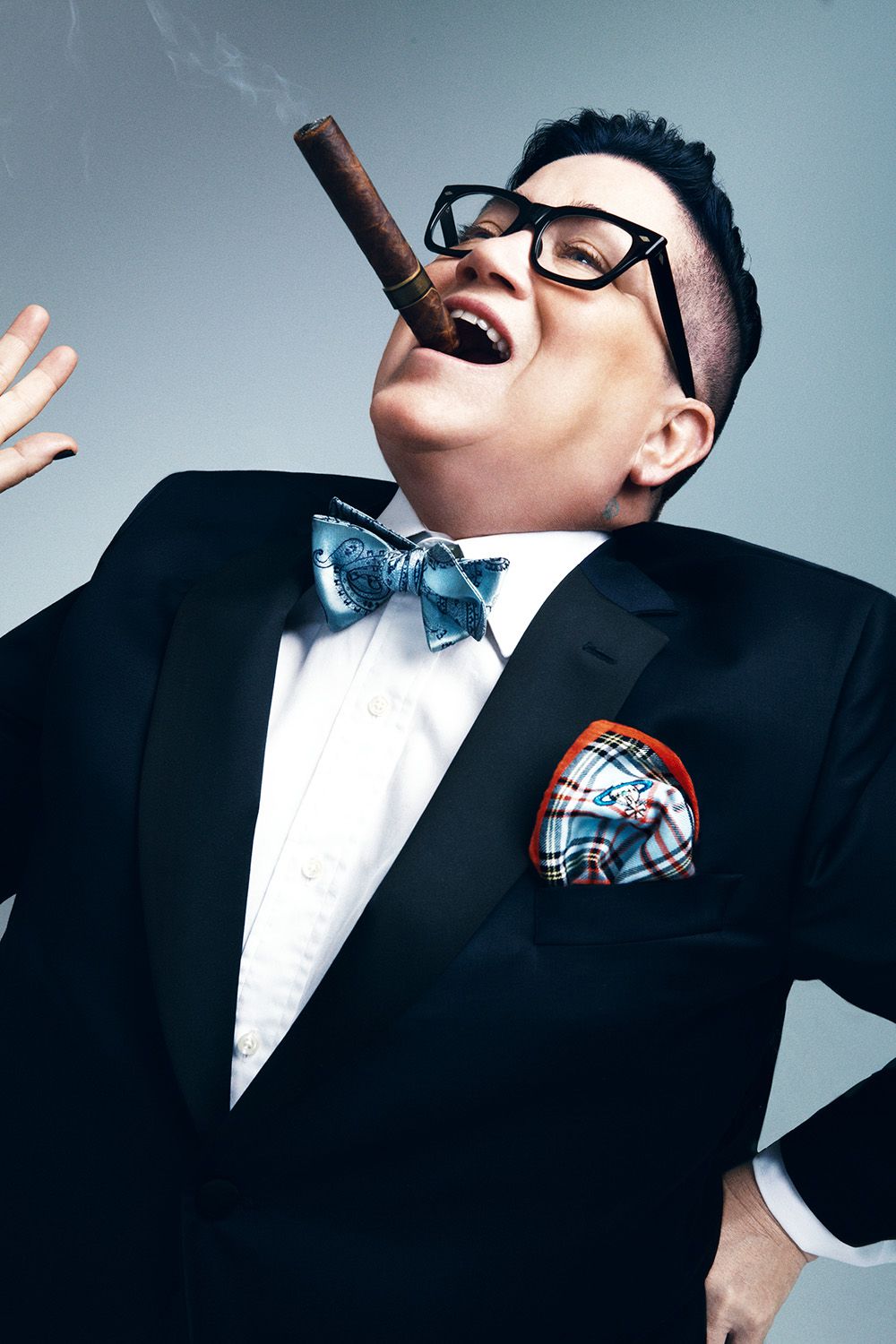 Back in 2004, my then-16-year-old sister, Daisy, visited my father's 80-year-old aunt at her condo in Florida. When Daisy arrived, our great-aunt brandished the book she was reading: Bill Clinton's memoir, My Life. Pointing to the 42nd president's photo on the cover, Great Auntie announced, "I'd do him."
She was not the first woman to find a POTUS attractive. During the 2008 campaign, Barack Obama had the viral hit "Obama Girl." Received history tells us that over the 1,036 days of his presidency, JFK could have had as many one-night stands. Nerve.com once named Teddy Roosevelt "America's Sexiest President"—so hunky that "if he slept with your girlfriend, you'd be flattered."
So if Hillary Clinton gets elected in 2016, will the citizenry react—to paraphrase Jimmy Carter—with lust in its hearts? Self-described "bull dyke" and "world's loudest lesbian" comedienne Lea DeLaria addressed the question of Hillary's sex appeal at the 1993 Gay and Lesbian March on Washington. Hillary, she cracked, was the "first first lady I'd want to..." (C-SPAN bleeped the end of the sentence).
The joke prompted so much pushback that DeLaria practically required her own Secret Service detail. When she appeared on The Arsenio Hall Show a few months later—DeLaria has the distinction of being the first openly gay stand-up comic to appear on a late-night talk show—angry viewers called in death threats.
I asked DeLaria about the backlash during a phone conversation last week about her new album, House of Bowie. "That's the joke that gave me a lot of crap," she said with a heavy sigh. "The queer community was not really pleased with me either. Lesbians especially."
These days, though, the LGBT community loves DeLaria specifically for the kind of outrageous honesty that can lead to a sexy crack about Hillary on C-SPAN. Best known for playing the scene-stealing Litchfield Prison inmate Big Boo on Netflix's Orange Is the New Black, DeLaria was given the 2015 Equality Illinois Freedom Award for her work as "a cutting-edge performer who has used her talent to entertain and enlighten millions of Americans."
I asked DeLaria if she'd still joke about doing Hillary. "I would make a joke about shtuppping any woman!" she says. "Lots of women talk about how virile and masculine and sexy presidents are. This is such institutionalized sexism. This is the problem I've had for a long time with feminists: Why can't we say a woman is sexy? As a woman, I express sexuality, and that's a feminist statement. Women aren't supposed to express sexuality. Especially as a lesbian—we're not supposed to talk about our sexuality at all."
DeLaria, a longtime activist, would know. On Arsenio Hall, she said she's been a "professional lesbian" since 1982 ("Before that, I freelanced"). In the early '80s, she used to bill herself as "That Fucking Dyke" and later toured with her musical "pervert" comedy, Dos Lesbos. In the '90s, she put out two records: Bulldyke in a China Shop and Lunch Box. Her 2000 book, Lea's Book of Rules for the World, is in its third printing, and is chock-full of wisdom, like "Rule #4: 'Never point at anything beige and call it cool.'"
Her acting career is not limited to the Litchfield Prison yard. DeLaria is an accomplished actress, having starred in Broadway productions of Samuel Beckett's Happy Days as well as The Rocky Horror Picture Show, the latter alongside Joan Jett. DeLaria even dreams of staging Who's Afraid of Virginia Woolf? with George and Martha as a lesbian couple—"It would make the whole betrayal of her sleeping with the guy so much worse!"—though she doesn't think playwright Edward Albee "would be down with it."
But television was tougher, and until Orange debuted in 2013, she was typecast on shows like Law & Order: SVU and Californication. "PE teachers, police lieutenants and the lesbian who inappropriately hit on straight women at every function," she says.
On this particular afternoon, she's promoting her singing career, not acting. DeLaria moonlights as a jazz singer: Her first recording, Play It Cool, came out in 2001 and was voted Jazz Album of the Year by the London Times. On July 24, House of Bowie drops on iTunes, featuring 12 tracks of DeLaria singing covers of David Bowie songs. If you've always wanted to hear Big Boo reinterpret "Golden Years" as a smooth bossa nova, then Friday will be a great day for you.
DeLaria lives by Elvis Presley's personal motto: TCB (Taking care of business). As we chatted, she was preparing for a concert in Manhattan and renovating the Bushwick, Brooklyn, apartment she shares with her fiancée, Cat Party's fashion blogger Chelsea Fairless. She apologized for interrupting our conversation every few minutes to bark commands at various assistants. ("Can you hold this?" "So you want me to read the lyrics off my phone?") She spoke to Newsweek about the new record, Bowie trivia and Twitter feminists.
Does Bowie look like a lesbian?
Not as much as Justin Bieber.
Do you believe Angela Bowie's claim that she once walked in on her former husband and Mick Jagger in bed?
Yes! Why not? Who would not fuck Bowie or Jagger?
What's your favorite Bowie album?
I love Let's Dance. Most people are shocked when they hear that, because people say he went to this pop place on that album. But that's why I love it. Once again, he was 10 miles ahead of the curve. Every time.
What are your favorite Bowie lyrics?
"It's on America's tortured brow, Mickey Mouse has grown up a cow." From the song "Life on Mars."
What do you think of activism on the Internet today?
I once put up a tweet that said, "Having a women's study degree and a Twitter account does not make you an activist." I don't know if the actual trolls who are just trying to start trouble are worse or if the ones who are trying to right the world through Twitter are worse.
Which one makes you most angry?
When I get some asshole 21-year-old Smith girl tweeting at me because I used the word he-she—historically a negative slur used by heterosexual society against butch dykes. It's a new thing being used against the trans community.
Is that a huge struggle with activists today?
Infighting is our biggest issue. We need to come together on the things that we share in common and gain our rights.
Have you ever had a catchphrase?
Like, 30 years ago, I used to say, "I'm here to put the sex back in homosexuality."
Would you say that now?
Of course I would!
Do you ever pitch ideas to the writers of Orange?
Not really. Of course, every actor does that, but I don't. I think it's ridiculous. I once went to our genius creator, Jenji Kohan, as a complete joke and said, "I have a great idea for the show!" Jenji rolled her eyes at me and said, "What, Lea?" I said, "I have the perfect marketing campaign: A photo of Charo playing guitar over the caption 'Let's send Charo to jail.' We're going to get Charo to go to Litchfield." Jenji looks at me and says, "I suppose she could teach a music class."
What will Big Boo do when she gets out of Litchfield?
She'll get steak and ice cream and head straight for the Cubbyhole in the West Village.