'Orange is the New Black' Star Taylor Schilling Talks New Movie, 'Family': It's 'Ferocious, Funny and Honest'
"Ferocious, funny and honest," that's how Taylor Schilling described her new film Family, directed by Laura Steinel.
If there's one thing the career-obsessed Kate Stone (Schilling) doesn't want to do, it's spending time with her family. But when there's a family emergency and no one else can watch her niece, Maddie (Bryn Vale), Kate doesn't have a choice. She's forced to finally act like an aunt—and even maternal at times—against all her natural inclinations.
Kate might not know much about being an aunt, but she does know about being an outcast. That's why she and Maddie are able to connect. She makes some major mistakes—like forgetting Maddie at a gas station and being late to pick her up from dance class—but Kate is able to connect with Maddie because they both know what it feels like to not fit in.
For Schilling, one of the things she loved about the movie was that it shows there's a group for everyone. "We have our family of origin and we have our chosen family. And something that I love about the movie is that it really seems to make the case that wherever you are or whoever you are, there is a community that will accept you exactly the way that you are… regardless of where you come from," she told Newsweek.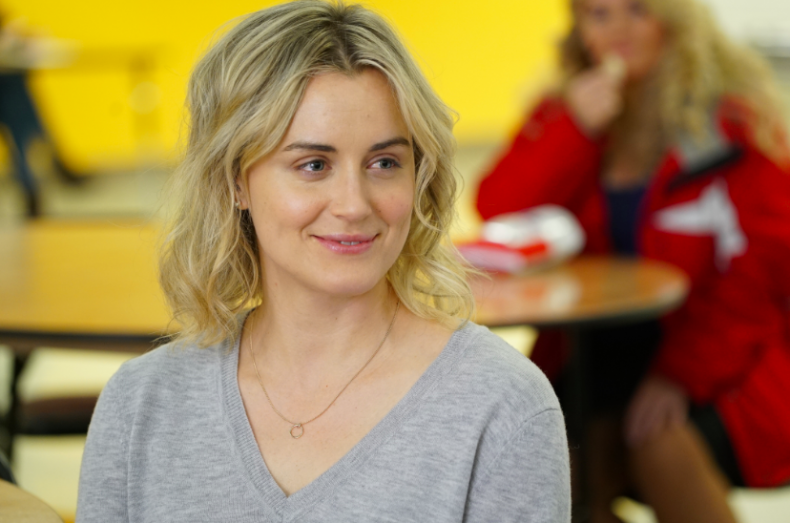 One of Schilling's favorite scenes in the film is when Kate and Maddie meet up at the gathering of the Juggalos, which is a festival for fans of the group the Insane Clown Posse. "Kate is really able to level with Maddie and says, 'Nobody is perfect… nobody has it all together,'" she said.
Though the Orange is the New Black star hadn't listened to ICP before, she referred to them as "awesome" and said filming with them was an "adventure." "They are terrific musicians. They have sold a lot of records and impacted a lot of people's lives," she said. "They're very kind."
Though she's moved on from OITNB, landing the role of Piper Chapman has changed her life. "I've been so honored to work on the show and meeting the women that I've met--those relationships have really changed my life. I've just expanded; I've expanded my reach, hugely. Orange has changed my life," she said. "[The show] was kind of revolutionary in that it made room for a lot of different people to feel seen and have their voices heard."
Family is out in theaters Friday.