'Orange is the New Black' Season 7 Release Date and Time, How to Watch and More
It's so hard to say goodbye, especially to a show fans have come to know and love for nearly seven years. Sadly, that will be the case when dedicated viewers soon say farewell to one of Netflix's most beloved original series: Orange is the New Black.
The seventh and final season of the prison dramedy is set to release on the streaming network on Friday, July 26, giving viewers one last look into the lives of Litchfield's finest. All new episodes will become available in the U.S. as of 12 a.m. ET.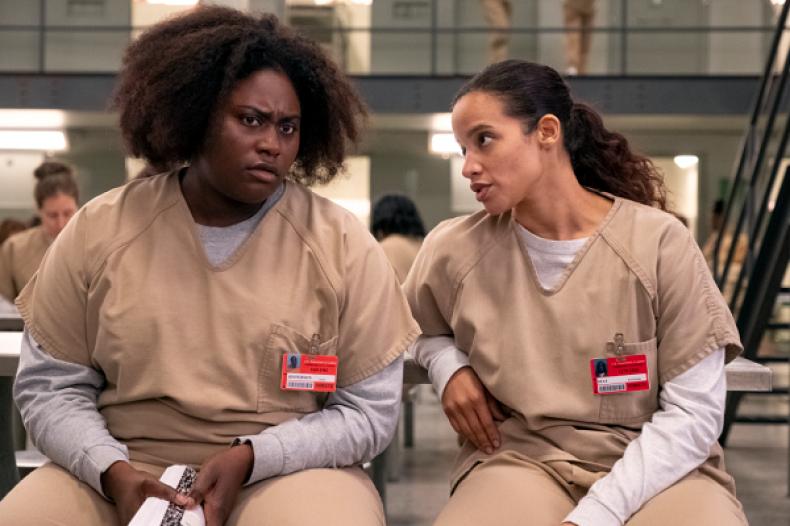 The final season of the series, produced by Lionsgate Television, will see the return of many character favorites, including the series' protagonist Piper Chapman, who will be starting a new life outside of penitentiary walls. Her adjustment back to normal life won't be an easy road, and it won't be long before fans see her back at her old home of Litchfield—except this time she's coming as a visitor, not an inmate. The Season 7 trailer teased glimpses of Piper returning to the prison to visit her fiancée Alex Vause, played by Laura Prepon, who additionally serves as one of the show's directors.
Piper's early prison release will likely have a big impact on the couple's future in Season 7. While Prepon wouldn't spill exactly what was in store for the duo now that her character has to spend the next four years of her prison sentence without Piper, the actor recently told The Hollywood Reporter "the endgame is clear."
"With these two, who knows! You don't know. I don't know. You would hope [their relationship can survive], but Piper is out in the real world; she can do whatever she wants. You just never know what's going to happen," Prepon said, noting Alex will have to find a way to live out the rest of her sentence as best as she can.
"Alex sees the reality of the situation and knows how much more time she's in there for. I think in the back of her mind, she knows she's going to have to do some things to survive that aren't going to lend itself to taking classes. And it's unfortunate. Alex is really smart, but it's just one of those realistic things where, especially now with Piper gone, she's going to have to survive," she said.
Meanwhile, the rest of the inmates like Taystee (Danielle Brooks) Crazy Eyes (Uzo Aduba), Daya (Dasha Polanco), Nicky (Natasha Lyonne) and others will also be forced to manage their day-to-day lives at Litchfield without Piper while fighting for their own bit of justice.