Scotland's Orange Order Petition Countrymen and Women to Vote 'No' on Independence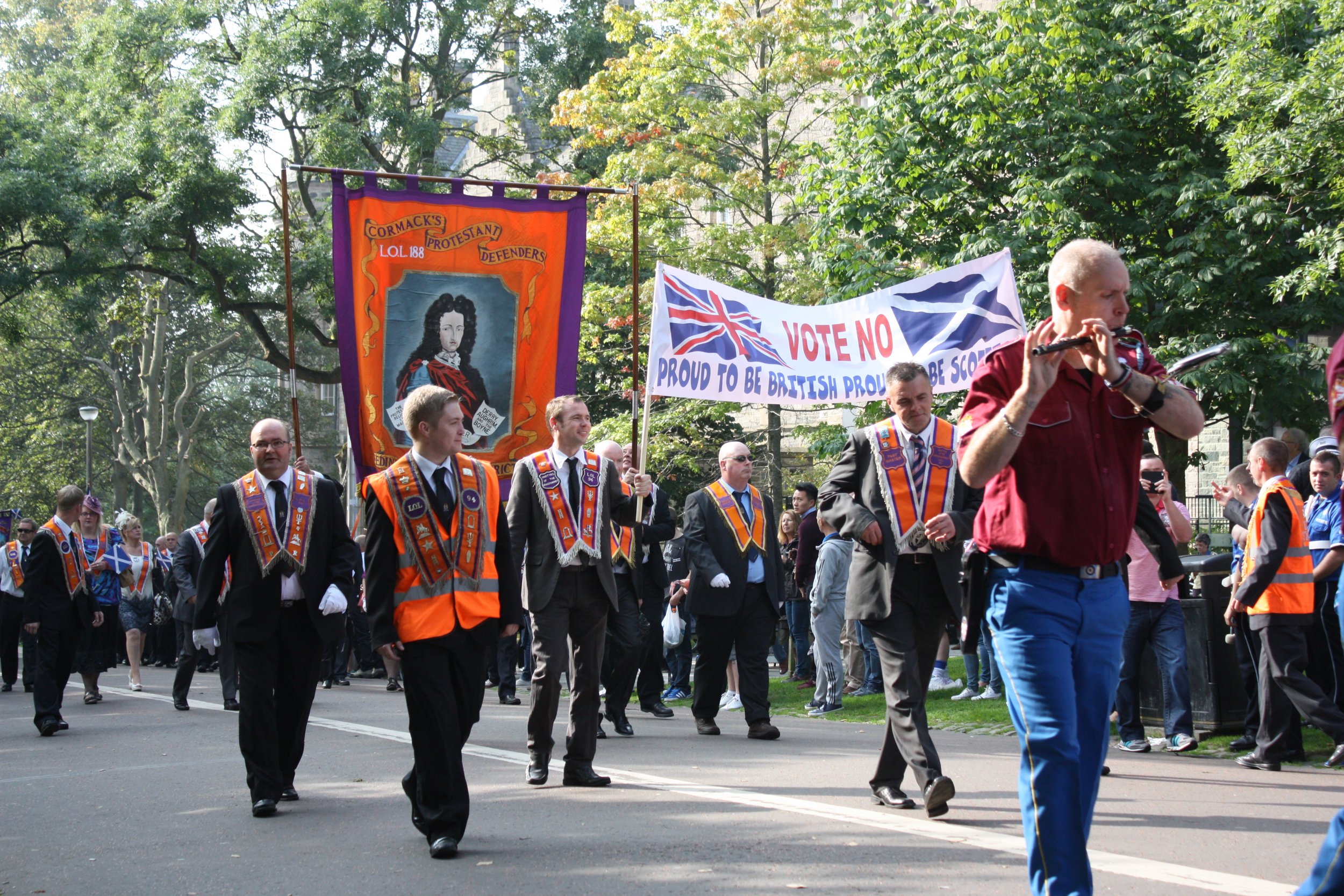 "It was a cry we made in 1914, it was a cry we made in 1939," Henry Williamson, Grand Chaplain of the Orange Order declares passionately from underneath a great banner in Edinburgh's Meadows park that reads: Proud to be Scottish, Proud to be British. "It is a cry British people make every time we face an enemy who seek to destroy who and what we are, and a cry that we make on behalf of the underdog."
He speaks as members of the Order's 110 bands have begun assembling in the central walkway of Edinburgh's Meadows park, a journey which will soon lead them to Edinburgh's city centre.
His message is clear. The Orange Order, once so vocal for Ireland's Unionist cause, is here to tell Scottish protestants to vote 'No' to independence. The reasons for unity, however, are not ones official campaigners have publicly shared. The states of the economy, currency and defence are scarcely mentioned. This is a very different 'No' rally.
Henry Dunbar, of the Orange Order Scottish Lodge takes centre stage and picks up where Williamson left off: "The No campaign has been criticised for not showing enough passion for the Union – well look out, here comes some passion! We are the Orangemen and women of Scotland and we are passionate about our Queen and country," his voice rings out as some listeners leap into uncertain applause.
"The Union is stable, strong, tolerant and prosperous -- to destroy it would be unforgivable," he says.
The line-up of speakers standing behind Dunbar take turns praising the Union's strength in withstanding two world wars and the Troubles.
The colourful assembly of regimental bands is now drawing in a larger and larger crowd to the park on an unusually bright Saturday morning. A 'Yes' voter tells me he was looking forward to rain this weekend.
"If you're going to the march throw an egg at them for me, will you," he tells me.
He is not the only Independence supporter avoiding the march. Everyone in the gathering crowd is not only donning a 'Better Together' button but few are also without a crucifix or an orange shawl on display. The spectators -- comprised of Scousers, Geordies, Irishmen and Scots alike -- have come from across the UK in what the order considers "a momentous day in the history of the Union."
Some 'Yes' banners along the planned route have been taken from private property as a safety precaution I am told. Plenty banners still remain, including one "Aye" emblazoned police box in the old town.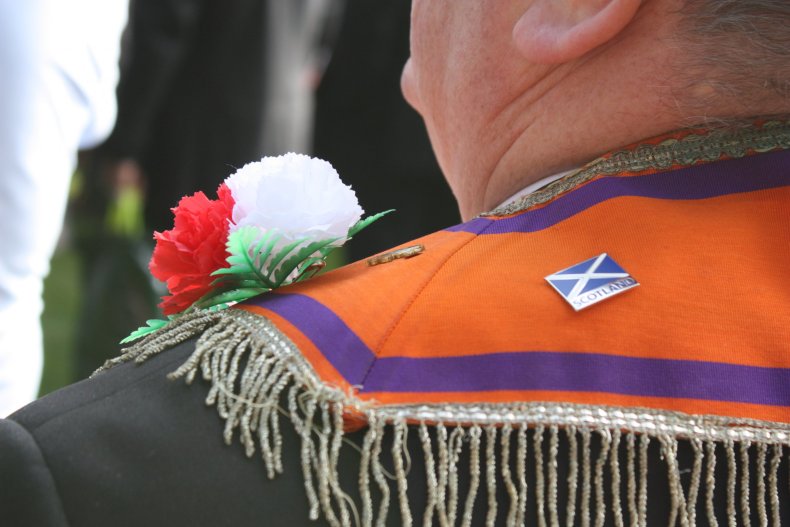 Over 15, 000 people attended the march according to police and bar the odd cyclist riding past the assembling parade to wish "goodbye to the union" before scuttling away quickly, the event goes by with few clashes. No arrests were made and the one ambulance siren heard in town on the day was called for an unrelated incident.
The following morning Edinburgh's streets donned the livery of the Union flag like they never had in the run up to next week's referendum, albeit with plenty of orange for colour.
Yet as Sunday mass came at St Mary's Church in Scotland's capital the mention of the referendum once again no longer incited the passionate invocations of duty, God, Queen and country that the Orange men and women did.
The church of Scotland took no public stance and Rt Reverend John Chalmers reiterated during a special service dedicated to the referendum on the final Sunday before 18 September.
"I'm one of those people who has spent a lifetime trying to see both sides of every argument, trying to work out complicated "middle ways" that keep as many people as possible content," Chalmers declared "but I'm not going to get away with that this week.
"On this issue like the people of Israel standing before Elijah I need to come off the fence."
Outside the church doors it is economist extraordinaire Adam Smith's statue still dons a Yes sticker and with the Scottish Daily Mail headline concerned once again with the effect of a yes vote on prices, the debate seems to be back where it was before Saturday.
An economist's backing is hot in demand in Scotland for both sides, it seems. The country's priorities in the run up to polling day seem to rest on money.
According to an attitudes poll by WhatScotlandThinks.org the economy has been the single most important issue that has determined how Scots would vote in the referendum, with 17% out of those polled chosing it top, consistenly over the last year in the lead up to this summer, while employment was a close second at 13%.
Both Yes and No voters I speak to, by and large reflect the economic aspect is key to their decision on Thursday. "We are poor and with independence they are saying we would be better off", one likely Yes voter says, though admits she does not like the SNP. The Orange Order - even less so.
Twice I have asked whether there is room for God, Queen and country to consider and the response has been instant laughter. I am lucky not to have asked the same question in Glasgow, I am told. I would have likely been punched.
The Orange Order was the late contribution of identity from the 'No' side to a debate about nationhood which has largely revolved around economic matters.
The Orange Order's Irish Grandmaster Edward Stevenson heralded the bond between Scots and his homeland as one "thicker than water," sharing history, as well as blood, heritage as well as geography.
Whether enough Scots will keep that in mind on Thursday as they submit their ballots, only time will tell.