Orangutan Blinded After Being Shot in the Head 16 Times by Air Rifle in Suspected Poacher Attack
An orangutan has been treated after he was found badly wounded in the Indonesian island of Sumatra, apparently having been targeted by a poacher.
The ape, named Paguh by the team that rescued him, was found with 24 air rifle pellets in his body.
Conservationists working for the Natural Resources Conservation Agency (BKSDA) discovered the injured orangutan last week, during a patrol in Gampong Teungoh, a village in Aceh province, near the tip of the island. Paguh is thought to be around 25 years old.
"This orangutan was found on the local resident plantation walking on the ground," reads a statement from the Orangutan Information Centre (OIC) on November 22, 2019, published on Facebook. "Through a smooth tranquilization process, this orangutan was evacuated smoothly."
Paguh was then taken to the Batu Mbelin Sibolangit orangutan rehabilitation center so veterinarians could tend to his injuries.
Conservationists from the Sumatran Orangutan Conservation Programme (YEL-SOCP) told The Jakarta Post he is now in a stable condition following surgery on Thursday to remove three pellets that had become lodged in his head. They say it may not be possible to remove all 24 as this could cause his condition to deteriorate.
X-rays appear to show 16 pellets in Paguh's head as well as four in his arms and legs, three in his hip and one in his stomach. The orangutan was also blinded in both eyes. According to Tempo, the BKSDA is currently coordinating an investigation with local police to find out what happened.
Poachers targeting orangutans in the area is sadly not uncommon—YEL-SOCP has treated around 20 orangutans shot with air rifles in the past 10 years. Earlier this year, a female orangutan called Hope was blinded, stabbed and shot 74 times by an air rifle, the OIC announced.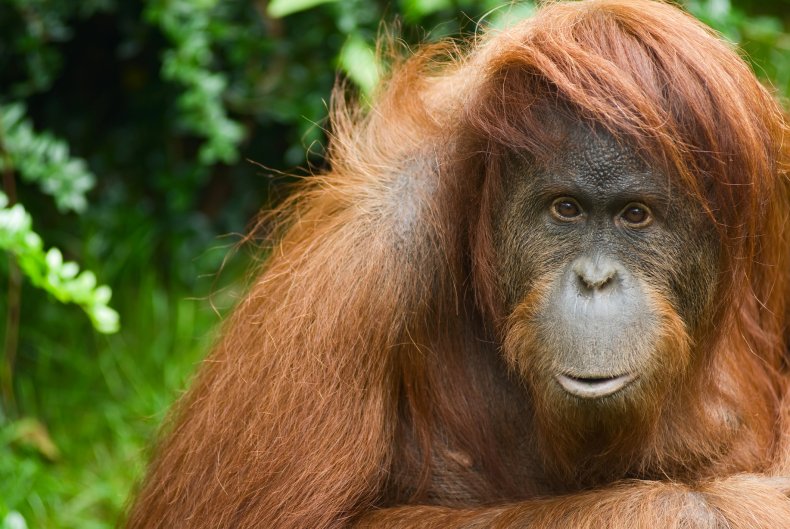 Harming an orangutan can cost the perpetrator the equivalent of U.S. $7,094 and a five-year imprisonment sentence, said Agus Arianto, head of the BKSDA.
Two of the biggest threats affecting orangutans are the illegal pet trade and habitat destruction, which leaves orangutan populations isolated and vulnerable. Habitat destruction is being driven by forest fires and the conversion of rainforest to farmland for palm oil plantations, a process that has contributed to a 60 percent loss in forest habitat for Sumatran and Tapanuli orangutans between 1985 and 2007.
A recent study showed how populations of their cousin, the Bornean orangutan, are plummeting, dropping 100,000 or so between 1999 and 2015. The good news is that numbers of Sumatran orangutans appear to be faring better than expected. In 2016, researchers estimated a wild population of 14,600 orangutans, more than double what had been previously thought. However, numbers are still on the decline, as per the IUCN Red List.