Orangutan Mom Gives Birth to Baby Weeks After Father's Death From Cancer
An Orangutan mom at San Diego Zoo gave birth to her baby just days after its father died from cancer.
The baby Sumatran orangutan, who has been named Kaja, was born on January 4 to third time mother, Indah. The father, Satu, was a "much-loved" zoo resident and died unexpectedly at age 26, just before Christmas. He had lived at the zoo since 1995.
Thirty five-year-old Indah suffered complications following Kaja's birth, meaning she is currently unable to care for him.
The zoo said that Indah's condition continues to improve and wildlife care specialists provide frequent opportunities for her and Kaja to bond. She will be in her enclosure intermittently while she recovers.
Until Indah chooses to resume her maternal care of Kaja, specialists at the zoo are providing "around-the-clock" care for him. Kaja is currently healthy however will be monitored closely in the coming weeks.
In a video posted to Facebook, Kaja can be seen being looked after by wildlife specialists at the zoo.
The footage shows him tightly cuddling a stuffed animal while sat on a member of staff's lap.
The three-week-old orangutan is the first to be born at the Zoo in more than seven years.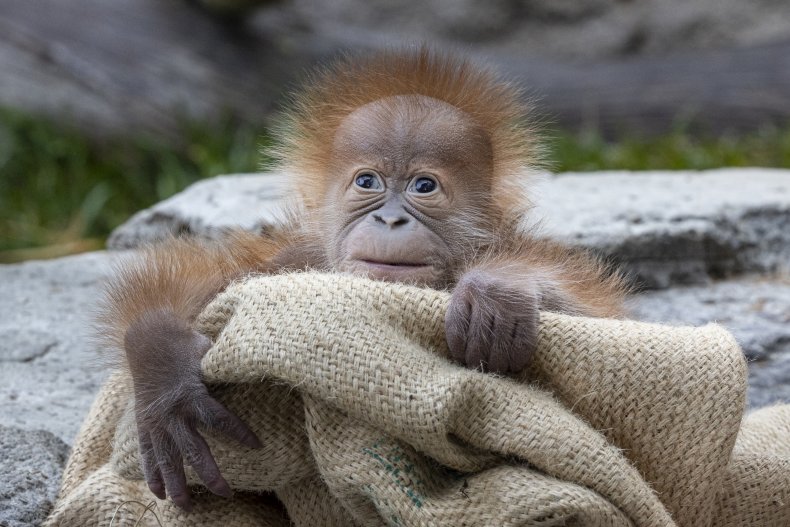 Kaja is named after an island in Kalimantan, the Indonesian part of Borneo, that houses rehabilitated orangutans prior to release in the wild.
Satu and Indah have had two babies before, named Aisha and Cinta. While Aisha is still at San Diego Zoo, Cinta now lives in St. Louis Zoo.
In a Facebook post, which can found here, the zoo said that before he died Satu had been receiving treatment for a serious illness.
He had recovered well from a recent medical exam but later collapsed, and efforts to resuscitate him were unsuccessful. Wildlife experts suspected cancer was the cause of his sudden death. The zoo said that Satu was a "charismatic" resident and that he will be "sorely missed".
Following Satu's death, the zoo has a total of four orangutans made up of Indah and the three offspring.
Erika Kohler, interim executive director of the San Diego Zoo said that witnessing Kaja's birth was a "remarkable experience".
"His birth increases the population by one and that is a necessary step in our ongoing efforts to gain a deeper understanding of orangutans so we can conserve the species where they live," she said in a statement.
Sumatran orangutans are a critically endangered species. According to the World Wildlife Fund, there are just over 14,500 left in the world.
The decline in their population is due to illegal wildlife trafficking and habitat loss from rampant deforestation, which forces them into closer contact with people. There are approximately 900 known orangutans in captivity across the world.
Correction 01/26/2022 7.48 a.m. ET: The name of one of Satu and Indah's other offspring and their current location has been corrected.