Mother and Son Orangutan Released Into Wild After Rescue
Two oranutans, a mother and son, were recently released into the wild after an intensive period of rehabilitation.
Conservationists at the International Animal Rescue partnered with West Borneo Forestry Department to return the pair to the wild on July 10. The mother, Maili, has lived at a rehabilitation center in Ketapang, Indonesian since 2015.
'Orangutan' is the Malay word for "person of the forest." They can live from 30 to 40 years in the wild, according to National Geographic. Maili was rescued from captivity from in Batu Ampar, Indonesia, and brought to an International Animal Rescue center.
She was placed with other orangutans on artificial islands that mimic their wild habitats. The group hopes this will hone their behavior and natural instincts before they re-enter their natural habitat.
The orangutans are split into groups and closely watched to see which might be ready to for release. When one is identified, the team moves them into a special area to gather behavioral data. The data will confirm whether the orangutans are psychologically and physically able to live in the wild.
The team began monitoring 10-year-old Maili for release in early 2017. But the analysis revealed that she was pregnant. The charity chose to postpone her release until after she gave birth.
Maili had her son Osin 14 months ago. Observers noted that Osin was developing well and that Maili showed good natural behavior, so they chose to release the two into a forest near Mount Tarak in Indonesian Borneo. To assist with the trip, twelve local villages carried Maili and Osin in a transport cage for four hours by road, and then for a further four-and-a-half hours into the forest, before releasing them.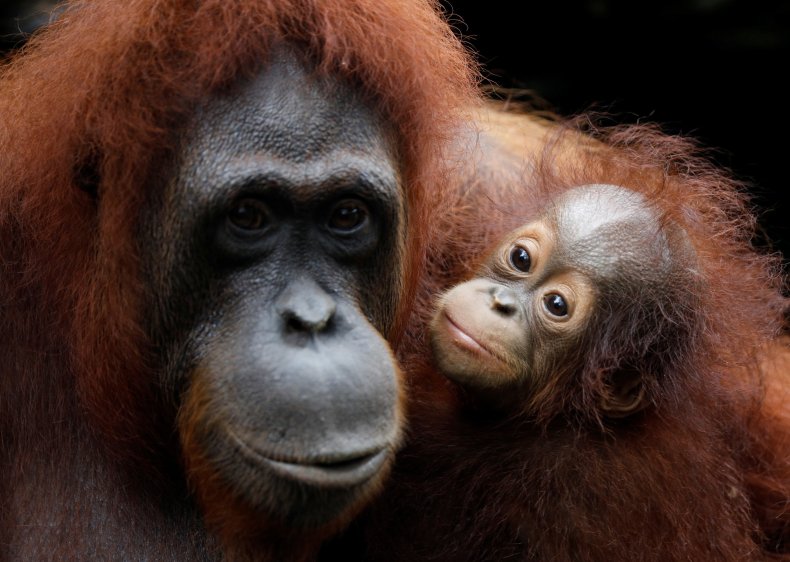 According to the Orangutan Conservatory, orangutans nurse, and are dependent on their mothers, until they are six years old -- the longest childhood dependence on the mother of any animal on Earth (except perhaps human beings). Young male orangutans will often stay with their mothers after they finish nursing, clinging to them for a few more years.
Orangutans usually only give birth every eight years or so, which can mean that their populations struggle to recover if they are reduced.
International Animal Rescue will now monitor Maili for the next year or two to make sure that she and Osin thrive in their natural habitat. The team will remain on hand to monitor the pair, and the other orangutans they have released nearby.