Orangutan Steals Zoo Visitor's Sunglasses in Video Viewed Over 24 Million Times
A video of an orangutan donning a stylish pair of sunglasses that were accidentally dropped into her enclosure has gone viral on TikTok.
In footage posted to the site by a woman named Lola Testu, the great ape can be seen sidling over to the shades moments after they were dropped into her living quarters.
"I accidentally dropped my sunglasses in the orangutan enclosure at a zoo in Indonesia," a caption introducing the clip explains.
The woman filming the video from above the enclosure initially fears that the animal might have other ideas for her sunglasses.
"Oh no, don't eat it," she is heard saying.
But the orangutan knows better than that.
Within seconds she has opened both arms of the shades and is preparing to put them on.
"Oh my god, this is fantastic stuff," the woman says, realizing what is unfolding before her eyes.
The video then cuts to another shot, this time of the orangutan from the front, striking a cool pose with the sunglasses firmly placed on her face.
She may have accidentally put them on upside down but that doesn't take away anything from what is a striking look for any simian.
Watching on with an unidentified male companion, the woman behind the camera is awestruck by what she is seeing.
"They're working, they're working," she says.
"Oh my god," he replies.
"This is gold," she declares.
Later in the clip, the orangutan is seen attempting to throw the glasses back to their rightful owner.
While it doesn't quite go to plan, the woman they belong to does not appear overly fussed, having filmed a truly magical encounter with this most unique of species.
The video is available to watch here.
The clip, which was posted to TikTok alongside the caption "So I'm down a pair of sunglasses but up a very good story," has been viewed more than 24 million times on the platform.
Fans have flooded the comments section with praise for the video's orangutan star.
Ceiling.phan wrote: "I swear they can talk but just don't want to pay taxes."
Meghaninzer commented: "Orangutans seem too smart to be caged."
Faye_g added: "These animals are so damn smart."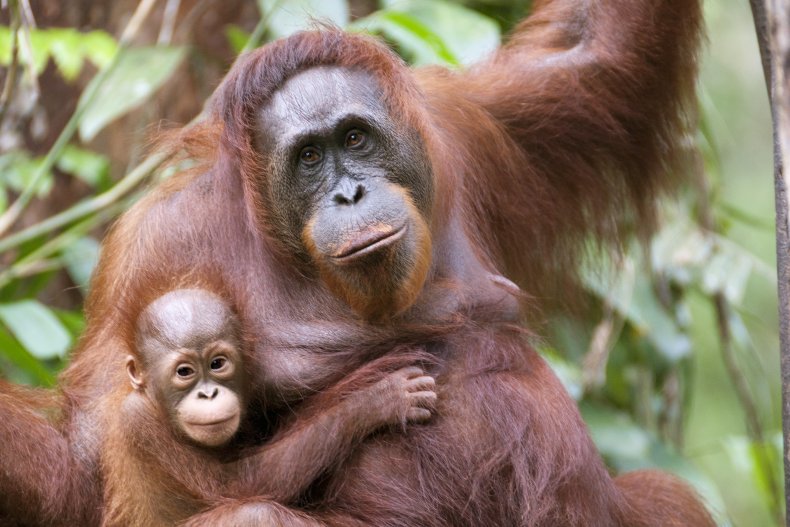 Others noticed the way the orangutan fended off interest from her baby after she took a liking to the shades.
Bubbles_r_life said: "The baby tries to grab them and she pushes him away she's like nah fam these are mine."
Lauren_Leta agrees: "When she pushed the babies hand she was like 'honey don't touch these."
Others, meanwhile, spotted a similarity between the orangutan and a famous singer.
"Yo Elton Kong," keithborchart wrote.
"She gave me Elton John vibes when she first put them on," mrs_webber agreed.
"Looks like Elton John," dannisharpy added.
Newsweek has reached out to Lola Testu for comment.