Orbitkey Review: Clever Everyday Carry Combines Keys, Tech and Tools
Part of the fun of summer is wearing less layers of clothing and carting around fewer items. It's the perfect time to make the most of our pocket space. So any products that help ditch bulk and leave behind gewgaws are a good thing.
In that regard, Orbitkey is one of the best solutions out there. Born from a highly successful 2013 crowdfunding campaign, Orbitkey started as a way to make messy, clangy keys much more quiet, neat and tidy. Since then, it has stacked on a few fun variations and accessories. The folks at Bespoke Post were kind enough to send me a couple of Orbitkey products to try out—and now that I have, it'll be nearly impossible to go back to a traditional, unorganized key ring.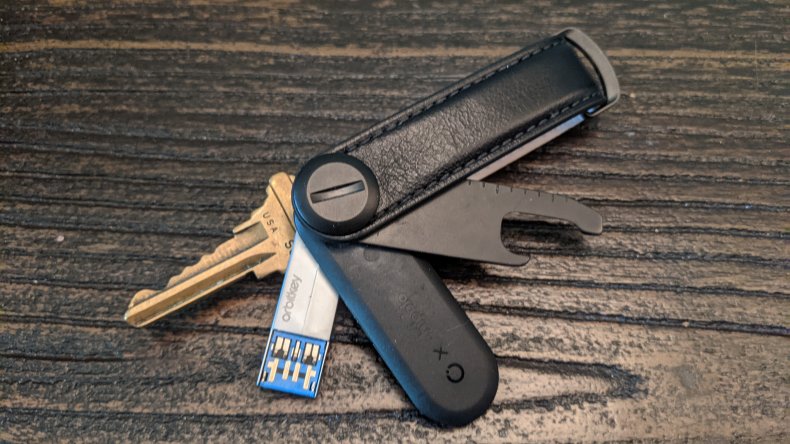 One Keyholder to Declutter Them All
It all starts with the main organizer, essentially a full-grain waxed leather strap folded over and held together by two posts that screw together. They say it fits between two and seven (flat) keys. But I don't tend to take more than my house key when I go out. For true minimalists such as myself with just one or two keys, the system includes a small washer to help space them out and inhibit jingling.
One thing that's cool about the Orbitkey is that as I added keys and other stuff, I simply adjusted the posts by loosening (or tightening) with a little twist. In other words, it's both flexible and secure, in the sense that it never just came undone in my pocket. The key, if you will, was to find just the right amount of tension to keep everything from automatically flipping out however I picked the Orbitkey up but also so that it was still easy to swing keys out when I actually needed them. To help in that regard, the coin-shaped notch on the top screw allows for fine-tuning.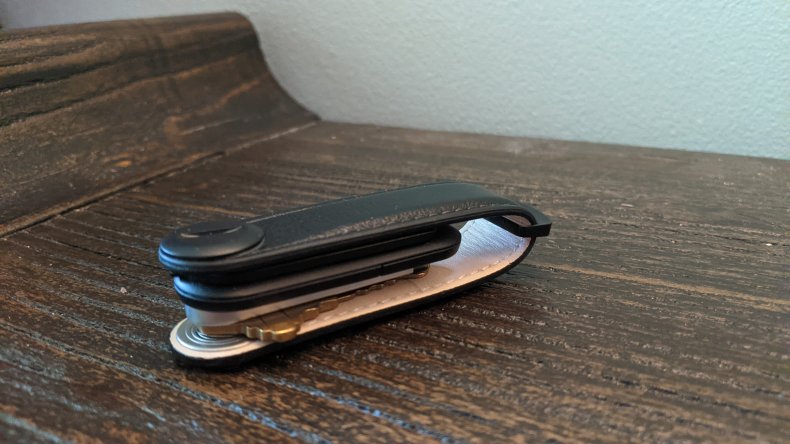 The Carry Smart Bundle
With only one key in tow, what's a nerd to do? Accessorize, of course! I essentially mixed together two different products to create my own geeky Swiss Army–style everyday carry solution, but most of what you see above is what they call the Carry Smart Bundle:
Key organizer
Minimalist 8GB USB 3.0 thumb drive
App-enabled Bluetooth tracker
The tracker is pretty cool—first in how its form fits neatly within the system—but in serving several other helpful purposes. From your phone, you can use it to find your lost keys (since in being minimalist they are theoretically that much easier to misplace). And it works in reverse, as well: Pressing Orbitkey's hidden button can help you find your phone. But that button can also be used to remotely activate the shutter on your phone's camera, making group pictures that much easier to capture. Also, I chose to put the tracker right into the system as is, but it also comes with a small cord, which is nice way to make room for more keys and other attachments, if necessary.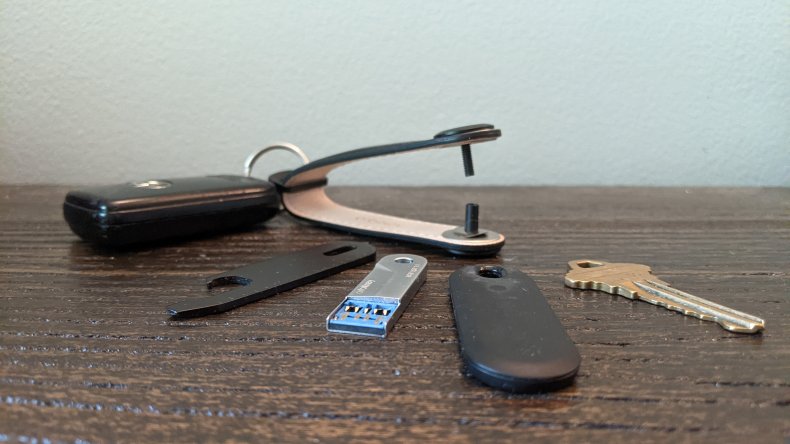 The Multi-Tool V2
To that bundle, I added their newest, most evolved multi-tool attachment. In addition to the obligatory bottle opener, the titanium-coated stainless steel Multi-Tool v2 offers a screwdriver on either end, markings for each kind of ruler on either side, a box cutter, nail file area, and pry bar. It has no hex wrench openings, but I still continue to find plenty of use for this little guy. And it's just generally nice to have a multi-tool with me without having to think about taking it along for the ride.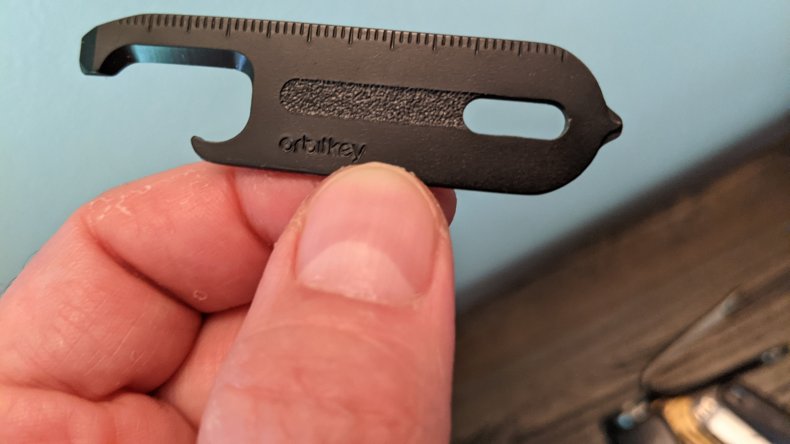 Wait, What About Car Fobs?
As you can see in the attached images, Orbitkey's solution for incorporating remote car keys is to include a compact area at the end to attach a key ring. So that does add a little to the system's footprint. But I never found it to be an issue. It didn't feel clumsy. If I'd really wanted—because my car happens to have keyless entry—technically I could have just kept my car fob separate, somewhere else on my person (like that fifth pocket jeans have). And maybe if it had to actually dangle while I was driving with a physical key-driven ignition, I would have dealt with it differently. But I like having it together with the other keys.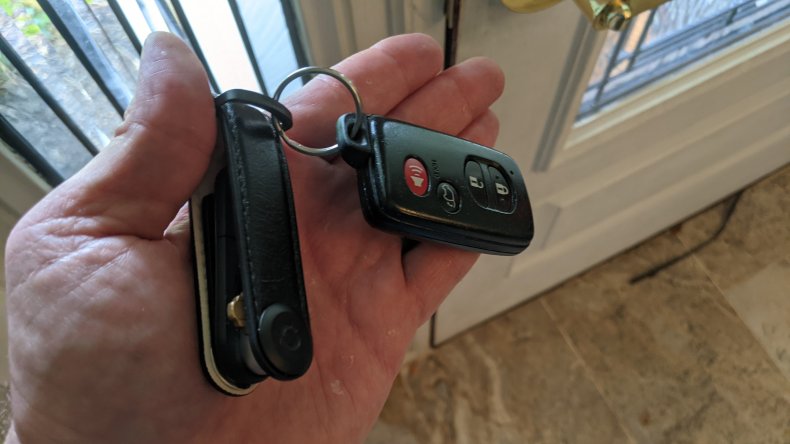 Making the Key Decision
As I mentioned toward the top, based on what I tend to carry with me, this system makes sense for me. I suppose it would make a little less sense if I had to carry multiple car fobs. But even then, this would be a more sensible, manageable version of whatever conglomerate of keys I'd usually be taking. And I do like how it works the tech and tools into the picture.
It come in several other colorways—such as Forest Green, Marine Blue, Espresso and Cognac—and is available in different leather styles, as well. I've seen other compact key solutions. But in terms of ease-of-use, flexibility and functionality, Orbitkey simply reigns supreme.

Buy at Bespoke Post.
Newsweek may earn a commission from links on this page, but we only recommend products we back. We participate in various affiliate marketing programs, which means we may get paid commissions on editorially chosen products purchased through our links to retailer sites.