Terrified Mother Screams as Killer Whale Spotted Just Below 6-Year-Old Daughter Water Skiing
A mother has spoken of her shock when her daughter's first experience of water skiing ended with a close encounter with a killer whale.
Six year old Stella Kepa had donned her skis and was focused on standing up on the water while she was being pulled along the back of a boat in Queen Charlotte Sound, in New Zealand's Marlborough region on Sunday.
The driver of the boat then noticed a dark shadow moving ominously under the water close to the vessel, about 15 feet in front of her.
In video footage, screams from the family on board the boat can be heard, including, "Oh my God, there's a killer whale," and "Hold on!"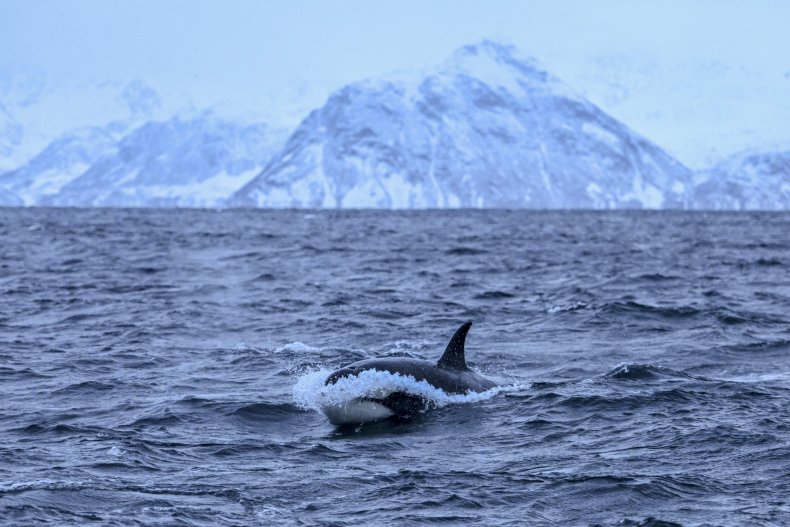 Her mother, Natalie Kepa later told reporters: "Stella was just cruising along and then out of the corner of my eye I saw this massive orca going next to Stella and I just didn't even know what to do."
"We started seeing this big black fin, and then we started seeing the orca underneath Stella, between the boat and Stella skiing—it was so terrifying," she added, according to Stuff.co.nz.
"I was holding onto the rope with Stella and the fear of God was in me."
The orca was one of a pod of four which were believed to have come close to shore in search of stingrays.
"They're extremely terrifying to look at because they're so big and so fast."
"They were huge, all four of them. I didn't want Stella to drop the rope and fall off.
"The thing is Stella is only six. I thought if she falls in there... It was terrifying, she's my baby."
The group on the boat, which included members of three families on holiday, hastily returned to the jetty in Kumutoto Bay, where Stella's dad Luke was waiting and the girl was spirited to safety.
Orcas are the largest of the dolphins and among the world's most powerful predators, according to National Geographic. At the top of the food chain, their diet includes fish, penguins, and marine mammals such as seals, sea lions and they often hunt in deadly pods, the publication noted.
Marlborough, at the top of New Zealand's South Island, is along a migratory route for orca, which often appear between October and March, according to Marlborough's tourism board.
The experience is not enough to put the Kepa family off from going out for another water ski excursion, with the girl's mother Natalie Kepa telling TVNZ: "I don't want her to be afraid of trying ... it's definitely a once in a lifetime experience."