A captain whose ship was attacked by orcas off the south coast of Spain has shared shocking footage of the incident on social media.
Captain Dan Kriz was ambushed by a pod of orcas on April 15 while sailing through the Strait of Gibraltar, a region that has seen a dramatic increase in orca attacks in the past few years.
"We knew they may be somewhere, but nobody exactly knows for sure where they are at the moment," Kriz told Newsweek. "One of the boats before us was attacked closer to Morocco."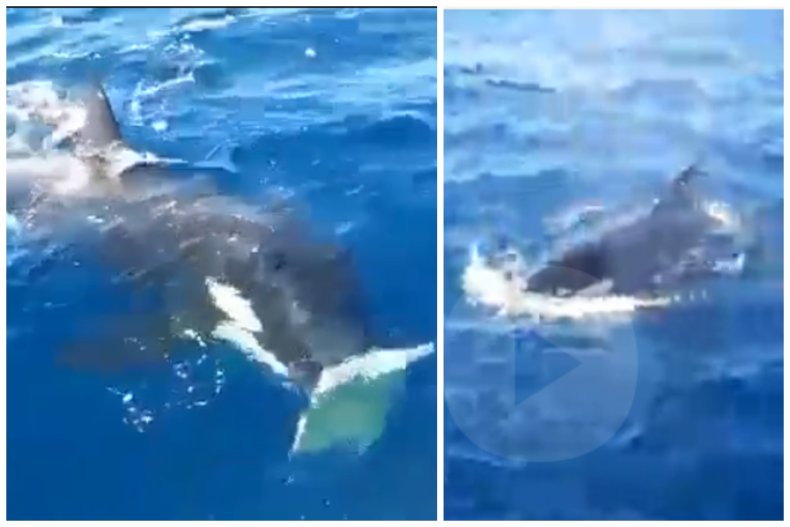 He continued: "We were about to cross shipping lines and turning south to the Canary Islands when we felt like we got bad with a wave. It was only when the boat was hit a second time that he realized what was happening.
"My first reaction was 'Please! Not again,'" Kriz said.
Kriz was first ambushed by orcas in 2020 while sailing through the same stretch. "I was surrounded with a pack of eight orcas, pushing the boat around for about an hour," he said. "We were one of the first boats experiencing this very unusual orcas behavior."
This time, while Kriz was delivering a catamaran for the Florida-based company Catamaran Guru, the orcas seemed much more focused in their attack. "It didn't take them that long to destroy both rudders," he said. "Looks like they knew exactly what they are doing. They didn't touch anything else."
In the footage, shared to Instagram by Catamaran Guru, the orcas can be seen swimming up to the boat and swimming away with the pieces of broken rudder.
"After about 15 minutes, they left and we started motoring in the direction to Barbate," Kriz said. "Suddenly one big adult orca started chasing us. In a couple of minutes, she was under the boat, and that was when we realized there was still a little piece of fiberglass left and she wanted to finish the job. After that, we didn't see them anymore."
Kriz's encounter is one of several similar incidents that have occurred in the Strait of Gibraltar in the past few months. Some researchers believe they may be the result of a single, revenge-bent female teaching the rest of the pods to attack boats after being hit by one herself. Others believe that the whales might simply be playing or even practicing their hunting skills.
Whatever the reason, news of these encounters has generated fear in many sailors, who have begun to take weapons out on their ships to defend themselves against potential attacks.
"I'm strongly against harming the orcas," Kriz said. "Bottom line is, we are in their territory."