Even as Russian forces continued to advance in Ukraine, the Kyiv-Classic Symphony Orchestra settled in a Kyiv square to play the national anthem.
The orchestra on Wednesday assembled a small crowd in the square, where they played the anthem along with Beethoven's Ode to Joy. Dozens watched the orchestra perform as they called for peace and prosperity in Ukraine.
"We would like to support our president, Volodymyr Zelensky, who called, calls and will call to all governments of the world [to] stop the war in Ukraine," Kyiv-Classic conductor Herman Makarenko said.
Although temporary corridors have been opened for Ukrainian civilians fleeing the invasion, reports said Wednesday that Russia bombed a children's hospital in Mariupol, resulting in "a lot of dead and wounded women" and unspecified number of children and newborns.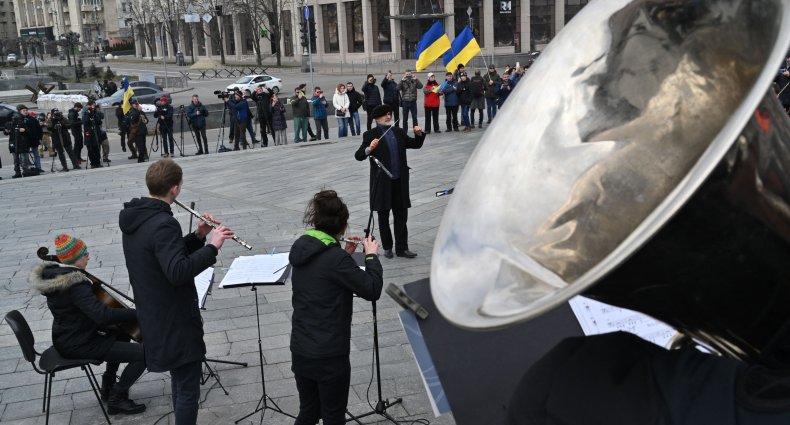 "People, children are under the wreckage," Ukrainian President Volodymyr Zelensky said in a tweet. "How much longer will the world be an accomplice ignoring terror?"
Another potentially devastating development in the Russian invasion is the power outage reported at the Chernobyl nuclear power plant. Authorities told the International Atomic Energy Agency that the plant was unresponsive on the power grid, opening the potential for a radiation leak. While backup generators are being used, they will be online for only 48 hours.
"[It is a] very dangerous situation in Chernobyl," one Ukrainian Parliament member said. "We have 48 hours to repair [the] electrical grid. If Russia will not cease fire, we expect radiation leaks."
While more than 2 million Ukrainians have fled the country, others are remaining to help save it.
"This is my home," Inas Kulinska told Newsweek. "If I ever move to another country... it would only be because of my free choice, not because I was forced to flee."
"We have an established life over here," Ivan Bilyi said. "We have relatives here. It's a life. We are ready to do some sacrifices in case of imminent danger, leave that life behind indefinitely. But part of that life is a family. We don't want to get separated....We just don't want to."
Update: 3/9/22, 12:40 p.m. ET: This story has been updated with additional information.