Oregon Allowing Students to Take 'Mental Health Days' Could Benefit Them in College, Experts Say
Students in Oregon will soon be able to take "mental health days" and experts say it could be helpful for when students go away to college.
Last month, Oregon Governor Kate Brown signed a bill into law that expanded excused absences to include those taken for mental and behavioral health. The bill went into effect on July 1, in time for the beginning of the new school year.
Suicide was the second leading cause of death for Oregon residents between the ages of 15 and 34, according to the American Foundation for Suicide Prevention, and a recent study found one in five college students thought about suicide.
In March, a New York University student was found deceased in his dorm room and officials said indicators pointed to suicide. After the deaths of four Northwestern University students in 2018, the Chicago school expanded the staff at its Counseling and Psychological Services.
The bill in Oregon, although not applicable to college students, could positively impact students when they reach their higher education institution, according to Dr. Ludmila De Faria, co-chair of the College Mental Health Caucus of the American Psychiatric Association.
"Improving mental health care and awareness early in life will result in students coming into college more resilient and less burned out because they sought care early in the process and can advocate for appropriate changes in their colleges," De Faria told Newsweek.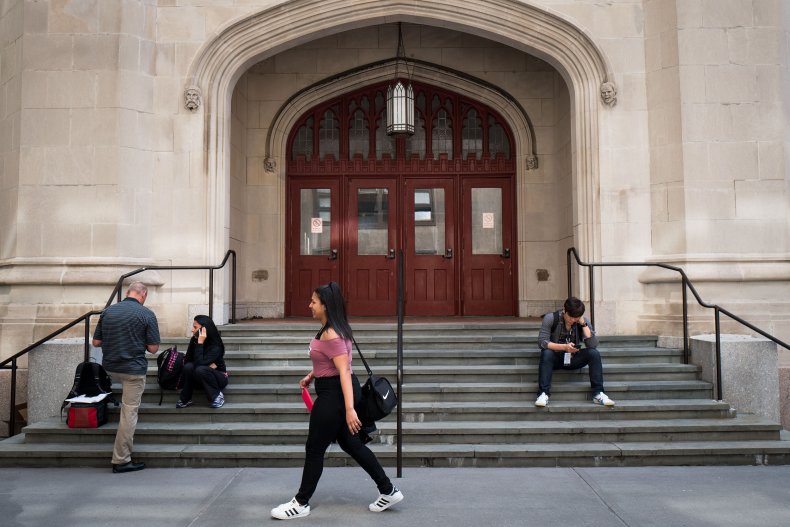 De Faria called the bill a "small step that may generate huge future gains" and credited it with both destigmatizing mental health and promoting self-awareness at an early age.
College is a transitional period for any student and for many, includes living away from home for the first time and other major adjustments. A time that can present additional difficulties, Laura Horne, chief program officer at Active Minds, a nonprofit organization dedicated to mental health awareness and education, told Newsweek that establishing institutional validation for high school students could go a long way.
"I think it's very powerful that this new law is providing this validation of what these students are going through and what they need so they can ask for it," Horne said. "That's great practice for when you're in college because you often have to negotiate that with your professors directly."
Unlike in high school, when there are a set number of excused absences, Horne said college is a place where students need to be able to speak up for what they need. De Faria noted that many colleges also have a student disability resource office or center to guide students through the process.
"Although even in the absence of a written policy or law, most colleges allow for students to take time off to care for mental health," De Faria said. "I hope this will inspire not only colleges but also workplaces to implement similar policies."
Not everyone has a diagnosed mental illness but Horne explained that everyone has mental health, so taking a "mental health day" is important for every student.
"Mental health is so deeply tied to academic success," Horne said. "When we're stressed we need the room to rest and recover in order to come back and really do our best work."
Active Minds has a network of student-led chapters and the environment to speak openly about mental health varies by campus. Horne said to better aid students, colleges should provide resources and education to faculty members on how to be approachable and offer help. While they aren't meant to replace counseling centers, she noted they play a role in supporting their students' mental health.
"Hopefully [the bill] will continue to generate further changes on society's views about mental health," De Faria said.
If you have thoughts of suicide, confidential help is available for free at the National Suicide Prevention Lifeline. Call 1-800-273-8255. The line is available 24 hours, every day.
Correction Wednesday, July 24 at 10:27 p.m. ET: This story has been corrected to accurately identify Dr. Ludmila De Faria as the co-chair of the College Mental Health Caucus of the American Psychiatric Association. A previous version of this story said it was the American Psychological Association.