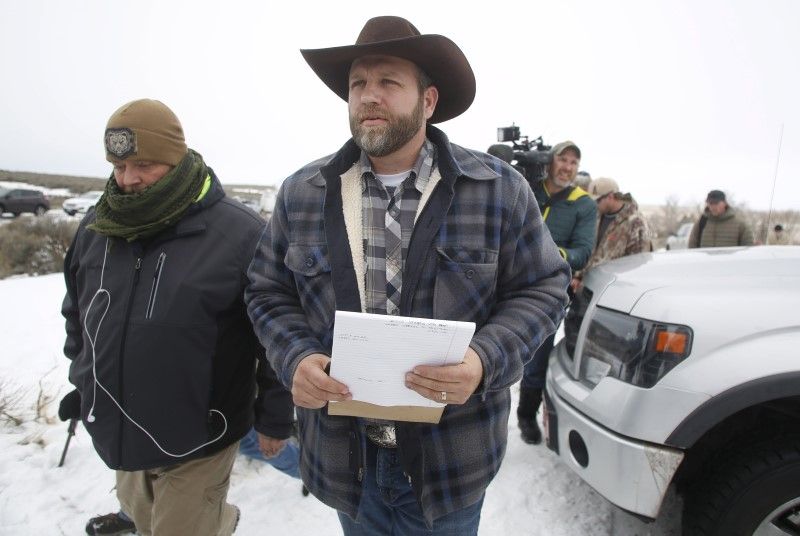 BURNS, Ore. (Reuters) - A handful of armed protesters remained holed up in a federal wildlife refuge in Oregon on Thursday, surrounded by police and federal agents, despite impassioned pleas from their jailed leader for them to stand down after the death of an activist.
One of the holdouts at the Malheur National Wildlife Refuge, David Fry, said in a YouTube message on Thursday that their number had dwindled to four following the departure of another occupier on Wednesday night.
Fry said that the small group had been in contact with the FBI, who had pledged not to arrest anyone not subject to a federal warrant.
"(But) it turns out that if you do leave they end up charging you later, they're pressing charges on everybody who was here, it sounds like," he said. "That's like 5 years of prison sentence, its a felony. So of course if you get a felony you can't vote any more and they take your guns away."
The occupation began when leader Ammon Bundy and at least a dozen of his followers took over a small cluster of buildings at the refuge on Jan. 2 in a flare-up in the so-called Sagebrush Rebellion, a decades-old conflict over federal control of millions of acres in the West.
Police and federal agents kept their distance from the site, 30 miles (48 km) from the small town of Burns in Oregon's rural southeast, in an effort to avoid a violent confrontation.
But on Tuesday, Bundy and his leadership team left the refuge to speak at a community meeting in John Day, Oregon, and was stopped by law enforcement north of Burns.
'TURN YOURSELVES IN'
Shots were fired and one protester was killed before Bundy and four others were taken into custody. Local authorities on Thursday identified the slain man as 54-year-old Robert LaVoy Finicum, a rancher from Arizona who acted as a spokesman for the occupiers.
The Deschutes County Sheriff's office said in a statement that it would lead the investigation into the officer-involved shooting and did not note any FBI involvement.
Bundy's brother, Ryan, was also wounded in the incident.
Law enforcement officials, citing an investigation, have refused to say what led to the fatal shooting but pleaded with protest members to leave the refuge peacefully.
Following his initial court appearance in Portland on Wednesday, Ammon Bundy urged the holdouts to stand down, saying he would carry on the fight in court.
On Thursday, a lawyer for Bundy read a second statement by him urging the four men to "turn yourselves in" and not use physical force.
"We must choose the path of liberty, which comes with the freedom of choice. People must not be OK with what is going on. I'm committed to freedom, not force," Bundy said in the statement. "We are done with the culture of force. We are done with the government pointing guns at us to enforce their will upon the people. This is not liberty, and this not America."
According to the FBI, eight people have left the refuge since Bundy's arrest and three of them taken into custody.
"The FBI and our partners continue to work around the clock to empty the refuge of the armed occupiers in the safest way possible," the agency said in a written statement.
Reactions to the takeover from residents in Burns have included sympathy for two imprisoned local ranchers whose plight began the protest, to dismay at the armed occupation by individuals seen as outsiders.