Oregon Becomes Third State to Legalize Turning Human Bodies Into Soil After Death
Oregon has become the third state to legalize turning human bodies into soil.
Governor Kate Brown on Tuesday signed House Bill 2574, which "clarifies permissibility of disposition of human bodies by alternative authorized processes including alkaline hydrolysis and natural organic reduction," according to the bill, KOIN Portland reported.
The bill says that natural organic reduction refers to the "contained accelerated conversion of human remains to soil."
The bill was sponsored by Representatives Pam Marsh and Brian Clem and will go into effect on July 1, 2022. The measure was passed by the state Senate on June 8.
Marsh told Newsweek that she "drafted House Bill 2574 to allow Oregonians to be able to choose natural organic reduction as another option after death. All of us, or the loved ones we leave behind, are going to have to decide what to do with our bodies once life is gone. Natural organic reduction is a safe, proven and more sustainable option for those who want it."
She continued, "These are hard issues to think about, but making a decision about disposition of our bodies that aligns with our values can be extremely comforting. I'm thrilled Oregonians will now be able to choose NOR."
According to a testimony document from Marsh, NOR "gently transforms human remains into soil in four to six weeks. The process uses large vessels to hold human remains which are combined with straw, wood chips, and other natural materials."
The document continues, "The decomposing process creates heat of over 131F, which kills viruses, bacteria, and pathogens, and exceeds EPA requirements for heavy metals, which are stabilized in the soil, not volatilized. The resulting soil is safe for gardens, trees and general land use."
The testimony document also states that after the completion of the NOR process, families of the deceased will be given the opportunity to choose the "best resting place for the soil." Marsh also said in her testimony that the act of natural organic reduction benefits the environment because it uses far less energy than cremation.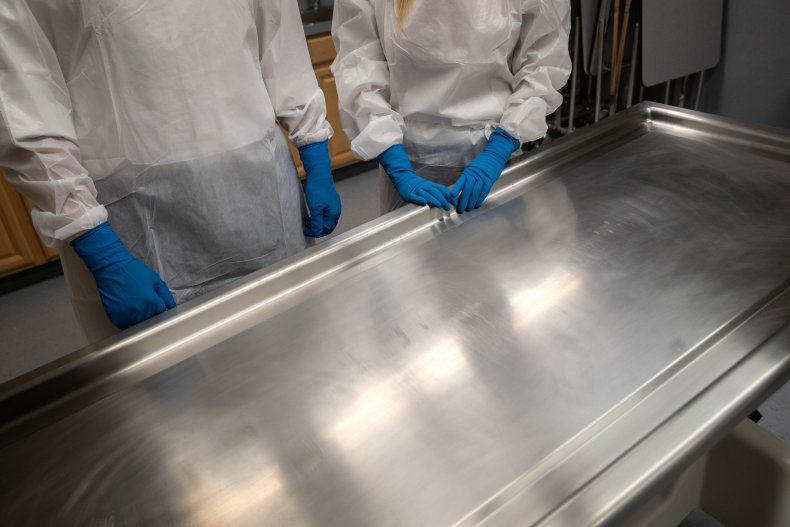 The passage of HB 2574 makes Oregon the third state to legalize the NOR process.
In 2019, Washington became the first state to legalize it, and the law went into effect in May 2020. The bill, which has language similar to that in Oregon's law, legalizes the "contained, accelerated conversion of human remains to soil."
Colorado passed similar legislation in May 2021. Governor Jared Polis signed SB21-006, which "authorizes human remains to be converted to soil using a container that accelerates the process of biological decomposition, also known as natural reduction," the bill's summary said.
Newsweek reached out to Brown's office for comment but did not receive a response in time for publication.