Churches Sue Oregon Gov. Kate Brown Over the Right to Be Open During COVID-19 Pandemic as State Details Road to Reopen
Ten churches in Oregon have filed a lawsuit against Governor Kate Brown, in a case that claims she is violating their First Amendment religious rights.
Due to the coronavirus pandemic, Gov. Brown issued an executive order that states Oregonians must stay home unless they are carrying out essential tasks like seeking treatment for health reasons, exercising, getting groceries or filling their vehicles with fuel.
Churches from Lincoln City, Baker City and Portland argue that attending religious services should be among those exceptions. Not being able to attend houses of worship is in breach of their constitutional rights, the churches argue.
The First Amendment states: "Congress shall make no law respecting an establishment of religion, or prohibiting the free exercise thereof; or abridging the freedom of speech, or of the press; or the right of the people peaceably to assemble, and to petition the Government for a redress of grievances."
"Churches and churchgoers are not willing to let their constitutionally protected religious right be infringed upon just indefinitely," attorney Ray Hacke, of the Pacific Justice Institute, which is representing the churches, told Fox 12 Oregon.
The church group argues that under the Oregon State constitution, Gov. Brown can only shut down the state for 30 days before needing legislative approval, she issued her stay-at-home order on March 23, therefore churchgoers should now be allowed to attend church without the fear of a fine, arrest or prosecution.
The stay-at-home measures were put in place to stop the spread of deadly coronavirus, to protect Oregon residents and to reduce deaths in the state.
Hacke explained that the members of the churches he represents are not being flippant about safety, but religious establishments could instead be reopened with social distancing guidelines in place.
"They certainly don't want to endanger anybody," Hacke said of the clients he represents, "especially their elderly and more vulnerable populations and so, yeah, I think a lot of them would follow social distancing guidelines how they see fit."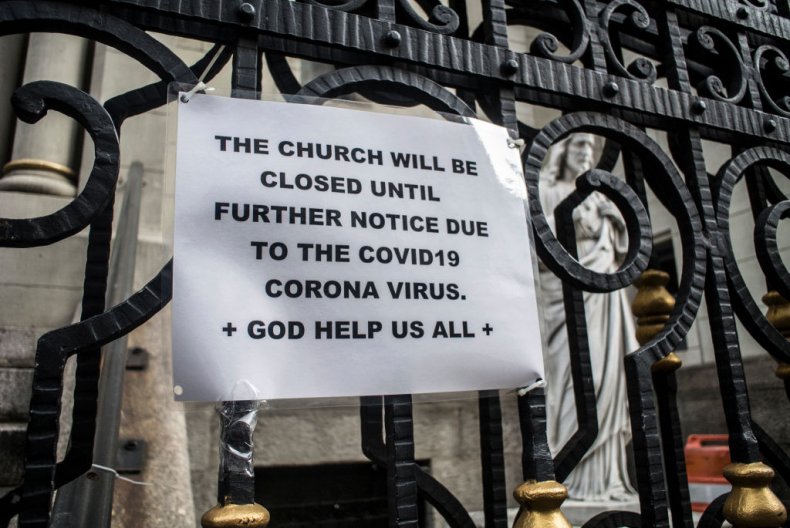 On May 7, Gov. Brown held a press conference outlining how Oregon will take measures to re-open the state from May 15.
The stay-at-home measures will be tentatively lifted and businesses such as salons, restaurants and shopping malls, and some outdoor recreation facilities will slowly be allowed to operate again, under social-distancing guidelines.
"Reopening any part of our state comes with risk," said Gov. Brown. "This virus is still very dangerous and it still poses a great threat. Until there is a vaccine, unfortunately, we will not be going back to life as we knew it. Not here in Oregon or frankly anywhere. I know this can be a really tough reality to face."
Newsweek has contacted attorney Ray Hacke and Gov. Kate Brown for further comment.