Oregon County Votes To Join 'Greater Idaho' in Rejection of Progressive Portland Policies
Another county in eastern Oregon voted to approve a measure to join the "Greater Idaho" movement in response to progressive policies in Portland.
Sixty-three percent of voters in Harney County supported the non-binding Measure 13-18 as of Wednesday morning, Oregon Public Broadcasting (OPB) reported. It's the only countywide vote this year.
Harney County is one of 36 counties in the state and is ranked as the fifth-least populous with a population of 7,422, according to the 2010 census.
Election officials counted 2,484 votes toward the measure by Wednesday evening with more than 1,500 in favor of relocating the Oregon-Idaho border and less than 1,000 opposed.
"Rural Oregon is declaring as loudly as it can that it does not consent to being misgoverned by Oregon's leadership and chooses to be governed as part of a state that understands rural Oregon's values and way of making a living," said Mike McCarter, president of Move Oregon's Border and Citizens for Greater Idaho, in a statement provided to Newsweek. "We call on the Oregon Legislature to not dare to hold these counties captive. Let the people decide which legislature they shall govern themselves by. This week's poll shows that Idaho is ready to accept our counties."
The poll, conducted by the Trafalgar Group for the organization Citizens for Greater Idaho that was released in early November, found that around 51 percent of survey respondents in Idaho were in favor of expanding the state's borders to include parts of rural Oregon. Thirty-five percent were against moving the border and about 14 percent didn't know.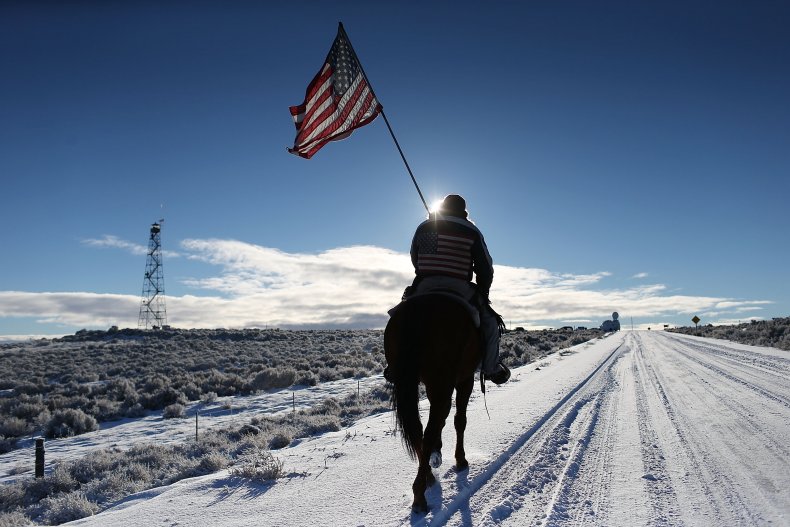 Those in favor of the change believe it would benefit the economy and protect residents from "Portland politicians," the poll found.
Citizens for Greater Idaho aims to expand the state's Republican Party reach into parts of Oregon and other regions so "conservative counties can become a part of a red state," according to its website. The organization said their movement started specifically with Oregon but it has grown to include parts of blue states like California and Washington.
Under the proposed "Greater Idaho" map, three-quarters of Oregon's land and parts of Northern California would be absorbed by shifting the Idaho border westward, OPB reported.
"The Oregon/Idaho border was established 161 years ago and is now outdated. It makes no sense in its current location because it doesn't match the location of the cultural divide in Oregon. The Oregon/Washington border was updated in 1958. It's time to move other borders," the Citizens for Greater Idaho website states.
Harney County is just the latest of seven other counties in Oregon to vote on measures to move the state line. The county court must start holding meetings about the border's relocation after Measure 13-18 is voted in.
Regardless of the county vote, the U.S. Congress and Idaho State Legislature would have to approve the border change. However, the group argues that the ballot measures put pressure on the states to negotiate an agreement.
The poll found that 60.8 percent of all survey respondents said they favored expanding the proposed counties if they "were very similar to Idaho in voting patterns, and would help the state financially." Among Republican voters, the figure was closer to 73 percent.
Forty-seven percent of respondents said they wanted to protect Oregon residents from politicians in Portland by expanding the state's border and an additional 35 percent said they thought it would help reduce tax rates and increase Idaho's budget.
The survey, which was conducted October 23 to October 27, is the most recent polling to come after five Idaho counties voted in favor of the "Greater Idaho" movement earlier this year. The organization says it has a 62 percent favorability rate.
"Idaho's government would defend us from the radical left's cultural revolution and preserve our way of life—Oregon's government wouldn't," McCarter said.