Oregon Deploys 700 More National Guard Troops to Reduce 'Extreme Pressure' on Hospitals
Oregon Governor Kate Brown has ordered more National Guard members to help alleviate the "extreme pressure" hospitals are experiencing due to COVID-19.
Brown said that she was ordering another 700 Oregon National Guard troops to hospitals on Wednesday. Last week, the governor ordered up to 500 Guard members to assist with the Omicron-fueled surge. The Oregon Health Authority reported on Tuesday that there were 727 COVID-19 patients being treated in the state's hospitals, an increase of 35 patients from the previous day.
The initial deployment included 125 Guard members who were sent to Oregon hospitals this week, while others were to be assigned on an "as needed" basis. Although it was not clear how many troops had been deployed in total as of Wednesday, Brown's order for an additional deployment suggests that the need was greater than anticipated.
"Our hospitals are under extreme pressure," the governor tweeted on Wednesday. "Fueled by the Omicron variant, current hospitalizations are over 700 and daily COVID-19 case counts are alarmingly high. To assist, I am deploying 700 additional @oregonguard members—for a total of more than 1,200—to Oregon hospitals."
"Thank you, once again, to our Guard members, their families, and their employers for this sacrifice and support," she continued. "As they step up yet again, I am asking all Oregonians to continue to do your part. Get vaccinated, get boosted, wear your masks, and stay home when you are sick."
The new deployments were ordered only weeks after Oregon National Guard members from a previous deployment were withdrawn from hospitals. A total of 1,588 troops were mobilized to assist with the pandemic between August and December last year, more than the current total of about 1,200.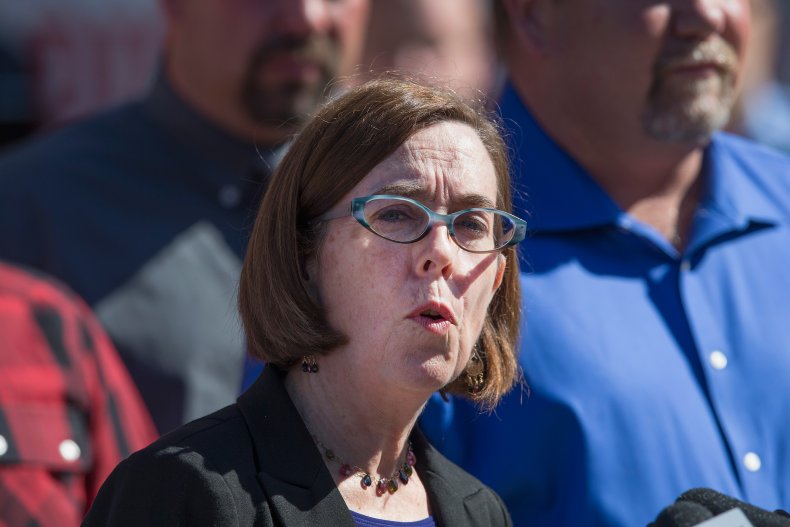 Oregon reported over 8,000 new COVID-19 cases and 35 new deaths on Tuesday, while the testing positivity rate has recently been approximately 22 percent. Around 74 percent of Oregon adults have been fully vaccinated. However, fewer than 37 percent of adults have received booster doses, which provide an added protection due to Omicron's partial resistance to current vaccines.
"If you are unvaccinated, consider this a red alert," Dr. Dean Sidelinger, Oregon's state health officer, said during a press conference last week. "You are in greater danger of getting the virus and of passing it along to others than at any time in the pandemic."
"The strong immune response you get from being fully vaccinated—followed by a booster shot—is the most effective protection against all variants of COVID-19, including Omicron variant," he added.
Brown is far from the only governor to call on the National Guard during the pandemic. Tens of thousands of troops have been deployed in states across the nation to help with COVID-19 testing, vaccinations, food distribution and other tasks where assistance is needed. Governors in states including Ohio, California and New Jersey have ordered deployments in recent days.
Newsweek reached out to the Oregon National Guard for comment.