Oregon Deputy Placed on Leave After Falsely Blaming Antifa for Wildfires
An Oregon deputy has been placed on leave after a viral video emerged of him falsely blaming Antifa for the state's wildfires, as police continue to plead with the public to stop spreading unfounded rumors.
Four police departments in the state have been asking the public to refrain from inundating their 911 lines with baseless rumors claiming anti-fascist activists are behind the catastrophic blazes. The raging wildfires, spurred by dry weather and extreme winds, have led to at least 500,000 evacuations and are predicted to end in mass fatalities.
Clackamas County Sheriff Craig Roberts announced on Saturday that deputy Mark Nikolai has been placed on administrative leave for issuing "inappropriate statements" about the origin of the fires.
A viral video, shared to social media, shows the deputy further perpetuating rumors that members of Antifa arsonists were setting the state on fire. He also asked for "the public's help" in stopping the anti-fascists from causing more harm.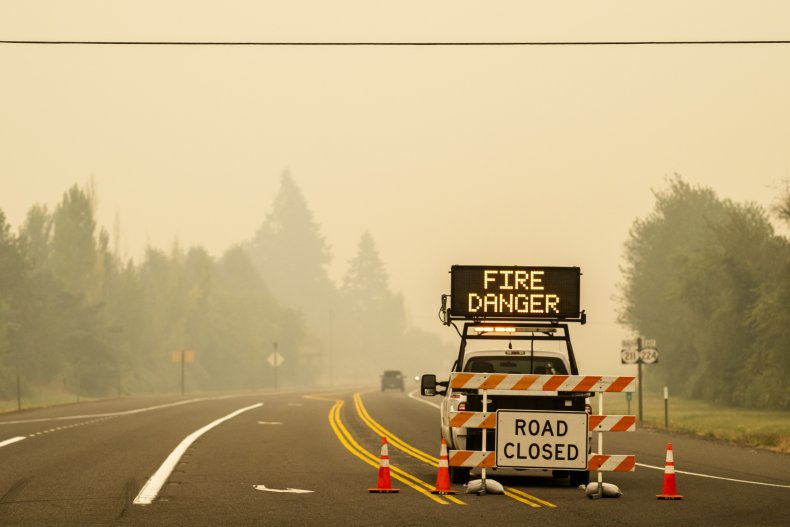 "Antifa motherf*****s are out here causing hell," the deputy can be heard saying in the clip filmed on Thursday. "There's a lot of lives at stake and there's a lot of people's property at stake because these guys got some vendetta."
In a press release, Roberts said "as soon as I was made aware of this incident, I moved swiftly to place this deputy on leave while we investigate."
"The Sheriff's Office mission is to provide calm and safety especially during unprecedented times such as these," he added. "I expect nothing less of our deputies, and apologize to all in our community."
West Coast officials fighting the devastation in Oregon have also been dealing with widespread social media rumors that claim Antifa are behind the fires. Several law enforcement agencies have begged the public to verify content before they share it online, but their efforts have done little to quell the spread of misinformation through Twitter and Facebook.
There is no evidence that the fires were deliberately started by activists.
While it is unclear where the rumors originated, some of its early spread can be traced back to a statement shared by the Portland Police Bureau. On Wednesday, the department shared a tweet urging "those attending the demonstration tonight" to "keep in mind the immediate risk the use of fire poses to community members."
Oregon Department of Forestry spokesperson Joy Krawczyk attempted to dispel the rumors. "We're not seeing any indications of a mass politically influenced arson campaign," she said.
Newsweek reached out to the Clackamas County Sheriff's office for comment.
Oregon Deputy Placed on Leave After Falsely Blaming Antifa for Wildfires | U.S.