Oregon Farmer Builds Giant Pride Flag Near High School After Ban by School Board
After the board of the Newberg Oregon School District voted last Tuesday to ban Pride flags from classrooms, a local farmer responded by constructing a large Pride flag on her property barely two miles away from the local high school.
"I had no idea there was such bigotry and inflammatory action that was going to take place here by the board," the farmer, Erin McCarthy, told news station KPTV.
After hearing about the board's vote, she thought of placing the flag on her farm. She recruited some volunteers online to help construct the flag. Together, they painted the large plywood flag which now stands on McCarthy's property. It is reportedly visible from the Newberg High School football stadium.
The flag is the "Quasar Pride" flag created in 2018 by Portland-based designer Daniel Quasar. His flag features the standard six rainbow stripes and a five-colored, triangular chevron on the left side that represents transgender people and people of color.
McCarthy's volunteers also helped paint four rainbow-colored placards that collectively spell the word "LOVE." They placed the placards on the roof of her covered patio.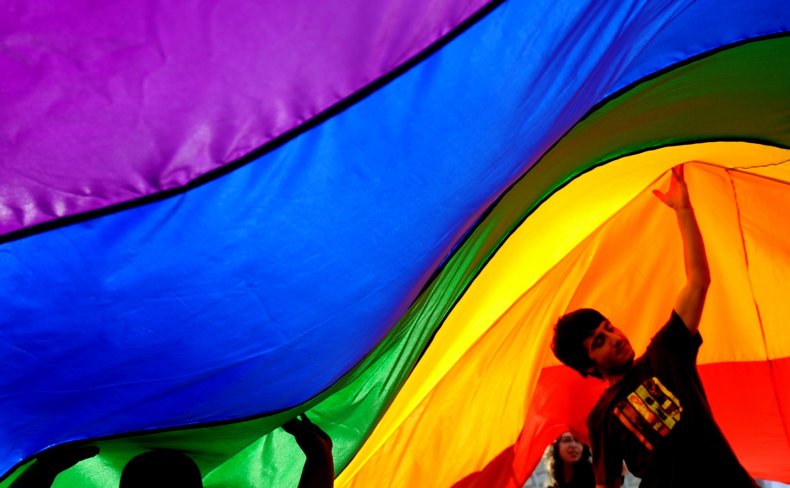 "It was the most beautiful group of people who were allies, members of the LGBTQI community," McCarthy said. "It was super hot that day. We all got sweaty together. We put it up. It was a total expression of community love."
The Newberg School Board voted on August 11 to ban teachers and faculty from displaying rainbow flags, Black Lives Matter (BLM) signs, and any other "political" signs, clothing or other items. A three-person school board committee is now creating guidelines on what constitutes "political" messages.
The ban only applies to teachers and faculty. District lawyers are examining the ban's potential free speech implications before it officially goes into effect.
Supporters of the ban say the signs are "divisive" and de-value white and heterosexual students. Opponents of the ban say that the signs support and affirm students who might otherwise feel isolated in the district's predominantly white and heterosexual schools.
The board's ban runs contrary to recent efforts by the Oregon Department of Education to show support for BLM and LGBTQ students. Last year, the department released a "success plan" to make schools more LGBTQ-inclusive. It also published a letter, signed by numerous statewide educator groups, praising BLM signs and anti-racism education in the classroom.
The 22,068-person population of Newberg, Oregon is 87.5 percent white and 0.4 percent Black. Newberg Senior High School is 71.2 percent white and 1 percent Black, according to School Digger, a website that evaluates schools. That means that of the school's 1,535 students, roughly 1,092 are white and 15 are Black.
An estimated 4.5 percent of the population identifies as LGBTQ, according to a 2017 Gallup poll. If applied to the high school's student body, that would mean that 69 of the 1,535 students are LGBTQ.
Newsweek contacted the Newberg Oregon School District board for comment but did not hear back in time for publication.