Oregon Fire Evacuation Map, Update as 83,000 Medford Residents Forced to Flee Homes
An entire city in Oregon was ordered to evacuate overnight due to the rapid spread of fire.
Last night, the City of Medford Police and Jackson County Sheriff's Office issued a level 3 ("Go") alert to evacuate the area of the city "bounded by North Pheonix road on the east [and] Barnett Road, Garfield Road and Steward Avenue to the north."
This is due to the Almeda Fire, previously known as the Glendower fire, which is currently zero percent contained.
The evacuation affects the entire population of the city of Medford, which has over 83,000 residents according to the U.S. Census.
NBC Bay Area anchorman, Raj Mathai, shared a live feed on his Twitter account, saying: "Breaking: Fire approaching Medford. Nearly entire city of 82K people under evac order. This is livestream from KOBITC. #OregonFires."
The stream shows fires in the distance and plumes of smoke over the city. Commenters from neighboring states and cities shared their stories, with others concerned about their families.
Twitter user @LizSDVM said: "My daughter is in Ashland, too—not far from SOU, so south side of town. I've been obsessively following news most of the day; I'm down in SFBay area, so can't get a lot of info. It's all so scary."
The fire started near Glendower Street and Almeda Drive near Ashland, hence the name of the incident. Currently, it does not appear on the NWCC website, however a nearby fire 16 miles east of Ashland, Grizzly Creek, does.
The Jackson County real-time map shows that the fire is spreading northwest—the cities of Talent and Phoenix have already been placed under evacuation Level 3 with Central Point, northwest of Medford center, placed on evacuation Level 2.
The Jackson County Sheriff's Office has issued an "immediate evacuation" notice for all businesses and residents in the Pheonix area, southeast to Medford, due to the wildfire.
"The evacuation includes all properties between I-5, north to Voorhees Road, west to Coleman and south to Pioneer and Culver Road," the alert says. "There is a temporary evacuation site located at the Expo, sheltering is not available."
The Twitter account for Jackson County says additional shelter is available at Josephine County Fairgrounds at 1451 Fairgrounds Road in Grants Pass.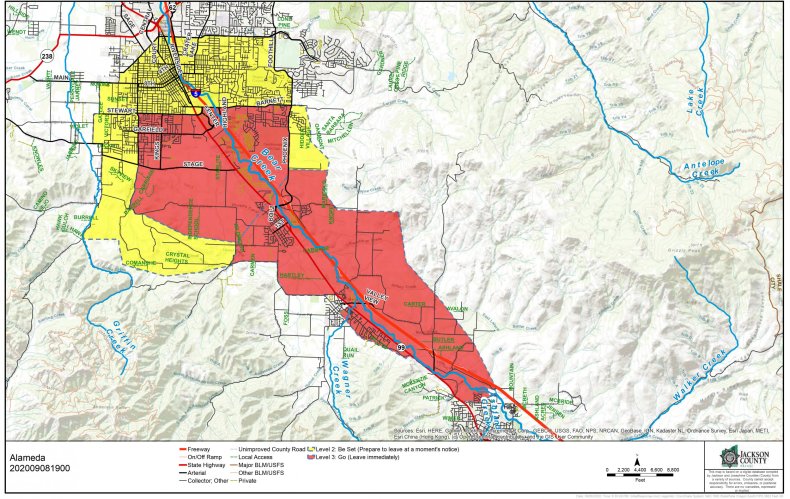 According to The Oregonian, Governor Kate Brown declared a wildfire emergency in the state yesterday afternoon as fires raged in areas such as Santiam Canyon, east of Salem, Beachie Creek and Lionshead.
On her Twitter account, Brown says: "Listen up: We're in an unprecedented fire event. Several significant, growing fires across the state continue to spread due to hot, dry weather and high winds.
"Oregonians' lives are at risk. Follow evacuation orders, try to reduce your smoke exposure—and take care of each other."
Evacuation Alert for south Medford, Oregon
Level 3: If you are south of Glenwood Ave. on Hwy 99 and south of Campbell Road in the North Phoenix area you are at Level 3. This area is from Hwy 99 to the area of North Phoenix.
Level 2: All areas south of Barnett Road to Campbell Rd and Glenwood.
Level 1: All of Jackson County is considered at Level 1.
Source: JacksonCounty.org
Residents of Oregon can sign up for Public Alerts to receive the latest information on emergencies in their area.