Oregon Fire Map, Update as Ashland Area Inferno Sparks Mass Evacuation
Wild and man-made fires continue to spread through Oregon with red flag warnings active throughout today.
According to the National Weather Service (NWS), red flag warnings remain in effect until 8 p.m. PDT today due to gusty winds, low humidity and favorable weather conditions for rapid fire spread. This affects the majority of Oregon state.
Newsweek has rounded up all the information available for each fire incident in Oregon, taken from the Northwest Interagency Coordination Center (NWCC) and local agencies and emergency services departments.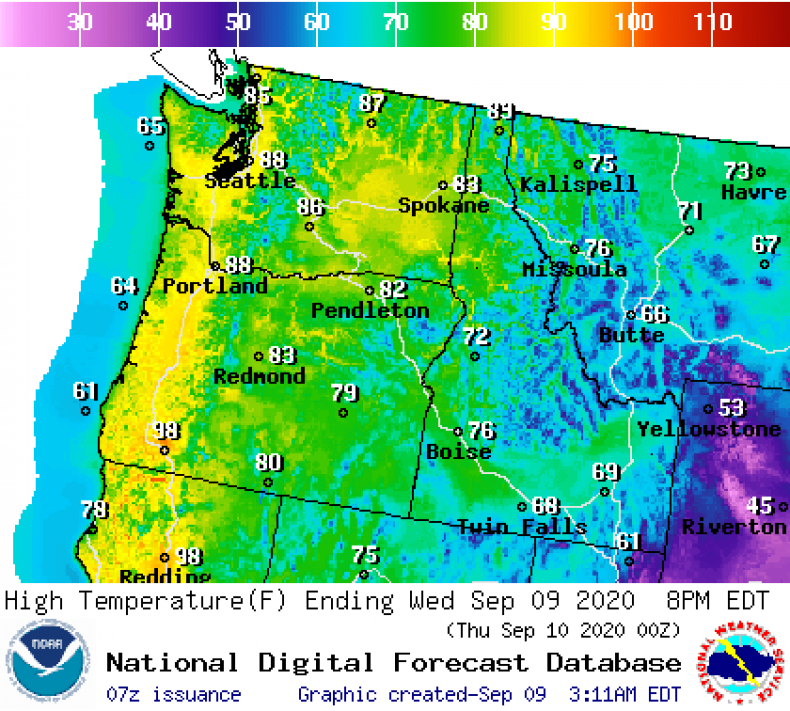 Beachie Creek
Located in the Willamette National Forest, this fire isn't not contained and is currently covering 776 acres of land. While the cause is unknown, the fire started on August 16, 2020.
According to NWCC, the residences of Gates, Mill City, Lyons, Stayton, Scotts Mills and surrounding homes within the fire's path are under threat. As part of its last update on September 8, NWCC reported that 237 emergency service personnel are supporting efforts to contain the fire, including four helicopters.
"Last night's (September 7) wind event has caused the fire to move into the Santiam Canyon," says NWCC's report, updated on September 8 at 9:24 a.m. PDT. "The entire corridor and surrounding homes are under a Level 3 ("Go") evacuation level." The fire is expected to increase with strong east winds up to 35 - 45 miles per hour (mph), according to reports from NWCC and NWS.
NWCC estimates that the fire will be contained by October 31.
Grizzly Creek
Covering 325 acres of land, this fire is located 16 miles east of Ashland, Oregon. The cause of this fire has been determined as man-made and is currently 25 percent contained—according to NWCC, 381 personnel are working on containing the fire, including 15 crews, six helicopters and 15 engines.
Reports say that 72 residences are threatened as well as 108 minor structures in the area.
The containment date is predicted to be September 15.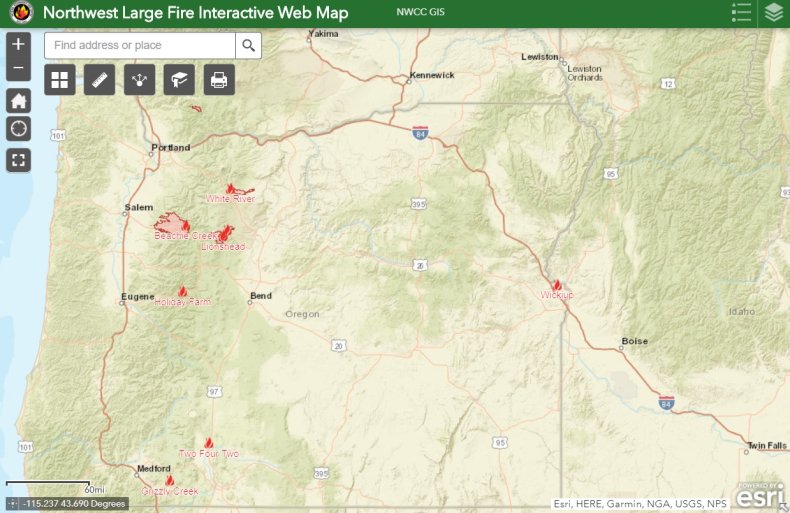 Holiday Farm
This fire at McKenzie Bridge (3 miles west) is covering 500 acres of land and is zero percent contained. According to NWCC, the fire started on September 7, 2020, and the cause has not yet been determined.
Evacuations notices are in place and road closures are in effect.
Lionshead
Caused by lightning, this fire is now 31 percent contained and covering 27,647 acres of land. Located 20 miles west of Warm Springs, Oregon, the fire is predicted to be contained by October 30, according to NWCC reports.
From the latest information reported by NWCC, 545 personnel are working to contain the fire, which includes 15 crews, 4 helicopters and 16 engines. The fire at Lionshead, alongside Beachie Creek, has triggered a Level 3 ("Go") evacuations for Marion County, Detroit and Idanha, specifically.
For public and firefighter safety, roads and trails on the southwest portion of the Warm Springs Reservation, near the fires, are closed to the public, according to NWCC. Further, 40 miles of the Pacific Crest Trail are closed between Santiam Pass and Olallie Lake as well as much of the Mountain Jefferson Wilderness and some nearby lands and recreation sites.
P-515
Predicted to be contained within the week, this fire is covering 4,609 acres of land 17 miles west of Warm Spring, Oregon. According to reports by NWCC, the fire is 95 percent contained by firefighters.
"Firefighters took advantage of the relatively quiet fire behavior to locate and cool spot fires and scout for possible places to stop the fire's spread," says NWCC in its latest report on the fire. "Vegetation was removed along the J-100 and P-400 roads to prepare them for use as control lines on the north and south sides of the fire.
"Potential control lines were also identified west of the J-100 Road to try and stop the fire's spread to the southwest. Interagency Hotshot crews will diligently work to establish lines between fingers of the Lionshead Fire and burn out fuels to reduce the chance of further spread to the southeast," the report continues.
A temporary flight restriction is in place over the P-515 and Lionshead Fires. Wildfires are a "No Drone Zone", says NWCC.
Two Four Two
This fire is located 7 miles east of Fore Klamath, Oregon, and covers 2,000 acres of land. While the cause of the fire is unknown, according to the NWCC, it started on September 7.
As the fire is zero percent contained and spreading quickly due to winds, NWCC says that anyone to the "south-southwest of the fire, including the Agency Lake area," is advised to be organized and ready for evacuation. "They should be prepared to leave immediately if necessary."
The fire is currently active between Highway 97 to the east, Highway 62 to the west, Highway 422 North and Highway 422 South, says NWCC's latest report from September 8.
"It continues to be wind-driven, moving to the south and southwest," says NWCC's report. "This is a dynamic and rapidly changing situation. Information is coming out as quickly as it can."
White River
Covering 17,507 acres of land 20 miles west of Wamic, Oregon, this fire is 50 percent contained according to the latest report by NWCC. It is predicted to be completely contained within the week.
According to the information provided by NWCC, 809 personnel are working to contain the fire, including 19 crews, 7 helicopters and 30 engines.
"The fire containment line was tested by yesterday's high winds and did not grow in size," says the report by NWCC. "Firefighters will continue to patrol the fire perimeter."
National Forest Closures remain in effect for portions of Mount Hood National Forest, including Forest Road 48, says the report.
Wickiup
Already contained by 20 percent after starting September 7, this fire is covering 750 acres of land, according to NWCC. Located 5 miles northwest of Annex, Oregon, there is currently no confirmed containment date for the fire or updated information on threatened residences, according to NWCC.
For more information on the Oregon fires, visit the NWCC's website.