Oregon Fire Map, Updates As Evacuation Alerts Issued for Beachie Creek and Lionshead
Extremely critical fire weather predictions have been issued for parts of western Oregon by the National Weather Service (NWS) Storm Prediction Center.
In its fire weather outlook issued at 2:27 a.m. CDT today, dangerous conditions were forecast through "much of the day today" due to the continued presence of a "strong anticyclone in the Intermountain West and surface roughing along the West Coast and Desert Southwest".
According to the latest fire maps of Oregon created by Northwest Interagency Coordination Center (NWCC), there are currently active fires in the areas of Beachie Creek, White River, Grizzly Creek, Crane and Indian Creek. While a number of the causes are unknown, some are due to lightning, according to the information provided by NWCC.
Firefights Battle Fires in Oregon City
Firefighters of Clackamette Cove fought off a fire on Agnes Avenue, Oregon City, last night and now report it is under control. According to the Clackamette Cover Fire Department Twitter account, crews were working to put out "hot spots" and had identified damage to "four vacant industrial buildings and approximately 12 acres of brush."
Luckily, the fire is reported to have not involved the nearby apartment complex and no evacuations were needed.
"The winds were spreading fire embers approximately an eighth of a mile making it difficult for firefighters to contain," says the Twitter account. "No injuries reported and investigators are on scene to determine the cause."
The fire department, which has 21 fire stations strategically located throughout Clackamas County and is the second-largest fire protection district in Oregon, has also said that Emergency Operations Center was activated due to the "large number of fire and medical calls."
Beachie Creek Fire Not Contained, Continues to Spread in Lionshead
A wildfire covering 513 acres in Willamette National Forest is currently not contained, according to the NWCC.
The fire, which started on August 16, threatens five commercial and residential structures, two non-residential commercial buildings and six other structures. The spread of the fire has contributed to the Level 3—Go Evacuation alert affecting the Breitenbush Hot Springs and the Devil's Creek summer home community, issued by the Sherrif of Marion County.
The estimated containment date is October 31.
On its Twitter page, the Sherrif of Marion County shared a forecast for a wildfire in Lionshead, in the Warm Springs Reservation in Oregon, as well as a Level Three warning.
"The Marion County Sheriff's Office has issued a Level 3—"Go" evacuation notice to residents in the Santiam Canyon from the community of Mehama east to Detroit including Gates, Mill City, Detroit and the North Fork corridor," the alert says. "Residents are being urged to leave the area immediately. We have requested Highway 22 be closed eastbound from Stayton to Santiam Junction to allow evacuees and fire personnel clear passage."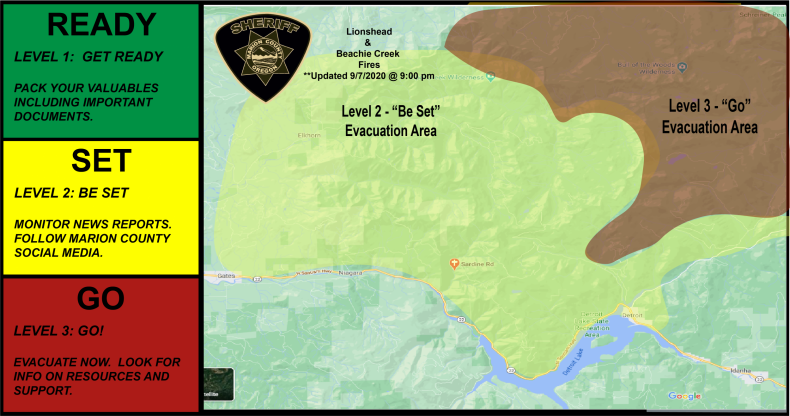 The NWCC says that the fire at Lionshead, which started on August 16, covers 18,615 acres of land and is currently 31 percent contained. Its estimated containment date is October 30.
White River Wildfire Predicted to Be Contained Within a Week
A fire, located 20 miles west of Wamic, Oregon and covering 17,507 acres, is now 50 percent contained, according to NWCC. The fire, which is believed to have been caused by lightning, started on August 17, and is predicted to be contained fully by September 15.
However, according to information on the NWCC's website, 82 residences remain threatened by the fire.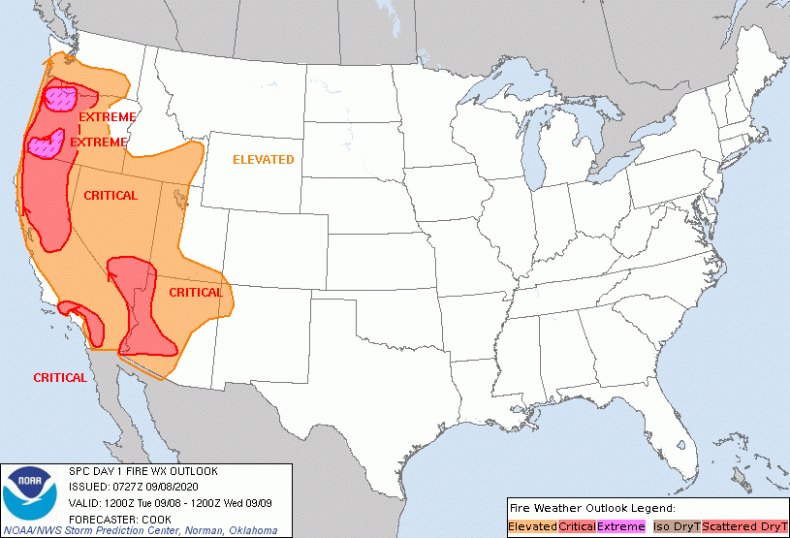 NWS Forecast Predicts 'Extreme Fire Behavior' in Oregon
According to NWS, the region is going to continue to suffer from ongoing critical fire weather conditions throughout the day and overnight.
"Overnight recoveries are expected to be poor given ongoing downslope flow, while RH values fall into the teens and single digits—especially from central Oregon into central California," the forecast says.
The alert also says that surface winds will gust above 60 mph and, paired with the ongoing heatwave, "very dry fuels" and the presence of "multiple large fires" suggest the continued potential for rapidly moving fire front and "extreme fire behavior."
Advice for evacuation in the event of a wildfire:
If not ordered to evacuate:
Do not light campfires, bonfires, candles or anything else that could blow over and start a fire.
If you smoke, be sure to extinguish your cigarette or cigar before disposing of it. Never through a burning item out a window.
Bag up trash, clippings and other easily flammable items.
Fill up your vehicle in case you need to evacuate.
National Weather Service