Oregon Fire Map, Evacuation Update as Air Quality Remains Hazardous
Overnight, Oregon officials have said that the fatalities from the wildfires in the state have reduced from 10 to eight, though more are missing.
According to Associated Press (AP), the state's Office of Emergency Management confirmed yesterday that two of the reported fatalities were later identified as animal remains. The number of missing persons was also reduced, from 22 to 16, says the outlet.
As the state number was reduced, the Marion County Sheriff's Office released the names of two killed in the wildfire—Cathy Cook, 71, and Justin Cook, 41, from Lyons, Oregon. According to AP, the Cooks were mother and son.
The National Interagency Fire Center reports that Oregon has 12 active fires as of yesterday.
Newsweek subscription offers >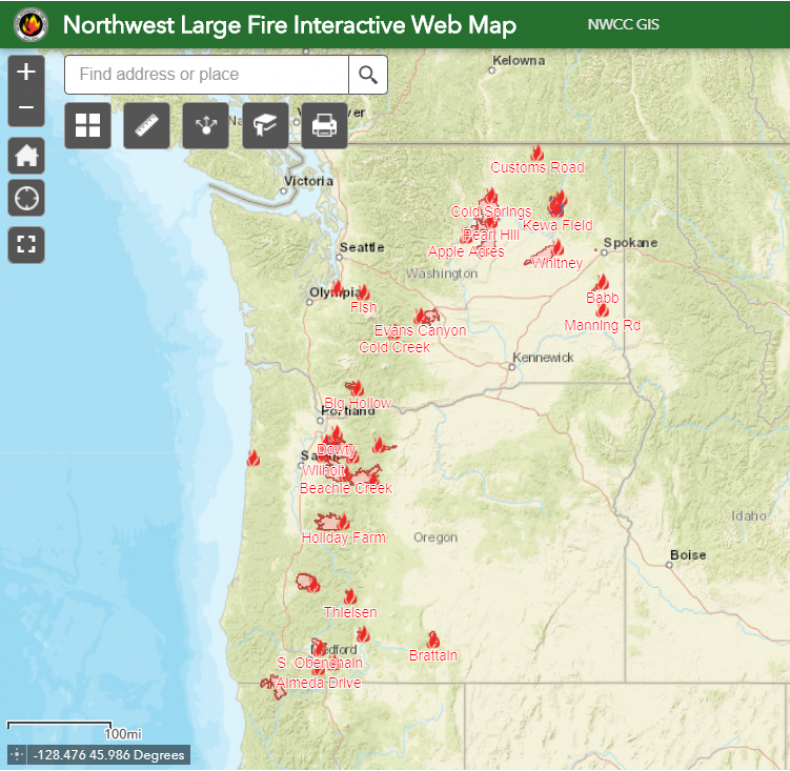 Evacuation orders in Clackamas County were planned to be lifted according to the Oregon State Fire Marshall's Office. During a press briefing on September 15, 2020, regarding the Clackamas wildfires, Brandon Paxton, who was representing the office, said that while there were "no new evacuation orders" in the county, the focus is around "evacuation orders being lifted as they have over the last couple days." He was also discussing the information families needed to take care of their own mental health as well we being prepared for that process sort of moving back.
"I would say that what people need to really pay attention to is their anxiety and their worry try to in particular prioritize the things that you really need to get done," advises Dr. Jeffrey Anderson, representing Clackamas County Behavioral Health "Pay attention to media but don't stay on media, especially social media for all day. Try to fill your day with some things that are going to get practical solutions for yourself.
"Make sure that you're getting enough sleep, exercise, healthy eating that kind of thing," he continues. "But I think staying informed is one thing. Sticking, you know, gluing yourself to the TV is another and in disaster situations like this, you know these stories can also affect kids, so if you've got kids try to make sure that they understand what's going on but not pay too much attention to all of the media that they can since we've got a lot out there."
Newsweek subscription offers >
In Jackson County, the whole region is on at least level 1 evacuation orders, the least severe. Those surrounding the South Obenchain and Almeda Drive Fires on level 2 and level 3 orders.
Douglas County has been taken on the level 1 order for the whole of the region. Bar L Ranch Road, Terrace and Upper Terrace have been downgraded from a level 3 to a level 2 evacuation order as well as Banks Creek Road to Hinkle Creek Road. Hinkle Creek to the end of Nonpareil Road remains at a level 3 order.
All evacuations can be viewed on an interactive map here.
"Oregon is resilient," says Governor Kate Brown
As the state of Oregon watches and battles the fires as well as deal with the low air quality from smoke, the state's Governor, Kate Brown, took to Twitter confirming that aid from the federal government had been provided.
"Oregon is resilient, but to fight fires on this scale, we need all the help we can get," she tweets. "Grateful we've been quickly granted a Presidential Disaster Declaration, helping provide support like damage assessment teams, search and rescue, debris management, shelter and medical assistance."
Previously, Gov. Brown had admitted the state was being "pushed to its limits": "One week into this wildfire crisis, our state has been pushed to its limits. It's hard to wrap our heads around the pain and suffering so many Oregonians have endured over these few days.
"I am optimistic about upcoming cooler weather and that our calls for assistance are being answered by CA, WA, VT, NV, MN, MI, ND, FEMA and Canada," she continues on Twitter. "Thank you. We can use all the help we can get. Thanks also to our Oregon firefighters, National Guard,@RedCrossCasc and volunteers."
Other state organizations are also helping the public get to grips with the hazards associated with poor air quality levels from the wildfire smoke.
For those displaced by the fires and needing support, the American Red Cross in the Cascades has listed all the places where they're providing assistance.
Oregon State Fairgrounds: 2330 17th St. NE, Salem
Oregon Convention Center: 777 NE Martin Luther King Jr Blvd, Portland
Deschutes County Fairgrounds: 3800 SW Airport Way, Redmond
Benton County Event Center: 110 SW 53rd St., Corvallis
Jackson County Expo: 1 Peninger Rd., Central Point
Josephine County Fairgrounds: 1451 Fairgrounds Rd., Grants Pass
Douglas County Fairgrounds: 2110 Frear St., Roseburg
Oregon air quality levels continue to be hazardous
According to the National Weather Service (NWS), an air quality alert is in effect until noon PDT tomorrow. The alert says that the Oregon Department of Environmental Quality (DEQ) has issued an "Air Quality Advisory" as well as a "Smoke Air Quality Advisory."
"Wildfires burning in the region combined with forecasted conditions will cause air quality to reach unhealthy levels," says NWS. "Pollutants in smoke can cause burning eyes, runny nose, aggravate heart and lung diseases and aggravate other serious health problems."
NWS advises that residents limit outdoor activities and keep children indoors if it is smoky.
On its Facebook page, the Oregon Health Authority announced that it is holding a live Q&A for Oregon residents who are concerned.
"As wildfires continue throughout the state, we've heard many of you asking what the unhealthy to hazardous air quality levels mean for the health of you and your loved ones," says the Facebook post. "Join us, Oregon OSHA and Oregon DEQ to have your wildfire smoke questions answered by our experts directly."
The Q&A will take place today at 7:00 p.m. PDT.
"We woke up and the entire sky was red"
Eye-witnesses on the ground in Oregon told Newsweek their feelings of waking up and traveling around the state as the fires were underway.
"I'm located in Depoe Bay or right on the Oregon Coast. We woke up around 6:00 a.m. PST on September 8, 2020, and the entire sky was red," Emily Adams, a photographer told Newsweek. "I walked out to those cliffs around 10:00 a.m. PST to document what I saw—it was scary, I've never seen anything like that before."
Adams documented her surroundings using her camera and posted them on her Instagram.
"The closest fire to me was Echo Mountain Complex Fire about 25 miles north of me near Lincoln City, near Devils Lake and Rose Lodge," she says. "Several people in that area lost their homes."
Adams told Newsweek that she didn't have to evacuate on the day she took her photos, but says that parts of Lincoln City and north of the city had "various levels of evacuations" by September 9, 2020.
"There is still a lot of ash and smoke in the air, but things seemed to slow down [on the night]."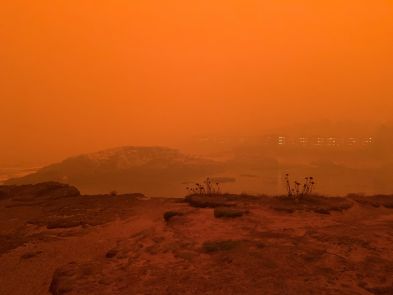 The latest information on the Oregon Fires can be found on NWCC's website.
Oregon Fire Map, Evacuation Update as Air Quality Remains Hazardous | U.S.