Oregon Fire Map, Update as 'Strong Gusts' Threaten to Spread Blazes
Red Flag Warnings remain in effect until this evening as fire continue to burn through thousands of acres across Oregon.
According to the National Weather Service (NWS), today will see strong gusty winds with low relative humidity for several fire weather zones. A fire weather watch is in place until tomorrow afternoon,
Southcentral Oregon is mostly affected by these weather warnings, which expire at 9:00 p.m. PDT tonight, with NWS predicting that the conditions will "likely contribute to a significant spread of new and existing fires." Gusts of up to 40 miles per hour (mph) are expected with humidity as low as seven percent, according to NWS.
Air quality warnings are also in effect for Oregon. Dense smoke advisories are in place for the northwest of Oregon due to "very unhealthy air quality conditions," according to NWS. An air quality advisory is also in effect until noon PDT on Thursday, September 17, 2020.
According to NWS, pollutants in smoke can cause burning eyes, runny nose and aggravate other serious health problems. It is advised that residents should limit outdoor activities and keep children indoors if it is smoky. Further medical advice can be found here.
Newsweek has compiled the below guide through various sources to give residents of Oregon and their loved ones an overview of the current situation.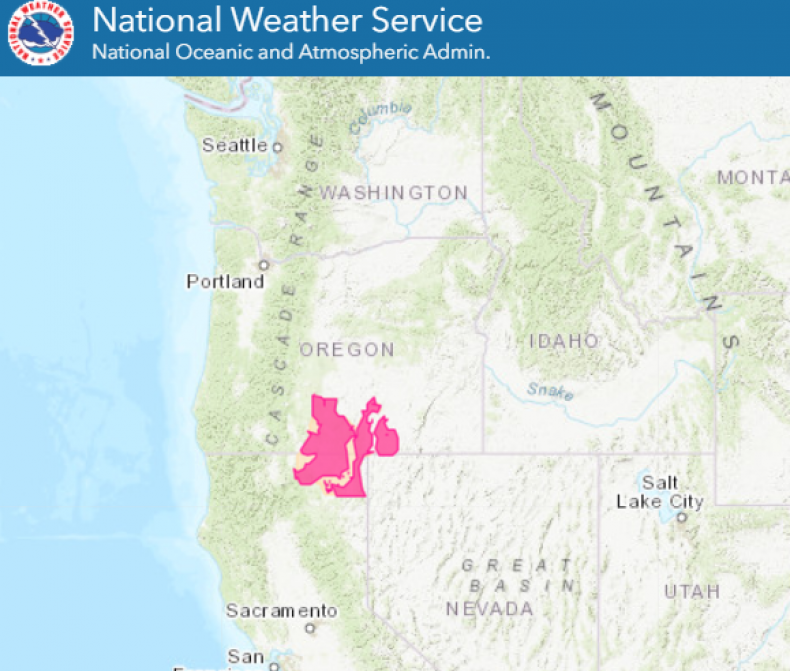 Almeda Drive
Located 4 miles northwest of Ashland, this fire currently covers 3,200 acres of land, according to the Northwest Interagency Coordination Center (NWCC.) As of yesterday, the fire is 70 percent contained with a morning update due at approximately 6:30 a.m. PDT today.
The fire still threatens 6,100 residences, with 600 single residences destroyed, says NWCC. Around 500 other structures are threatened, with 100 destroyed by the inferno.
"As of this [yesterday morning], the Almeda Drive Fire has remained inside the fire perimeter and is currently 70 percent contained," says NWCC. "Fire crews continue to focus their efforts inside the fire line to mitigate hazardous conditions which include fire debris, unstable structures, downed utility lines, as well as venting natural gas lines."
All residents are advised to stay away from evacuation zones to allow crews to "address hazardous conditions." The air quality is also forecast to remain hazardous with temperatures expected to reach the mid 70s (Fahrenheit), says NWCC. It will be partly cloudy with overcast smoke and haze.
The update also advises that shelters for homeowners affected by the fire can contact the Jackson County Expo at 541 774 8270.
Archie Creek
Covering 121,379 acres of land, this fire is now 10 percent contained, says NWCC. Located 20 miles east of Glide, over 100 residences have been destroyed by the blaze with over 1,800 threatened.
The weather is forecast to be "warm and dry" with "breezy winds" persisting, says NWCC. Residents might be happy to hear that smoke over Roseburg is likely to begin lifting today, but in turn, this could lead to increased fire activity. "Overnight humidity will increase, but daytime humidity will remain quite low at higher elevations," advises NWCC.
Beachie Creek
Located in the Willamette National Forest and Opal Creek Wilderness Area, this fire covers 188,374 acres of land and is zero percent contained. Nearly 37,000 residences are under threat from the blaze as well as 131 other structures, according to NWCC.
The status update says that firefighters resumed work yesterday to secure the perimeter of the fire, working to "tie the pieces of existing control line together on the west and northwest portions of the fire."
The Beachie Creek Fire and the Riverside Fire remain about 1 mile apart, says NWCC, and that officials from nearby fires are "coordinating strategies to minimize fire growth and stabilize incidents."
"The combination of winds, record dry forests and a lack of natural holding features in the Table Rock Wilderness and surrounding areas mean it is still possible the fires could burn together," says NWCC. "Based on current weather, it is anticipated that a future merger would not result in dynamic fire behavior as seen last week."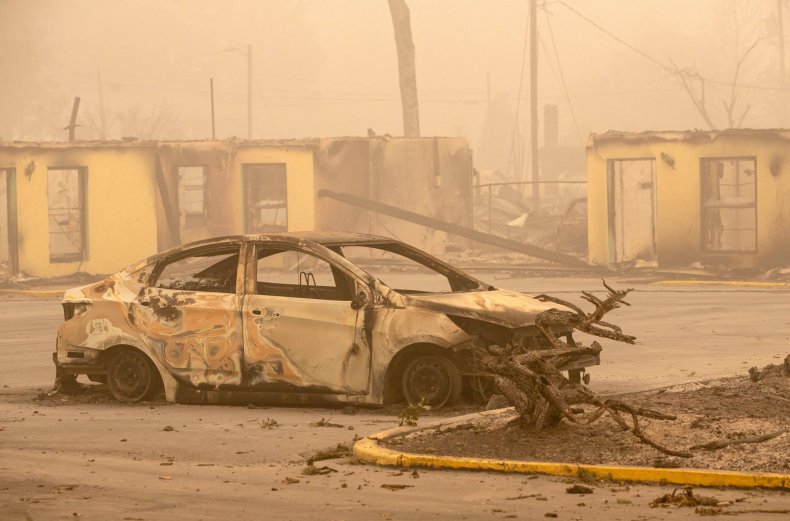 Brattain
This zero percent contained fire is located 8 miles south of Paisley. This man-made blaze currently covers 30,515 acres of land and threatens 55 residences.
A virtual public meeting for the Brattain Fire is scheduled for today at 7:00 p.m. PDT on the Fremont-Winema Facebook page, says NWCC.
According to the latest status update, firefighting crews continue to operate on a 24-hour schedule and are "battling winds and extremely dry conditions."
Yesterday, more resources were assigned to the fire to protect the community of Paisley and surrounding areas on the north and northeastern perimeter of the fire, says NWCC. "Additional firing operations to defend control lines are planned if weather conditions allow."
All of Paisley is under level 3 evacuation notices. Highway 395, which covers all of Clover Flat Road from the intersection with highway 31 (Beachler's Corner) south to Valley Falls is under level 1. The Red Cross has an evacuation area at the Lake County Fairgrounds in Lakeview (1900 North 4th St.).
Echo Mountain Complex
Located 4 miles east of Lincoln City, this fire covers 2,435 acres of land and is 25 percent contained, according to NWCC. From the latest update, over 4,100 residences are threatened by this fire with 100 destroyed.
"Much of the fire line has been completed and firefighters will spend the day completing the last sections of line and beginning mop-up," says NWCC. "There are still resource shortages around the region, as large fires are spread across the western landscape. Local resources, such as cooperators with heavy equipment have been instrumental in the success of the complex."
According to NWCC, highway 18 remains closed to provide firefighters safe space to operate.
Grizzly Creek
Located 16 miles east of Ashland, this fire is burning 325 acres of land. The fire is currently 25 percent contained, according to NWCC, and is a man-made fire.
The update says that 72 percent of residences are under threat from the blaze as well as 108 other structures.
Holiday Farm
Located 3 miles west of McKenzie Bridge this fire has ravaged 165,023 acres of land, according to NWCC. The fire is currently six percent contained and the cause is under investigation.
Nearly 23,500 residences and commercial buildings are under threat from the fire, with a further 302 destroyed. According to NWCC, firefighters began the process of trying to locate unaccounted for people within the fire perimeter and access structures. The work started along highway 126 and surrounding communities. For those who are worried about lost loved ones, victims will be notified to the Lane County Sheriff's Office for investigation.
Lionshead
Located 20 miles west of Warm Springs, the fire, which was caused by a lightning strike, is now five percent contained. It is currently burning through 148,682 acres of land and threatens nearly 400 residences.
"Firefighters [yesterday] will check progression to the northeast of the
fire to protect communities," says NWCC. "To the northwest, crews continue securing a spot fire between the 46 Road and the powerline corridor north of Breitenbush and preparing containment options using roads in the area."
North Cascade Complex
This fire, burning through just over 2,000 acres of land, is zero percent contained. Located 1 mile south of Molalla, 65 residences are under threat from the blaze—the cause is currently under investigation, according to NWCC.
P-515
This fire is now 95 percent contained and located 17 miles west of Warm Springs. It covers just over 4,600 acres of land. This fire will continue to be reported under Lionshead, says NWCC.
Riverside
Located 8 miles southeast of Estacada, this fire covers 134,575 acres of land. It is zero percent contained and threatens 170,972 residences—33 have been destroyed, says NWCC. Around 2,000 other structures are also under threat with a further 200 destroyed.
"Firefighters continue to go direct on the fire around the community of Estacada with the help of hotshot crews and engines," says NWCC in its latest update. "Favorable weather continues to limit the type of rapid-fire growth seen in the early days of the wildfire. However, conditions remain extremely dangerous with active fire across thousands of acres in and around the fire perimeter."
Widespread dense wildfire smoke will continue over the fire area. Numerous evacuations are in place in Clackamas County.
S. Obenchain
This fire, which covers just over 30,500 acres, is now 20 percent contained, according to NWCC. It is located five miles east of Eagle Point—4,878 residences are under threat from the blaze with a further 30 destroyed.
Yesterday, firefighter crews on the southwestern to northern flanks of the fire continued to reinforce containment lines and mop-up. "Resources along the east and southeast flanks were able to complete a combination of dozer and handling and continue to reinforce the perimeter," says NWCC. "Firefighters will continue to secure the line while remaining valiant and watching for spotting over the next several days."
Thielsen
This fire is one percent contained and is burning through nearly 6,000 acres, says NWCC. It is located two miles southeast of Diamond Lake and threatens 53 residences and 500 other structures.
Two Four Two
Located seven miles east of Fort Klamath, this fire is burning through 14,584 acres, says NWCC's update. The blaze is currently 12 percent contained and has destroyed 31 residences and 26 other structures. All evacuation levels remain the same.
"Although the winds around the fire were lighter [on Sunday] than expected, weather forecasters predict high winds [yesterday] and [today]," says NWCC.
White River
Burning through 17,383 acres of land, this fire is located 20 miles west of Wamic. NWCC says this blaze is 70 percent contained by four fire crews.
For the most up-to-date information please visit the Wasco County Sheriff's Office Facebook page.
All information from NWCC is time-stamped 4:09 p.m., September 14, 2020.