Oregon Fire Map, Updates As Over 300,000 Acres Incinerated by Out of Control Blazes
Fires wrought havoc across Oregon overnight, with hundreds of thousands of people told to evacuate from their homes.
The National Weather Service issued an urgent fire weather warning last night for west of the Cascades. According to the alert, which was released at 9:15 p.m. PDT Wednesday, while easterly winds were forecast to subside and become westerly this afternoon, a thermal trough is expected to bring "dry and unstable air over the ongoing wildfires." This will result in another round of Red Flag warnings into this evening, says NWS.
A Red Flag Warning means warm temperatures, very low humidities and stronger winds are expected to combine to produce an increased risk of fire danger.
Newsweek has pulled together the latest information from the Northwest Interagency Coordination Center (NWCC) and other sources to residents in Oregon to stay safe. Readers from the state can also sign up to Public Alerts for the latest information on the Oregon fires and evacuations.
Almeda Drive
The fire that's making headlines, this fire is zero percent contained and has resulted in evacuation orders being placed on the cities of Medford, Phoenix, Talent and Central Point. According to NWCC, 10,100 residences are under threat, with 600 already destroyed by the blaze.
Covering 3,000 acres, the fire is located northwest of Ashland, Oregon. According to NWCC, 226 personnel are working on containing the fire, with three crews, two helicopters and 37 engines tackling the inferno.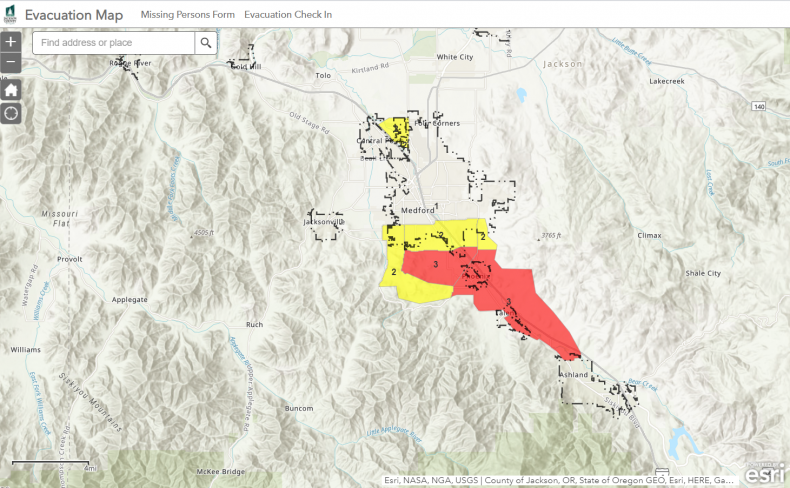 Archie Creek
Located 29 miles east of Glide, Oregon, this fire covers 15,000 acres. According to the NWCC, zero percent of this fire has been contained and the cause is unknown. The containment date is predicted to be September 30, 2020.
A total of 75 personnel are working to tackle the blaze, including two crews and seven engines. According to NWCC, there are road, trail and area closures, with structures threatened.
Brattain
Starting on September 8, 2020, this fire covers 1,000 acres of land and is zero percent contained. According to NWCC, the Brattain Fire is currently "burning on the Paisley Ranger District of the Fremont-Winema National Forest," located near Morgan Butte, which is 10 miles south of Paisley.
NWCC says that 10 residents have been evacuated and the blaze is moving west-southwest towards the Chewaucan River and Coffeepot Flat, which is away from Paisley.
French Creek
Another fire located near Glide, Oregon, this fire covers 750 acres of land. NWCC says that 75 residences are threatened by the blaze and is zero percent contained by personnel, which includes one helicopter and three engines.
The fire behavior is considered to be "moderate" with a continued threat to "multiple structures in the North Bank Road area," says NWCC.
Grizzly Creek
Located 16 miles east of Ashland, this fire is man-made and covers 325 acres of land. It is, according to the last update by NWCC, 25 percent contained and threatens 72 residences. In terms of other structures, 108 are also threatened by the blaze.
According to NWCC, 15 crews, six helicopters and 15 engines are working on containing the fire, totaling 381 personnel on the scene. Evacuation notices are in place and the fire is being managed by a "type 3 team."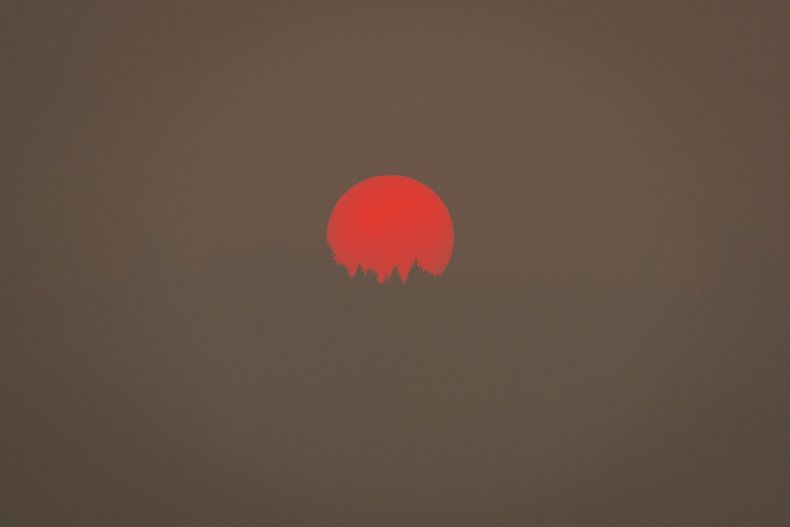 Holiday Farm
Three miles west of McKenzie Bridge, Oregon, this inferno covers 105,000 acres of land and is zero percent contained. According to NWCC, evacuation notices are in place for the area, and road and area closures are in effect.
"Red Flag conditions have caused explosive fire growth over the past two days on the Holiday Farm Fire," says NWCC's status update. "Firefighters have been constantly moving as they conduct rescue operations and try to hold the fire when it's possible.
"The fire has burned through several communities. At this time, we can confirm that, despite the best efforts of firefighters, Blue River has been heavily affected with most of the structures destroyed.
"McKenzie High School, however, was saved. Firefighters were also able to save a majority of the structures in Vida."
The Lane County Sherriff's Office is the lead agency for all evacuation-related
information, according to NWCC. The updated evacuation point is Thurston High School for those in Blue River and west of Blue River. "Those east of Blue River should travel east to the Deschutes County Fairgrounds in Redmond (3800 SE Airport Way)," says NWCC.
Lionshead
Caused by lightning, this fire covers 91,754 acres of land 20 miles west of Warm Springs. The blaze is 31 percent contained, with a containment date predicted for October 30, 2020.
According to the NWC, the communities of Breitenbush, Idahna, Detroir, Marion Forks and Elkhorn are under threat. A total of 545 personnel are working to contain the fire, including 15 crews, four helicopters and 16 engines.
NWCC confirms that the Santiam and Lionshead fires meet at Detroit. "To distinguish, everything east of Detroit is the Lionshead fire and everything west of Detroit is the Santiam (Beachie Creek) fire."
The growth of the Lionshead fire is attributed to easterly winds. "Temperatures will be warmer with slightly lower humidity levels than yesterday," explains NWCC's update.
"Easterly winds will persist through most of the day, changing to southeast in the late afternoon. East winds will decrease; however, drought conditions, high temperatures and low relative humidity will contribute to continued active fire behavior."
Highway 22 has also been affected by the fire as the blaze has crossed the higway in multiple places, according to NWCC. Evacuation orders are being issued as conditions change so please monitor the local area sheriff's department websites and Facebook for updates for Deschutes, Jefferson, Wasco, Linn, and Mario counties.
P-515
Covering 4,609 acres of land 17 miles west of Warm Springs, the containment date for this fire is estimated to be September 12, 2020, according to NWCC. The fire is 95 percent contained.
The fire behavior is described as "minimal" with no additional growth.
"For public and firefighter safety, roads and trails on the southwest portion of the Warm Springs Reservation near the fires are closed to the public," says the NWCC update. "Forty miles of the Pacific Crest Trail are closed between Santiam Pass and Olallie Lake.
"Much of the Mt. Jefferson Wilderness and some nearby lands and recreation
sites are closed," NWCC continues. "See Willamette, Deschutes, and Mt. Hood N.F. websites for trail and area closures."
There is also a "Temporary Flight Restriction" in place over the P-515 and Lionshead Fires—Wildfires are a "No Drone Zone," says NWCC.
Riverside
Located 8 miles southeast of Estacada, 40,000 acres of land is currently affected by the fire. The fire is zero percent contained and has been determined as a man-made fire.
"Extreme fire weather conditions and high winds up to 30 miles per hour are pushing rapid growth on this fire in brush and timber," says NWCC. "Crews on the ground are reporting intense fire behavior including crowning, long-range spotting, and wind-driven 'runs' or rapid growth."
According to NWCC, "numerous evacuations" are active in and around the community of Estacada and nearby areas throughout Clackamas County. Real-time evacuation updates can be found here.
The Mountain Hood National Forest is temporarily closing forest lands to public access including campgrounds, day-use areas, trails, boat ramps, and more. Forest Service roads are also closed to visitors unless people are vacating the Forest.
S. Obenchain
This zero percent contained fire is burning through 8,000 acres of land, 5 miles east of Eagle Point. According to the NWCC, 1,000 residences are threatened by the blaze, with two destroyed.
In terms of other structures, 500 are threatened and seven have been destroyed.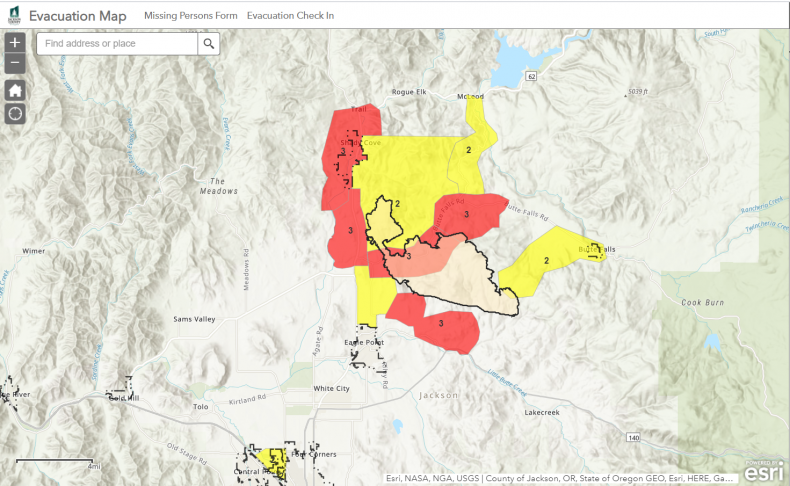 Santiam (formerly Beachie Creek)
Covering 132,450 acres of land, the cause of the fire is still unknown. Located in the Willamette National Forest and the Opal Creek Wilderness Area, this fire is zero percent contained, with an estimated containment date of October 31, 2020.
According to the NWCC, 21,705 residences are under threat as well as 131 other structures. Thie inferno is located west of Detroit, Oregon.
"The entire corridor of the Santiam Canyon and surrounding homes are under a Level 3 ('Go') evacuation level," says the NWCC update. "The fire is burning west toward Stayton and north toward Scotts Mills. The towns of Gates, Mill City, Lyons, and Stayton are impacted.
"The Lionshead fire has reached the perimeter of Beachie Creek," the update continues. "Wildland firefighters, working on the Beachie Creek Fire, were forced to evacuate their encampment in Gates, after several electrical lines and transformers were destroyed in an extreme wind event which began on Monday afternoon."
The fire was originally listed at 469 acres but had grown overnight to over 131,000 acres due to "high winds and "extremely dry fuels." This rapid-fire growth is the reason behind the renaming of the fire—acknowledging that the "Beachie Creek Fire was no longer the main cause of rapid-fire growth and was instead fed by a series of small fires largely caused by downed power lines and other ignition sources throughout the area," says NWCC.
Members of the public are encouraged to heed local evacuation orders issued by the county sheriff's office and emergency notification systems. "The roads are extremely hazardous due to falling debris, smoke and heavy traffic," advises the NWCC.
In terms of smoke, it is expected to "remain heavy throughout the area for the next several days." Areas closest to fires—near Detroit, Florence, Chiloquin and Eugene—are having the worst smoke impacts.
Road closures include the Willamette National Forest roads, trails, and lands around the fire area.
Star Mountain Lane
Covering 8,000 acres of land 6 miles northeast of Fairview, this fire is zero percent contained. According to the NWCC, 200 residences are under threat.The fire behavior is described as "extreme" with road, trail and areas closed.
Two Four Two
Located 7 miles east of Fort Klamath, this fire covers 10,000 acres of land. It is five percent contained, with evacuation notices in effect.
"The Two Four Two Fire continued to burn on the Chiloquin Ranger District and the surrounding area," says NWCC. "An Oregon Department of Forestry (ODF) Type 2 Incident Management Team assumed command of the incident [yesterday morning].
"The Klamath County Sheriff's Office asks area residents to please use texting and social media to update family members on their status," continues the update. "Communication lines are being bogged down due to increased cellphone traffic, resulting in challenges for calls to be connected."
The Highway 97 is now open, one-lane with a pilot car between Oregon State Highway 62 south of Chiloquin north to the intersection with Forest Road 9732 at Oux Kanee Overlook. All other road closures and evacuation orders remain in place.
White River
This fire is 70 percent contained and covers 17,383 acres of land. The containment date is predicted to be September 15, 2020.
"A Closure Order remains in effect for portions of Mount Hood National Forest, including Forest Road 48," says NWCC.
Wickiup
This fire is 100 percent contained—NWCC has advised that September 9 was the last update on this fire unless significant changes happened.