Oregon Fire Satellite Images From Before and After the Almeda Blaze Show Widespread Devastation
Satellite imagery has revealed the destruction caused by a fire that ripped through two Oregon towns on Tuesday.
The Almeda Drive Fire—also known as the Glendower Fire—started on Tuesday morning at the north end of Ashland, a college town located in Jackson County, southern Oregon.
The fire quickly spread north, tearing through large parts of Talent and engulfing Phoenix, destroying hundreds of homes and other buildings.
By early Wednesday, the blaze had reached the southern outskirts of Medford. According to Oregon's Office of Emergency Management (OEM) the fire has burned more than 5,700 acres at the time of writing and remains zero percent contained.
The satellite imagery shows the towns of Talent and Phoenix before and after the wildfire, revealing the extent of the destruction. In some of the photos, infrared imagery is used to highlight the damage. Burned vegetation and property appears in shades of black and grey, while healthy—i.e. not burned—fields and vegetation appears in shades of red.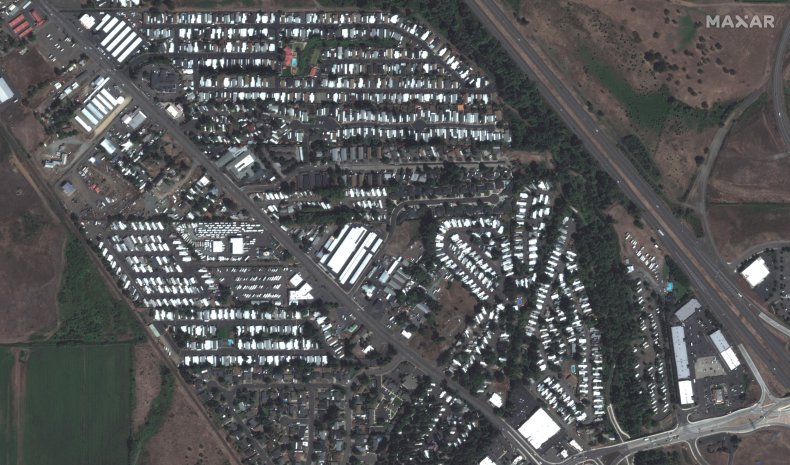 "Basically, it looks like Phoenix and Talent are pretty well devastated," Medford Mayor Gary Wheeler told The Oregonian/OregonLive. "It looks like a lot of damage for those little towns."
Chris Luz, the mayor of Phoenix—a town home to around 4,640 people—outlined the scale of the destruction after surveying the damage caused by the fire on Wednesday.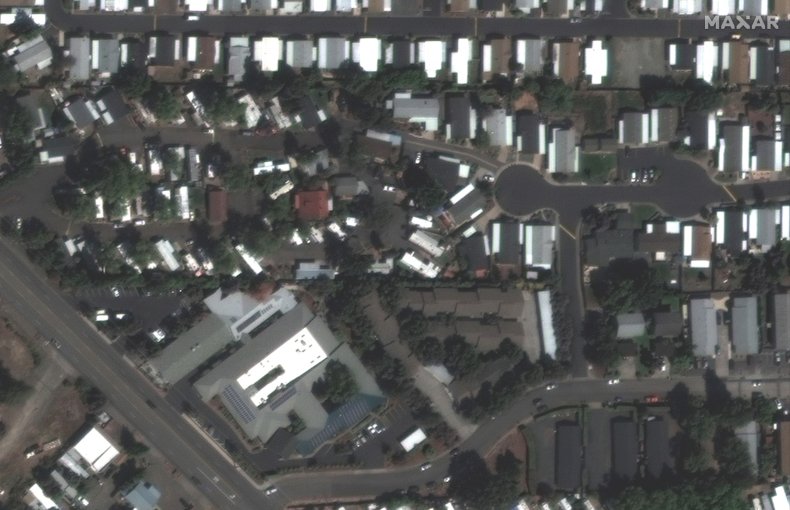 "Many businesses have been burned down," he told The Oregonian/OregonLive. "Certain neighborhoods, including my own, have been burned down. There are many, many, many homes that are gone. It's almost a complete disaster."
Talent, home to around 6,450 people, also witnessed similar levels of destruction, according to city manager Sandra Spelliscy.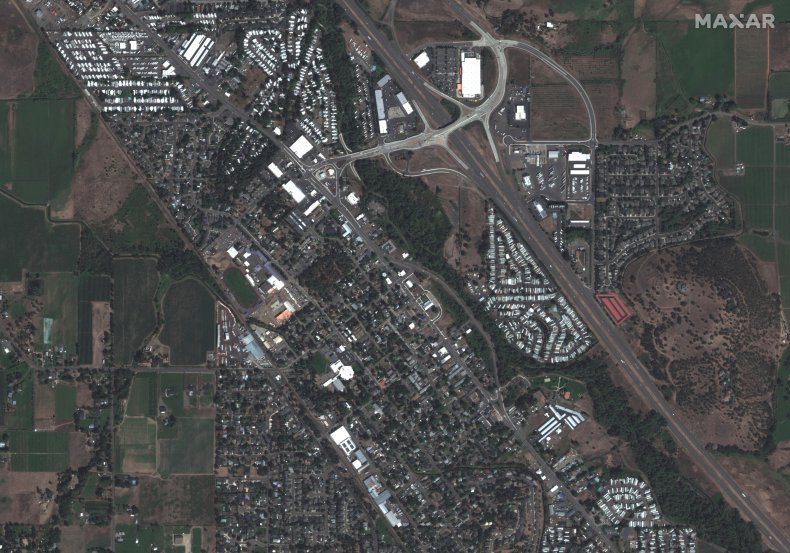 "There are certain neighborhood where there is just literally nothing standing," Spelliscy told The Oregonian/OregonLive, with some parts of the community resembling "pictures we have all seen on TV, where it looks like a bomb blast that has just leveled everything. We are going to need a lot of help here to rebuild.
"There is no power, no water. There are dangerous areas, a lot of downed power lines, natural gas flare-ups."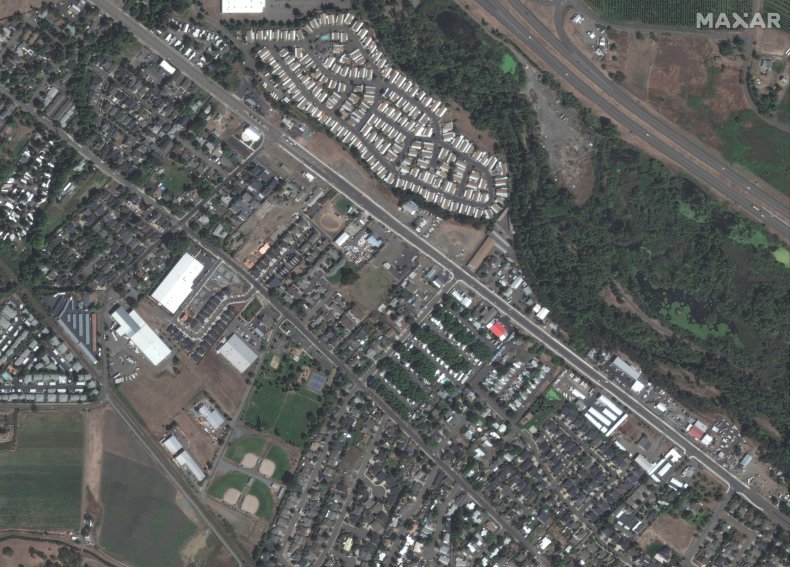 Thousands of Oregonians have been evacuated as a result of the Almeda Fire and Jackson County Sheriff Nathan Sickler urged residents of Talent and Phoenix to stay away due to ongoing firefighting efforts and other hazards, KDRV reported.
Sickler said at a press conference that at least one person had been confirmed dead in connection to the fire after a body was recovered in north Ashland. It is not yet clear how the death occurred or the identity of the individual but a "criminal investigation" into the fatality is now underway.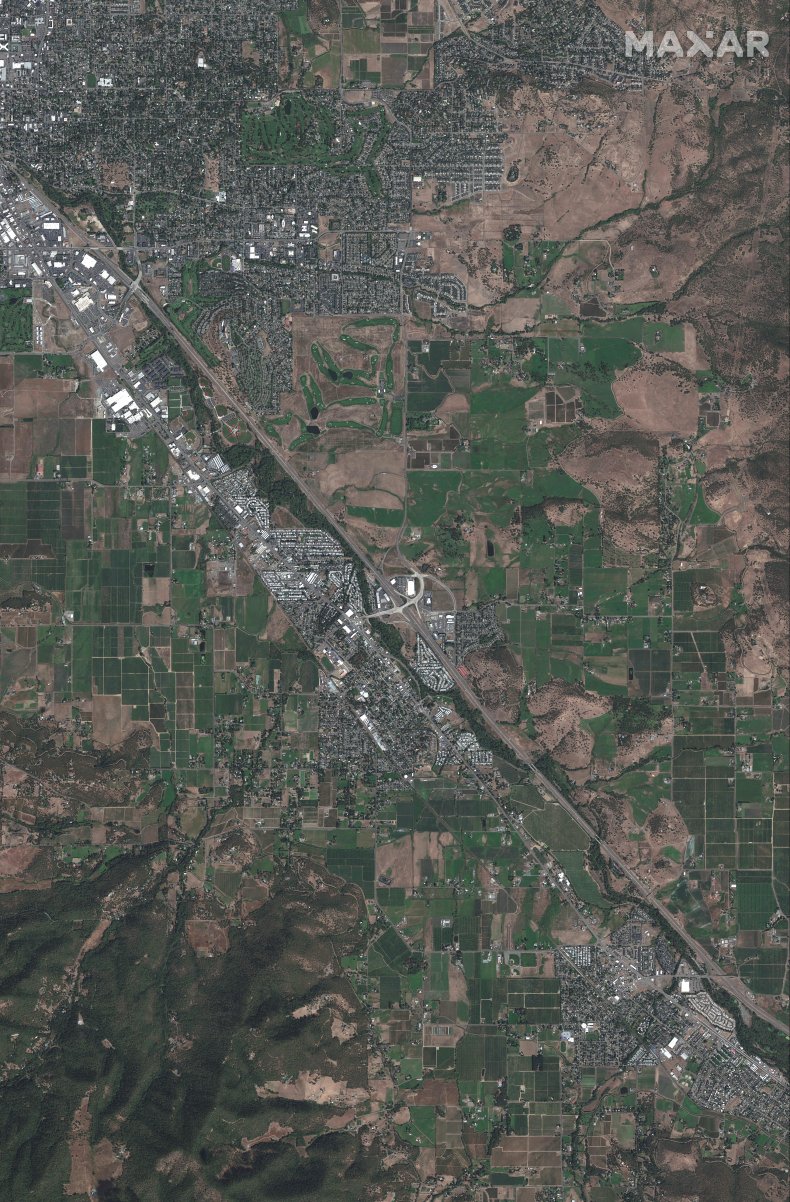 NASA satellite images showing a wider view of Oregon reveal the large number of fires currently burning across the state and the vast amounts of smoke they are producing. According to the OEM, there are currently 37 active fires raging across the state, which have burned more than 670,000 acres.
The largest of these are the Beachie Creek, Riverside and Lionshead fires located in the north of the state, which have all burned more than 100,000 acres each.
Over the last 24 hours, Oregon has experienced unprecedented fires, with devastating consequences across the state," state Governor Kate Brown tweeted on Wednesday. "Our number-one priority right now is saving lives. This could be the greatest loss of human lives and property due to wildfires in our state's history."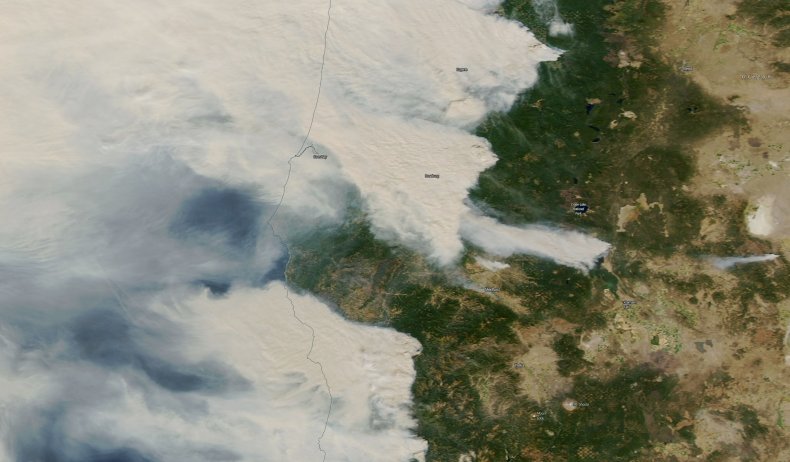 For the first time, Brown invoked a fire conflagration act for the entire state. The governor has also directed the OEM to request a federal emergency declaration, which would free up resources for response efforts.
"Winds continue to feed [the fires.] Places not burning now still face the worst fire condition risks in 30 years: dry air, dry brush, and hot winds. Everyone must be on high alert. Pay attention to directions from firefighters, local officials and emergency responders. If you are asked to evacuate, do so immediately. Your choices could save lives."