Oregon Governor Mandates Face Masks to be Worn Outdoors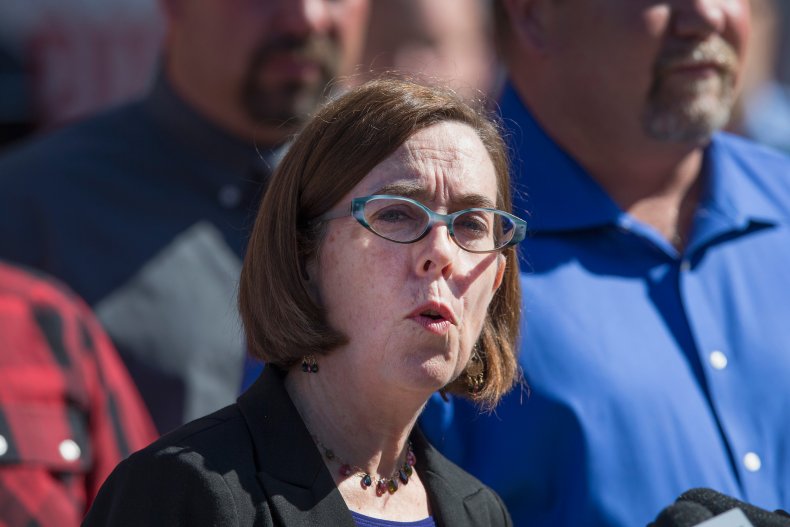 Oregon Governor Kate Brown announced on Monday that Oregon residents will soon be required to wear face masks outdoors in addition to indoors, whenever adequate physical distancing is not possible.
Brown said that expanded mask requirements would take effect on Wednesday, along with new limits on social gatherings. The governor said the restrictions were necessary because she refuses to allow the virus to "spiral out of control," while noting that the number of cases reported over the past week exceeded all of those reported throughout the month of May.
"Already Oregonians must wear face coverings in indoor public spaces. Starting on Wednesday July 15, face coverings will also be required outdoors if you cannot maintain a physical distance," Brown said. "Any time that you are outdoors, cannot maintain a physical distance of 6 feet, and you are with people you don't live with, please, please, please, put on your face covering."
Oregon reported 280 new COVID-19 cases on Monday, bringing the total to 12,438 confirmed cases since the pandemic began. Over 100 new cases have been recorded each day for more than a month. The state has seen a total of 237 deaths due to the virus, with 3 of the deaths added on Monday.
Brown's order also placed strict new limits on indoor gatherings. Social gatherings of more than 10 people are now prohibited, although the limits do not currently apply to people gathered at churches or businesses.
The governor said she hoped the public would comply with the new measures, but added that an enforcement task force had been set up to intervene in cases where people are "unwilling to work with" the restrictions.
"We need to do absolutely everything we can to reduce transmission in ways that do not require us to close down businesses again," Brown said. "Let's be honest, state enforcement of limits on the size of an indoor social get-togethers will be difficult. I'm not going to set up the party police."
Brown praised residents for their previous efforts to contain the virus, saying they had "sacrificed so deeply," but warned that she would have "no choice" but to adopt more strict measures if cases continued to surge.
She said that she did not want to "go the route of Texas and California" by forcing the closure of bars and restaurants, while adding that "nothing is off the table."
"The proof here will be in the numbers," Brown said. "Either people will adhere to this requirement and be a positive force for stopping COVID-19, or I will be forced to take more restrictive measures."
Research suggests that the risk of transmitting the virus outdoors is far lower than indoors. An April study by Japanese researchers found that the virus may be 19 times more likely to be transmitted indoors.
However, experts have stressed that keeping physical distance is likely to be a much stronger protective factor than merely being outside without adequate distancing, which is believed to still pose a serious risk of transmission.
Newsweek reached out to Brown's office, who had no additional comment.
Oregon Governor Mandates Face Masks to be Worn Outdoors | News