Oregon Governor 'Still Waiting for a White House Response' to Request for Wildfire Help
Oregon Governor Kate Brown said the state was "still waiting" to hear from the White House a day after she asked President Donald Trump for help in combating fires covering hundreds of thousands of acres.
The Democratic lawmaker said she requested that a disaster declaration be signed on Wednesday night, but had yet to hear a response from the Trump administration.
Brown also said that she had asked the Department of Defense to provide Oregon with an "active battalion" of trained firefighters to assist state forces with fires that have caused half a million people to evacuate.
Appearing at a press briefing last night, the governor said: "We obviously asked for an emergency declaration, that came yesterday. We're still waiting for White House response.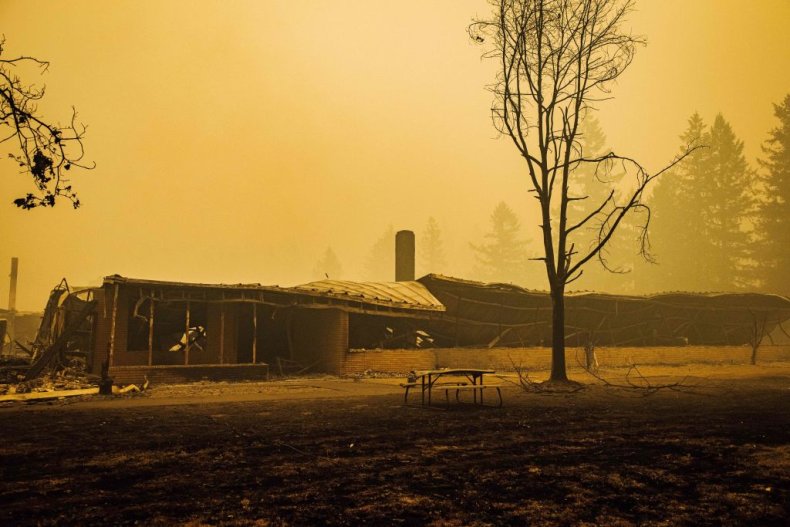 "We have asked for Department of Defense an active battalion that's trained in firefighting, and we're certainly asking other states for national guard assistance.
"I'm also in regular contact with our federal delegation, and Oregon is not the only state facing these weather challenges."
Brown added that she would encourage authorities to "work across the aisle" to provide assistance to states like Oregon facing "catastrophic emergencies.
A White House spokesperson pointed Newsweek to a statement released Thursday night confirming that Trump approved an emergency declaration for Oregon, offering federal assistance to the state.
The president signed two disaster declarations for California and Iowa in August as the former state was ravaged by wildfires while the latter dealt with heavy damage left in the wake of a severe storm.
The Federal Emergency Management Agency also signed off federal funding for Puerto Rico on Wednesday to assist areas hit by Tropical Storm Isaias in late July.
Oregon officials revealed on Thursday that an estimated half a million Oregonians, more than 10 percent of the state's population, had been evacuated from their homes as wildfires continued to rip through the West Coast.
Fighterfighters were also reported to be battling a huge 900,000 acres of fire across Oregon alone, with millions more acres impacted in the neighbouring states of California and Washington.
"We are now approaching 900,000 acres burned across the state," Gov. Brown said at the Thursday press briefing. "To put that number into perspective, in the last 10 years, we see an average of 500,000 acres burn in an entire year. We've seen that nearly double in the past three days.
"We have never seen this amount of uncontained fire across our state. We know there are fire-related fatalities, and as soon as we are able to provide confirmed information, we will do so."
Update 09/11/20 10:19 a.m. ET: This article was updated with a statement from the White House.