Video: Oregon Pedestrians Charged at and Hit by Speeding Truck on Sidewalk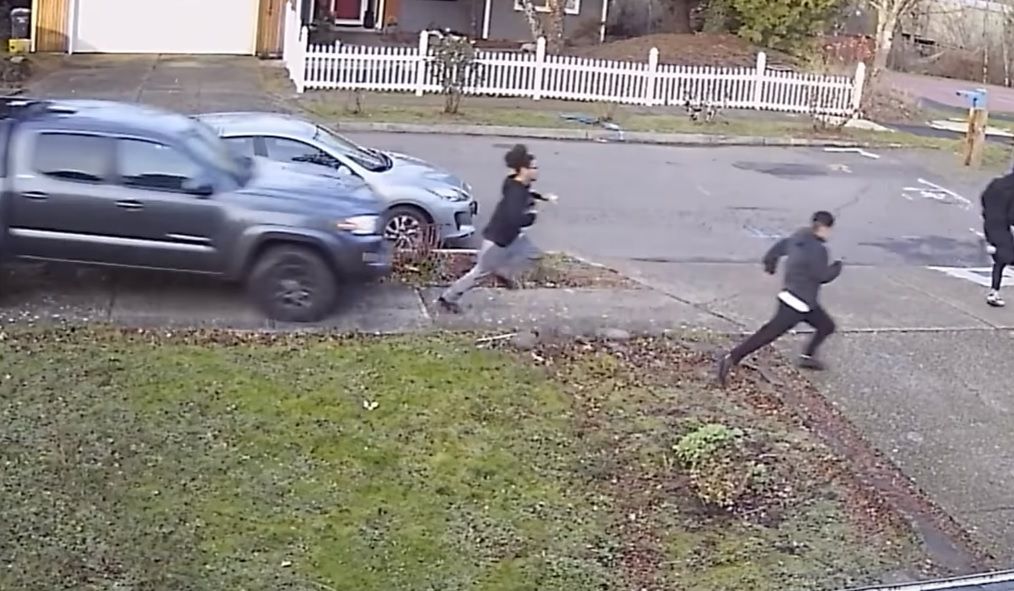 Police are looking for a truck driver who was seen hurtling towards three people as they tried to run away on a sidewalk in Oregon.
The Portland Police Bureau is investigating the hit-and-run, which occurred near Wilkes Park in northeast Portland just before 5 p.m. on January 10.
Police were only informed of the incident by a local resident who captured it on his home's surveillance camera. Javier Gonzalez said he decided to examine the footage when he noticed tire marks on the grass outside his home, as well as ornaments being out of place.
"I pulled up and I noticed that there were some things around my house that were kind of out of place, you know had a boulder across the street and dirt everywhere, and my rose bushes were all kind of driven over," Gonzalez told Fox 12 Oregon.
The shocking footage shows a truck careering into three people while they desperately try to flee, sending at least one flying to the ground.
The truck then loops around a nearby park area before appearing to continue to chase after the other two males as they pick themselves up off the ground and continue to run away from the speeding vehicle.
"I looked at it, I rewound it a few times just out of shock," Gonzalez added to KOIN 6 News. "It's a horrible thing that happened but the timing was actually pretty good just that we didn't have any kids out here."
Despite the serious nature of the crash, no one has come forward to police and the identities of the three males being chased and the truck driver are still unknown.
Gonzales said he believes the driver was purposely aiming to hit the three males.
"It looked like he might've had a vendetta or something, and it's not worth it," Gonzalez added to Fox 12 Oregon. "Even if someone does something to you, it's never worth it to go after them. I say you should come forward, even if you did something wrong. Hopefully, this can get sorted out."
Portland Police Bureau spokesman Sergeant Brad Yakots said police have told residents to be lookout for the gray pickup with a canopy as part of their appeal for help identifying the driver or the truck, reports Oregon Live.
Portland police are asking anyone with information with the incident or any of the people involved to contact its traffic division at 503-823-2103.
Video: Oregon Pedestrians Charged at and Hit by Speeding Truck on Sidewalk | U.S.