Oregon Hospitals Warn State's COVID-19 Vaccination Plan Could Trigger 'Potential Chaos'
Concerns that an organization representing health care systems in Oregon raised about COVID-19 vaccine availability ahead of anticipated priority group expansions are "factually incorrect," a representative for Governor Kate Brown said Friday.
Brown announced on January 15 that teachers and other school employees will be included in the state's next round of vaccinations. The plan to prioritize teachers dates back to late last year, Brown said.
In a Friday statement, the Oregon Association of Hospitals & Health Systems' president and CEO, Becky Hultberg, criticized the decision to quickly expand access to COVID-19 vaccines, which she said was "setting unreasonable expectations." The main concern Hultberg outlined in her statement was about the availability of vaccine doses at a time when states across the U.S. are running low and awaiting replenishments in their supplies.
"We are deeply concerned that the Governor, by expanding eligibility to teachers and other school employees in addition to seniors aged 65 and older, is increasing demand for the vaccine far beyond available supply in some regions," Hultberg's statement began. She went on to say that some health care systems will be able to meet demands for doses, but added that others are less likely to be able to do so.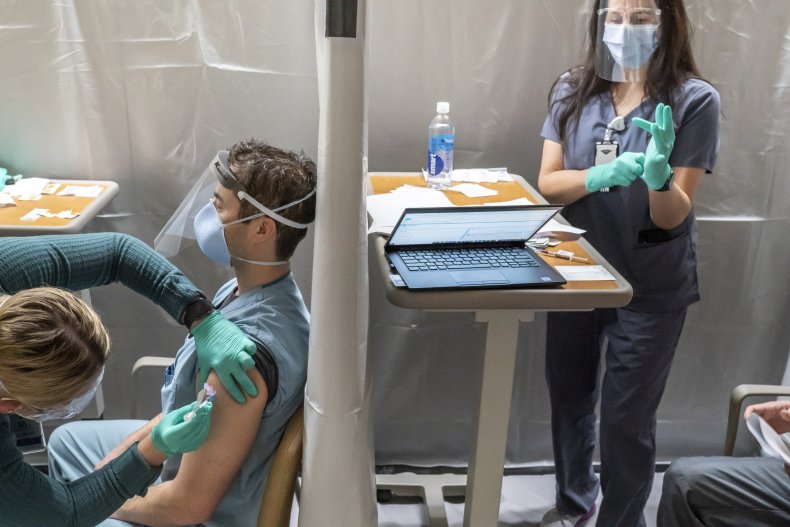 "Our hospitals and community partners have made great strides in creating vaccine programs from scratch with virtually no state or federal help, including funding," Hultberg's statement said. "We are concerned that the current plans will add stress and potential chaos to these efforts as facilities are inundated with anxious residents seeking the vaccine."
"This statement is factually incorrect," the deputy communications director for Brown's office, Charles Boyle, told Newsweek. "We'd recommend the hospital association read our vaccine plan and talk to their member hospitals before they send poorly-researched press releases. OHA laid out a schedule today in our press conference for how we plan to vaccinate educators and seniors on a realistic timetable with the vaccine supplies we have available. We are working closely with Oregon hospitals to implement that plan."
As the Centers for Disease Control and Prevention recommended in early December, Oregon prioritized health care workers and long-term care facility residents in its first round of COVID-19 vaccinations. According to Brown, Oregon earlier this week finished vaccinating all residents ages 65 and older who live in long-term care facilities and wanted to be immunized.
"Educators can be vaccinated quickly, district by district," Brown said. "This choice represents a rapid action that will have an outsized impact on Oregon kids."
Brown said protecting seniors has been a top priority "since day one of this response" but said it was also important to consider the long-term impacts of distance learning on children. She referred to a study published last month by the consulting firm McKinsey and Company, which explored the "high cost" of COVID-19 in terms of learning loss among school-aged children. The study said those costs were especially exacerbated among students of color.
"If we were to vaccinate every Oregon senior first, the unfortunate and harsh reality is that many of our educators would not get vaccinated this school year, and Oregon kids would continue to suffer," Brown said.
Teachers and other school employees can begin receiving COVID-19 vaccines the week of January 25, Brown said Friday.