Kate Brown's Christmas Face Mask Photo Resurfaces As Conservatives Mock Oregon Governor
An image that Oregon's Democratic governor tweeted in 2020 showing her wearing a holiday-themed COVID mask has re-emerged on social media prompting mockery from some conservatives.
In December 2020, Governor Kate Brown tweeted a picture of herself wearing a creative take on the mask which she promoted as a way to raise funds for charity, as well as mitigate the spread of the pandemic.
Pictured wearing the mask which was decorated with colorful flowers and a snow globe, she tweeted, "Ugly Holiday Masks are a very 2020 spin on Ugly Holiday Sweaters!"
"Get yours here—$25 from each sale goes to @oregonfoodbank." Her tweet showed off other people modeling elaborate versions of the mask celebrating the holiday period, including one that had an image of a menorah to mark Hanukkah.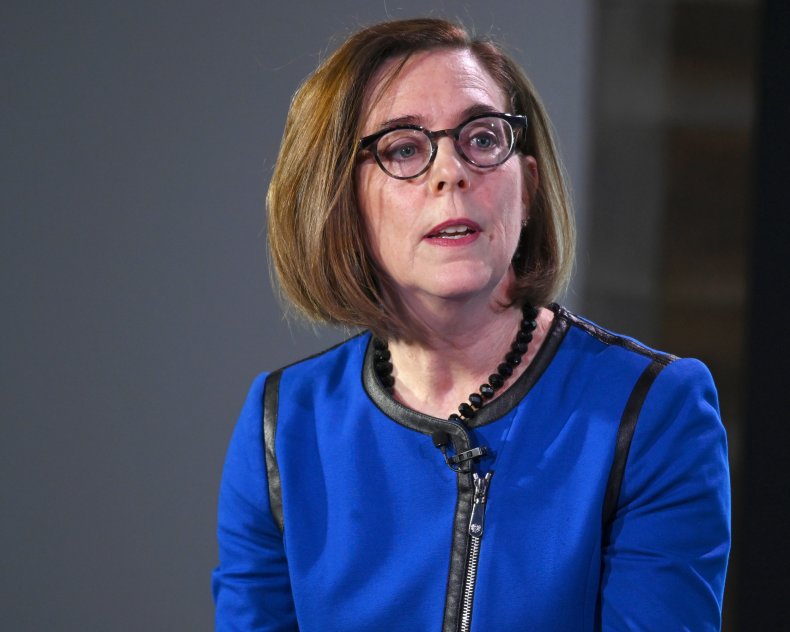 Her tweet directed those wishing to make a purchase to the Portland Garment Factory.
Nearly a year later, the light-hearted image has resurfaced, with Donald Trump Jr. sharing it on his Instagram page.
"The governor of Oregon. In case you're wondering what happened to the Democrat party, this is further evidence of their transition to all being clowns," the former president's son wrote in a post which as of Tuesday morning, was liked more than 137,000 times.
Conservative commentator Juanita Broaddrick, whose Twitter handle says "Let's Go Brandon," tweeted to her 523,000 followers: "Pray for Oregon. This is their Governor @OregonGovBrown"
The user Pismo wrote: "Oregon has a Virus, and her name is Kate Brown," while another user described it as an "insane display."
On August 24, Brown announced statewide outdoor mask requirements requiring them to be used in most public outdoor settings. This includes large outdoor events, where physical distancing is not possible, and whether people have been vaccinated or not.
In October, she said that masks along with vaccines were "very simple and effective tools" to tackle COVID, and that "we'll continue to move forward with these safety protocols over the next several weeks," the Salem Statesman Journal reported.
Former Donald Trump adviser and Newsmax host, Steve Cortes, took aim at Brown's COVID policies as well as her mask with his tweet: "Here's OR Gov Kate Brown last Christmastime. Not photoshopped! She herself tweeted it out.
"Don't comply with directives from such deranged power-hungry tyrants, and especially protect your children from these mandates."
On Monday, the Oregon Health Authority said that 1,935 new cases of COVID-19 had been registered over the weekend, which brings the total number of cases statewide to 380,091.There have been 4,803 deaths.
Newsweek has contacted Governor Brown's office for comment.