Oregon to Lift Indoor Mask Mandate, Masking in Schools No Later Than 3/31
After pushback from parents and school leaders, Oregon health officials announced that the previously extended mask mandate put in place for students through the rest of the school year would last no later than March 31.
The decision Monday veers from a previous message issued to superintendents, school leaders, nurses and advisors in late January from the Oregon Department of Education. The temporary mask mandate for those in Oregon's K-12 schools set to expire Tuesday was instead previously expanded into a permanent masking rule through the end of the school year. Oregon's academic school year typically ends in mid-June.
"Our most recent COVID-19 forecast shows the number of sick people in the hospital will decline to a point where we can safely lift mask requirements in indoor public spaces by no later than March 31," said state health officer and epidemiologist Dean Sidelinger through a video statement Monday. Sidelinger noted that the change was a testament to the public's "collective efforts to stem the tide of the virus throughout the course of the pandemic."
Sidelinger's message came after Oregon Department of Education's Ready Schools, Safe Learners Resilience Manager Kati Moseley said in a message that the temporary mask mandate rule would be extended. Moseley explained that while the extension was made as more schools across the nation were readying for mask-free classrooms, the measure was needed to ensure that "every student is able to attend school in-person for the entire school year."
"Since temporary rules were adopted in August, Oregon has experienced a significant surge from the delta variant and is currently amid an omicron surge in all corners of our state, with Oregon recently surpassing 6,000 COVID-19 related deaths this week, a tragic pandemic milestone," wrote Moseley, noting that the Oregon Health Authority will continue to review the rule's need and will rescind or repeal as soon as it is safe to do so.
"The virus sets the timeline," she added.
But the extension led to criticism and opposition by more than 350 people during virtual hearings, which followed the announcement.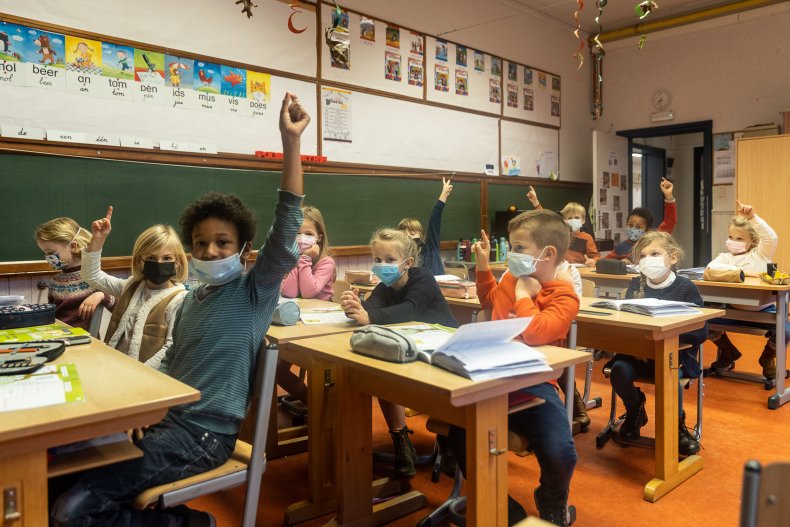 Also critical of the continuation was Oregon's Alsea School District Superintendent Marc Thielman, who demanded the state make masking optional in schools and allow parents to make the determination whether their kids wear masks. The Oregon Department of Education then notified his district it would lose COVID-19 federal funding, which is contingent on compliance with state and federal laws and regulations after its school board voted to do away with mask requirements. Newsweek reached out to Thielman but did not hear back prior to publishing.
There were others also pushing back against the mandate including members of the grassroots political action committee Oregon Moms Union (OMU). The group works to represent school districts around the state.
Within 24 hours of the permanent mask mandate announcement, OMU and its members had sent more than 1,100 public comments to OHA, according to a statement by the group's Facebook administrator.
"I think it's great that we now have an end date knowing that this won't be a permanent rule but I think that parents and students are going to continue pushing back because I think they're ready for masks to end before the 31st," said OMU president and co-founder MacKensey Pulliam.
For now, state health officials say mask requirements will currently stay in place because COVID-19 hospitalizations have crested and Oregon's health care system strains to treat high numbers of severely ill patients. Officials with the OHA filed a new rule with the Oregon secretary of state requiring people to wear masks while indoors in public places, replacing the temporary rule that expires Tuesday.
"The evidence from Oregon and around the country is clear: masks save lives by slowing the spread of COVID-19," said Sidelinger, in a press release. "We should see COVID-19 hospitalizations drop by the end of March because so many Oregonians are wearing masks and taking other steps to protect themselves and each other, such as getting a booster shot or vaccinating their children. At that point, it will be safer to lift mask requirements."
The OHA's latest announcement regarding masks comes as districts across the nation decide whether to lift mask mandates.
Last week, schools in Chicago reaffirmed that mask mandates would remain in place even after an Illinois judge ruled to suspend orders. That's while the Democratic governors of New Jersey and Delaware set a timeline for the end of the mandates. New Jersey Governor Phil Murphy will allow school communities to go unmasked in the beginning of March and Delaware Governor John Carney announced an end to school mask mandates set for April.