Oregon Locals Band Together to Heroically Battle Wildfires
When evacuation orders come in, people have to be ready to escape wildfire flames. But a group of volunteers in Molalla, Oregon, has reportedly decided to stay behind and help tackle the inferno.
The group has been on duty since the Beachie Creek fire started last month, according to local outlet FOX 12.
Members have been putting out fire hot spots, keeping a watchful eye on property damage and protecting homes against looters, the station reports.
The group of men and women spoke to reporters on Monday from their camp, which is located approximately 10 miles southeast of Molalla.
"We're just people that are invested in our town, it's not about being labeled or whatever, we don't need thanks, we don't need whatever, I would expect anybody in this situation that had guts to come up here and do what we're doing," volunteer Raechelle Blackman said.
The Beachie Creek fire, located in the Willamette National Forest and Opal Creek Wilderness Area, is currently burning through 188,374 acres of land and is zero percent contained, according to the Northwest Interagency Coordination Center (NWCC).
The latest update from the organisation, which is helping to track the fires, reported that 36,901 homes and 131 other structures are at risk from the fire.
Members of the public have been encouraged to listen to local evacuation orders issued by the county sheriff's office.
There are currently 16,776 buildings are under the most-severe level 3 evacuation orders, with another 18,528 under the second highest level 2 evacuation orders, the NWCC reports.
"Anyone who enters the fire perimeter jeopardizes firefighting and rescue operations, puts lives at risk, and potentially increases the time it will take to return residents to their communities," the organisation warns.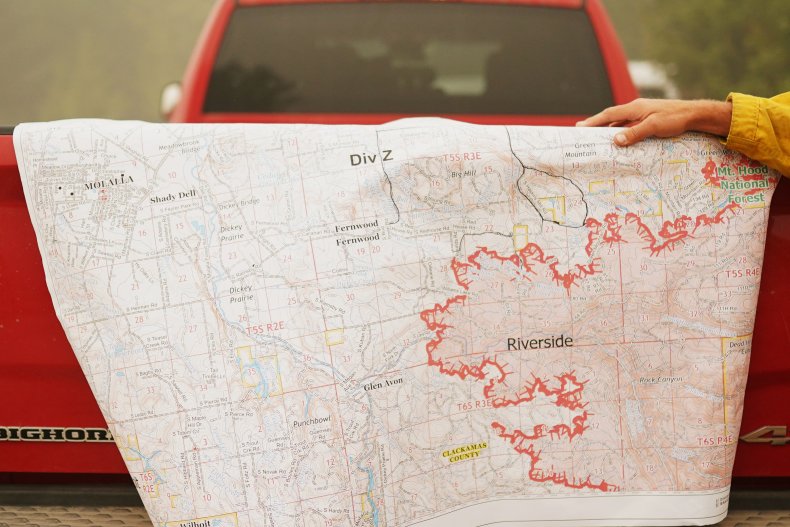 The group has been using water tanks to help tackle the fires, and have been given food and drink from the local community, FOX 12 reports.
A volunteer told the local station that they were "asked by fire officials to help by only allowing property owners and firefighters behind the roadblock."
According to NWCC, 572 official emergency personnel equipped with seven helicopters and 46 engines are battling to contain the Beachie Creek fire.
The organisation estimates the containment date for the fire is October 31, 2020.