Oregon Man Buys School Bus for Christmas To Spend More Time With Grandchildren
Oregon grandfather Doug Hayes surprised his ten grandchildren this Christmas by getting them their own school bus to ferry them to and from the small Catholic school they attend in Gladstone.
KGW reported that Hayes presented the kids with the bus, nicknamed the Grandfather Express, a few days before Christmas. The family goes all out every holiday season, according to Hayes, but this year the patriarch wanted to help the kids with an issue they'd been dealing with since starting school.
"I thought, gee whiz, maybe there's some way that I can give them a memory that will last all their life," he told the station.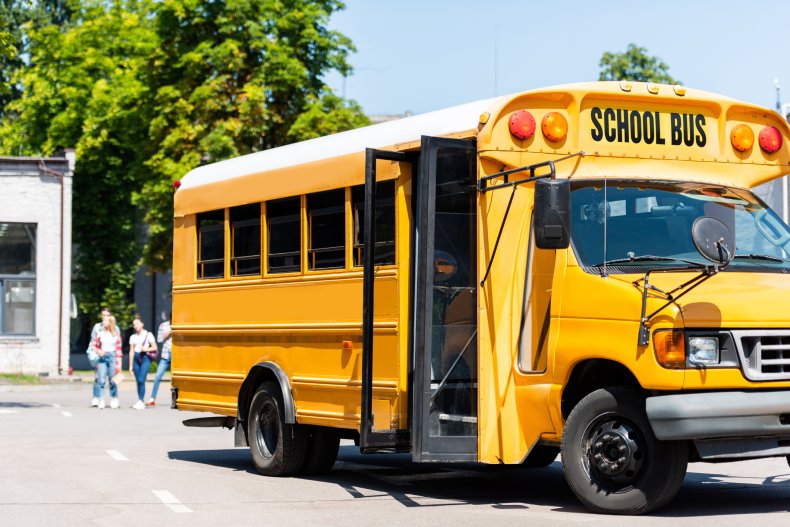 While five of Hayes's grandchildren aren't yet old enough to attend school, the other five are all students at the Paideia Classical Christian School in Gladstone. The half-day school serves students from K-12 with a unique curriculum that sees them performing self-directed work at home in addition to the four hours they spend there.
The school's website notes its "orthodox Christian" values, enforced by measures including requiring all staff and parents to sign a "statement of sexual ethics" that, among other things, declares that marriage is only legitimate between a man and a woman. The private school is too small to commission buses to pick up their students, CNN reported.
Before Hayes purchased the bus, the parents had to take children there individually. He told CNN that all of them live within a 20-minute drive, and the school is just three miles from his house, so it would be simple for him to make the pick-up and drop-off route in the morning before returning the bus to his house, getting in his car and going to work.
The kids were excited to ride the Grandfather Express when school resumes in January, KGW reported.
Hayes told CNN the idea to buy the bus came out of a conversation he had with his wife earlier in the year. When asked about his goals, he said he wanted to find a way to spend more time with his grandchildren. Eventually, the idea of taking them to school every morning emerged as a possible solution.
He added that it took them about a month to find an appropriate school bus for sale. After purchasing the vehicle, he had safety belts installed on all of the seats.
Two more of the children will be enrolling in the school next year, bringing the total number of riders to seven. Eventually, all ten of the Hayes grandchildren could be taking the Grandfather Express to school every day.